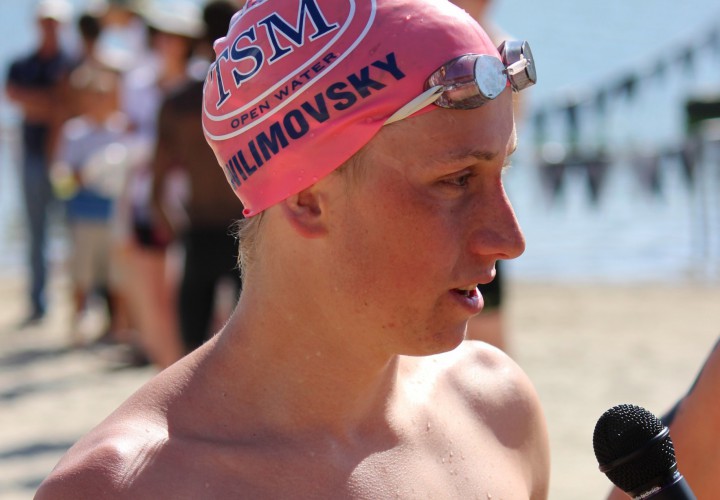 Photo Courtesy: Griffin Scott
Jordan Wilimovsky picked a perfect time to win his first major international open water race, taking gold in the 10K swim Monday at the FINA world championships.
Not only did the 21-year-old from southern California beat several heavyweights in the event, but he did so by an astounding 12 seconds! Most open water races are decided by two or three seconds, or even tenths of a second, but Wilimovsky had no peer going into the final 1000 meters. Though he misjudged the final turn and went a bit off course, the gold medal recipient had already been decided.
Wilimovsky is now an Olympian thanks to the swim by virtue of placing in the top 10. He's the first swimmer and the third American to be named to the 2016 U.S. Olympic team, with teammate Sean Ryan also joining him after placing fourth in the 10K in Russia.
Before qualifying for the world championship team, Wilimovsky's top accomplishments in open water were 14th place in the 25-kilometer swim at the 2013 world championships, and 16th place in the 10K swim at the 2014 Pan Pacific championships. He's improved in the pool as well, placing third in the 1650-yard freestyle at the 2015 NCAA championships and will be a contender in the 1500 free at next year's Olympic Trials.
Wilimovsky now has a year to prepare for the most intense 10K swim of his life, and will likely go into the 2016 Olympics with a target on his back as the reigning world champion. The field of 25 who will swim in the Olympics has not been completed, but it's certain that Wilimovsky will remain the top name on the roster.
Congratulations to Jordan Wilimovsky on earning the Swimming World Performance of the Week!