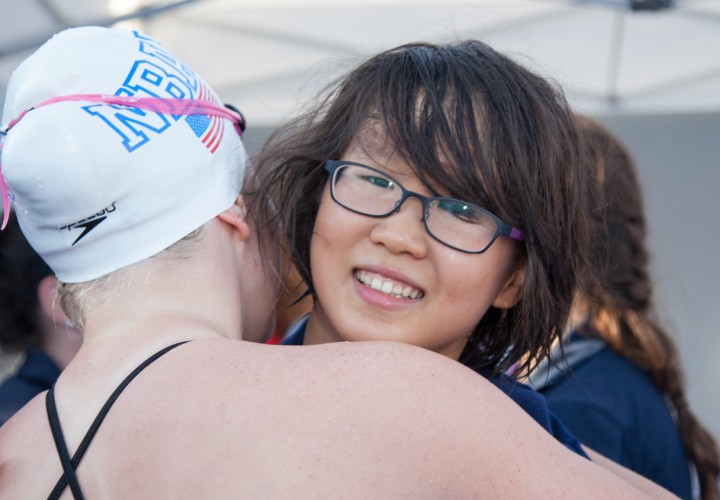 Photo Courtesy: Kristin Karkoska
PISCATAWAY – This weekend's CeraVe Invitational on the campus of Rutgers University will once again feature young up-and-coming talent on the brink of national success racing in the long course meters meet, and once again SwimmingWorld.TV will produce the live webcast coverage beginning Friday.
CLICK HERE TO VIEW PSYCH SHEETS
In addition to host Berkeley Aquatic Club, the meet will feature several notable East Coast teams. North Baltimore Aquatic Club, Badger Swim Club, Bluefish Swim Club, Jersey Wahoos and Delaware Swim Team are just a few of the clubs that are bringing some of their best athletes to New Jersey.
North Baltimore's Easop Lee, just 14 years old, will be one of the top female athletes at the meet. This will mark her first year competing in the open category at the CeraVe Invitational after dominating the field in age-group competition in previous years. Lee is the top seed in the 100 and 200 butterfly as well as the 400 freestyle, and is in the top 10 in the 400 IM and 200 free. Lee made big strides last summer, winning the 200 fly at junior nationals.
Multiple Paralympic champion Jessica Long is also scheduled to race this weekend, swimming in six events as she prepares for another Paralympic appearance while training at North Baltimore.
Another North Baltimore product, Sierra Schmidt, swam in the shadow of Gillian Ryan at last year's meet but learned from the experience. Last summer, she was the female swimmer of the junior Pan Pacific championships, and will continue to shine in the distance freestyles.
On the men's side, open water national team member Ryan Feeley is scheduled to race in all six freestyle events against a determined list of teenagers seeded behind him. Also look for Jersey Wahoos teammates Alex Martin and Zachary Fong to battle in several events, while North Baltimore's Cole Buese returns to the meet to shine once more.
The meet will also featured timed-final competition for athletes in the 10-and-under, 11-12 and 13-14 age groups in the afternoon session between the senior prelims and finals sessions.
Webcast schedule
Friday through Sunday:
Age group timed finals at 1:30 p.m. Eastern time
Senior finals at 6 p.m. Eastern time
Races will be posted for on-demand viewing on the event landing page as soon as possible after each session.