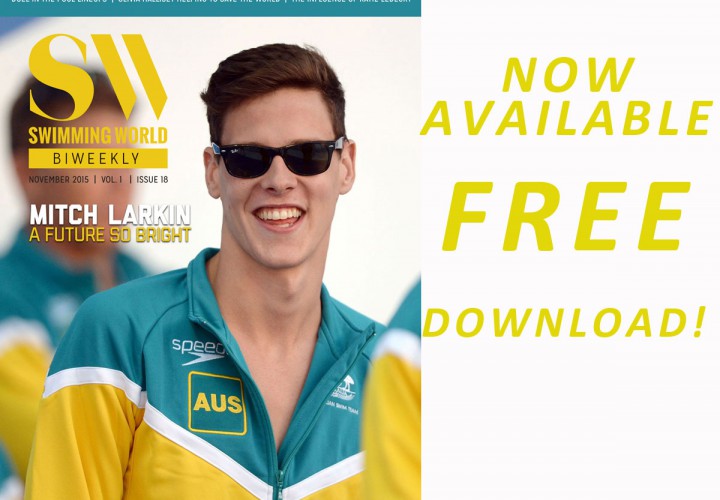 Swimming World Biweekly Magazine is now available for readers to download for FREE to read the latest swimming news from around the world. Catch up on the rosters for the upcoming Duel in the Pool, see how your favorite Division I swim team ranks and learn how a teenage swimmer is helping rid the world of ebola!
Features
HEAVILY- STACKED LINEUPS ANNOUNCED FOR DUEL IN THE POOL
By Jeff Commings
Both the USA and the European All-Stars announced their lineups for the 7th edition of the Duel in the Pool.
KATIE LEDECKY ON TIME MAGAZINE LIST OF 30 MOST INFLUENTIAL TEENS
By Jeff Commings
Katie Ledecky made Time magazine's list of Most Influential Teens. Ledecky was part of a group that made a "global impact through social media and overall ability to drive news."
BILL FURNISS NAMED BRITISH SWIMMING OLYMPIC HEAD COACH
By Jeff Commings
Great Britain's Olympic swim team will be led by renowned coach Bill Furniss, British Swimming announced. Furniss is largely known for guiding Rebecca Adlington to two gold medals at the 2008 Olympics.
LAFONTAINE TAKES JOB AS HEAD OF CANADIAN SKI FEDERATION
By Jeff Commings
After more than 20 years as a coach and executive in various positions in swimming, Pierre Lafontaine is stepping away from the sport to take a new job as head of Canada's cross-country skiing federation.
STORY OF PARALYMPIC SWIMMING CHAMPION BRAD SNYDER TO BECOME FEATURE FILM
By Jeff Commings
The story of Brad Snyder's journey from Navy hero to Paralympic swimming star is made for the movies, and starting next summer, that is exactly what will happen.
CLARK SMITH GIVES EDDIE REESE "CHILLS" IN 2000 FREESTYLE TIME TRIAL
By Jeff Commings
Eddie Reese has seen a lot of great performances in a career spanning more than four decades. His athletes have set world and American records, made many Olympic teams and won NCAA titles by the truckload. Perhaps current sophomore Clark Smith's performance at a special time trial will rank among Reese's top swims.
GEORGIA WOMEN, TEXAS MEN LEAD FIRST CSCAA DIVISION I POLLS OF THE SEASON
By Jeff Commings
The first CSCAA poll of the 2015-16 NCAA season is out, and not surprisingly, the Georgia women and Texas men lead the way.
ARTHUR FRAYLER LEADS FLORIDA DISTANCE GROUP IN FRAN CRIPPEN TRIBUTE SWIM
By Jeff Commings
This month marked the five-year anniversary of the death of Fran Crippen. Many took to social media to honor Crippen, but former teammate Arthur Frayler wanted to do more.
PEREIRA, PINI WIN HONORS FROM ASSOCIATION OF NATIONAL OLYMPIC COMMITTEES
By Jeff Commings
The Association of National Olympic Committees met in Washington, D.C. to award the top athletes in each of this year's continental championships. Among the winners were two swimmers: Brazil's Thiago Pereira and Papua New Guinea's Ryan Pini.
HOW SWIMMING IS HELPING OLIVIA HALLISEY SAVE THE WORLD FROM EBOLA
By Jeff Commings
It's quite possible that the name Olivia Hallisey will roll off the tongue as easily as Marie Curie in a few years. Where Curie made a landmark discovery of radioactivity, Hallisey soon could be known as the woman who was instrumental in eradicating the Ebola virus from the planet.
THE FUTURE LOOKS BRIGHT FOR AUSSIE MITCH LARKIN
By Jeff Commings and Jason Marsteller
Roland Matthes. John Naber. Rick Carey. Lenny Krayzelburg. Aaron Peirsol. These are five legendary names in the history of backstroke, each of them winning the 100 and 200 distances in one Olympics. In about nine months, Mitch Larkin could add his name to that exclusive list.
WORLD ANTI-DOPING AGENCY ACCUSES RUSSIA OF MASSIVE DOPING COVER-UP
By Jeff Commings
A commission of the World Anti-Doping Agency has released a 323-page report that does not mince words, accusing the Russian government of destroying urine samples and accepting bribes from athletes to cover up positive drug tests.