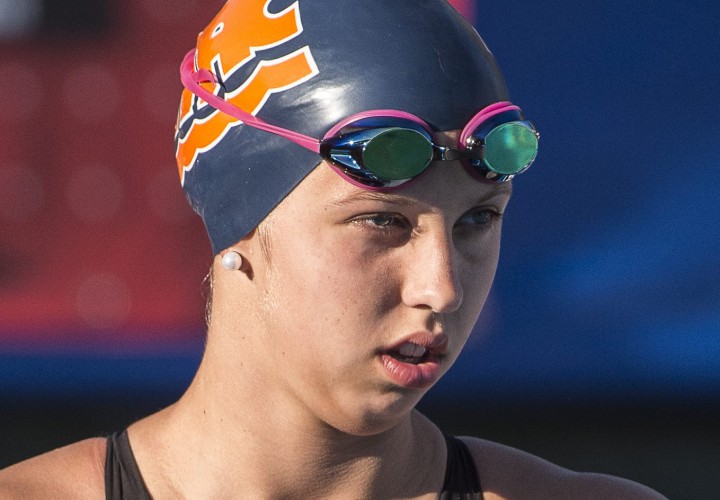 CHARLOTTE, North Carolina, March 13. AT the Speedo Sectionals in Charlotte, the SwimMAC girls took a hammer to the U.S. National Age Group records in the 800-yard freestyle relay.
The foursome of Kathleen Baker (1:16.06), Rebecca Postoll (1:23.03), Heather Merritt (1:20.08) and Lauren Rhodes (1:24.43) won the 800-yard free relay in a time of 7:07.82. That performance undercut a pair of National Age Group records in the 17-18 and 15-18 relay age divisions.
Mission Viejo held the previous 17-18 record with a 7:12.62 by way of Marybeth Linzmeier, Sue Habernigg, Julie Williams and Sherri Hanna. SwimMAC also beat the 7:09.89 15-18 record se tby NCAP's Robyn Dryer, Katie Ledecky, Megan Byrnes and Janet Hu in 2013.
Another NCAP record fell in the 15-16 division as Jessica Merritt (1:47.09), Nora McCullagh (1:46.25), Alyssa Marsh (43.32) and Lauren Wallace (1:25.95) powered their way to a 7:15.17. That performance cleared the 2012 mark of 7:16.04 set by NCAP's Janet Hu, Robyn Dryver, Kristina Li and Katie Ledecky.
In the men's 800 free relay, three teams battled for the win in an exciting finish. North Carolina Aquatic Club's William Macmillan, Michael Wohl, Noah Cairns and Chip Peterson got the better of SwimMAC Carolina's B squad of Nathaniel Murray, John Poff, Evan Heldman and Graham Weaver, 6:40.90 to 6:40.96. SwimMAC showed off its amazing depth in the 200 free, as their A relay actually took third, half a second behind the B team in 6:41.47. Connor Long, Dax Hill, Tyler Gomez and John Baker swam on the A relay.
The women's and men's 1000 freestyle opened the evening. Anna Jahns of Gwinnett Aquatics took home the first title up for grabs with a 9:48.49 in the women's 1000 free. Golden Isles Swim Team's Lauren Oglesby also broke 10 minutes with a 9:52.58 for third, while Marlins of Raleigh's Sarah Giamber took third in 10:11.51.
North Carolina Aquatic Club's Chip Peterson claimed the men's 1000 free title with a time of 9:09.40. Dirk Bell of LTP Racing Club finished second in 9:17.66, followed by Marlins of Raleigh's Justin Ress in 9:18.79.
Results For: Speedo Champions Series – Charlotte, Day One