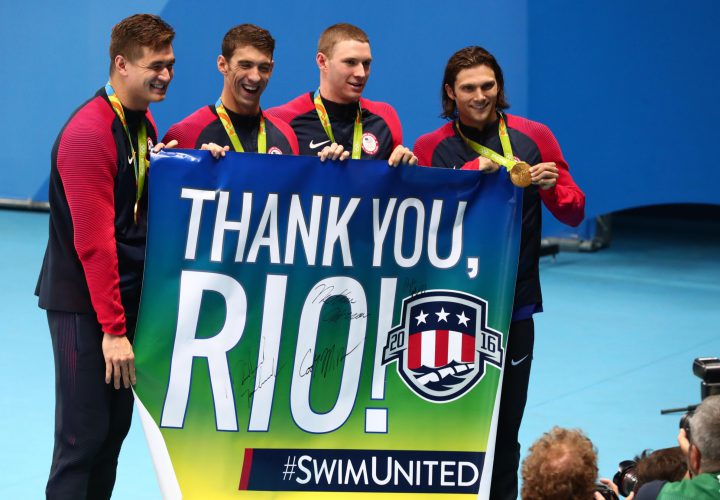 Photo Courtesy: Rob Schumacher-USA TODAY Sports

Editorial Coverage Sponsored By FINIS
In the final night of Olympic swimming Michael Phelps took home his 23rd gold medal in his (supposed) final race. He followed Ryan Murphy's world record on the backstroke split and Cody Miller's breaststroke. Nathan Adrian brought the Americans home for gold in the men's 4×100 medley relay.
The American women also brought home gold in the relay. Kathleen Baker, Lilly King, Dana Vollmer, and Simone Manuel earned the United States' 1,000th summer Olympic gold.
Pernille Blume of Denmark won the women's 50 freestyle, just ahead of a very tight top six. Manuel was runner up. Cate and Bronte Campbell finished off the podium.
Two Italians made their way onto the podium in the men's 1500. Gregorio Paltrinieri challenged the world record for much of the race. While he fell short of that mark he took home gold and his teammate Gabrielle Detti won bronze. Connor Jaeger got the silver in an American record time.
Full results are available here.
USA Today Sports Photo Gallery available here:
This slideshow requires JavaScript.