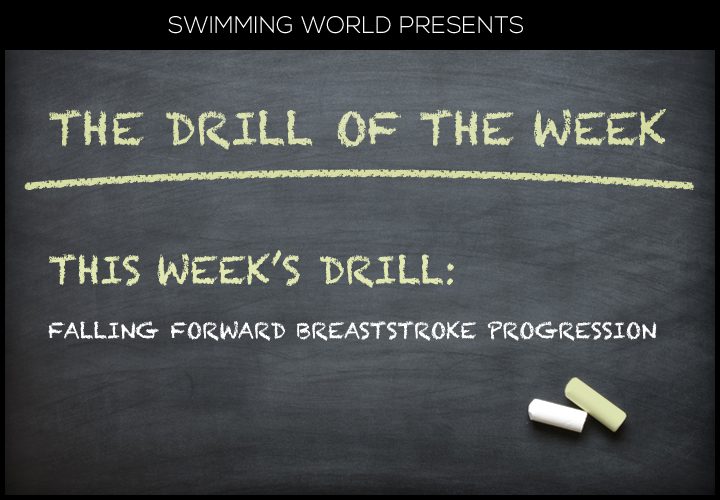 Welcome to the "Swim Drill of the Week". Swimming World will be bringing you a drill, concept, or tip that you can implement with your team on a regular basis. While certain weeks may be more appropriate for specific levels of swimming (club, high school, college, or masters), Drill Of The Week excerpts are meant to be flexible for your needs and inclusive for all levels of swimming.
This week's drill progression is falling forward breaststroke progression. This is a great progression for more advanced swimmers to tap into the forward drive and whole body engagement in their breaststroke. Take a look at the drill progression below and the description that follows:
Breaststroke w/ Single Arm Fly
Breaststroke w/ Body Dolphin (w/ fins)
Breaststroke w/ Flutter Kick (w/ fins)
A common complaint from breaststrokers is that their stroke will feel "disconnected," which usually means their timing is off or they are failing to engage their core to drive themselves forward at the end of every stroke. This entire progression works to help your breaststrokers learn how to find that connection, using the forward undulation that is natural in butterfly to help find their timing and connection in breaststroke.
The progression starts with short axis combo, which literally has your swimmers alternating between strokes of butterfly and breaststroke, and gradually progresses to more breaststroke specific drills using fins. The first three drills in this progression combine the dolphin motion of butterfly with various breaststroke components, while the final drill puts it all together by just having your athletes drive their stroke tempo.
Through the whole progression emphasize that your athletes ultimately want to feel like they are "falling forward" at the end of every stroke and feeling like they are accelerating with every pull once they return to normal breaststroke. Happy swimming!
All swimming and dryland training and instruction should be performed under the supervision of a qualified coach or instructor, and in circumstances that ensure the safety of participants.