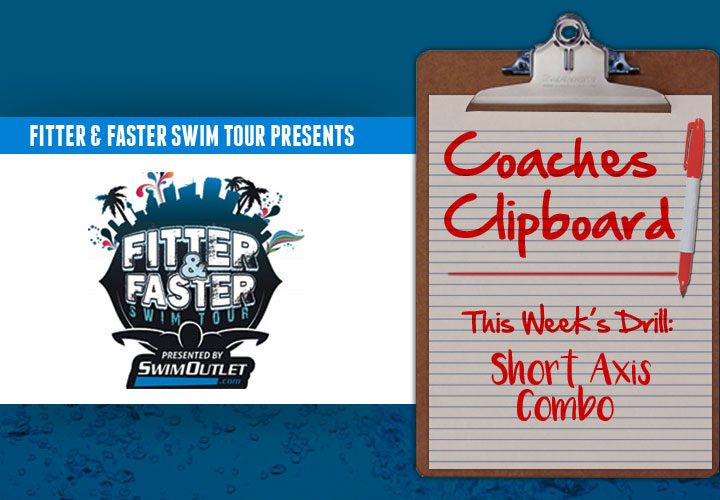 Welcome to the "Swim Drill of the Week" sponsored by The Fitter and Faster Swim Tour presented by Swimoutlet.com. Swimming World will be bringing you a drill, concept, or tip that you can implement with your team on a regular basis. While certain weeks may be more appropriate for specific levels of swimming (club, high school, college, or masters), Drill Of The Week excerpts are meant to be flexible for your needs and inclusive for all levels of swimming.
This week's drill is Short Axis Combo. Alternating between 2 cycles of butterfly and 2 cycles of breaststroke, this drill works on developing body awareness and forward undulation for both strokes. Take a look at the drill below:
Short Axis Combo requires swimmers to switch between short axis strokes through the length of the pool. Pushing off the wall, swimmers will alternate between 2 cycles of butterfly and 2 cycles of breaststroke, transitioning as seamlessly as possible between the strokes. The key to this drill is to maintain your momentum while transitioning between the different strokes. Butterfly and breaststroke are their most efficient when swimmers are focusing on undulating forward in their strokes. While butterfly and breaststroke have their own specific quirks, this drill is a great way to show your swimmers the similarities between the two strokes.
When explaining Short Axis Combo, emphasize maintaining high hips across both strokes and carrying momentum at the end of each stroke transition into the next one. This drill is a great opportunity for your swimmers to develop body awareness and learn how to "ride the glide" that is inherent in each stroke.
This drill is even more great to do with any level of swimmer as long as they have legal butterfly and breaststroke. It is a great drill to introduce in long course training, as swimmers will be challenged to maintain their momentum and smooth transitions for longer without the benefits of a wall to reset. Long course can also lend itself to some variations of this drill, such as changing the pattern of the drill to be 3 fly/3 breast, 2 fly/2 breast, and 1 fly/1 breast continuously through each length. Happy swimming!