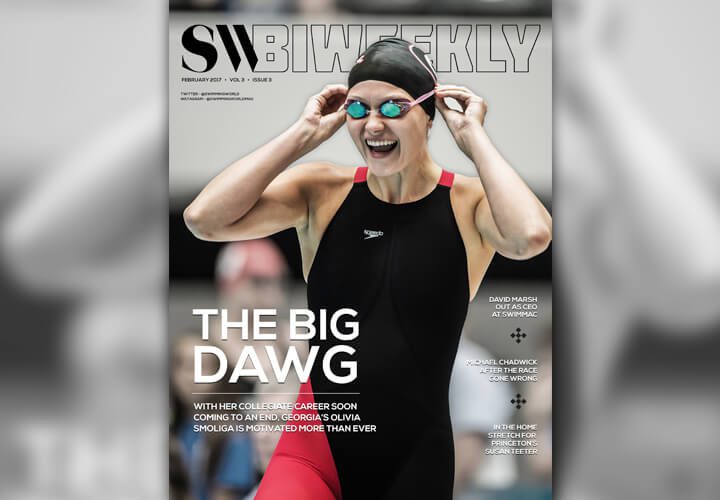 Current subscribers can visit the Swimming World Vault to download this issue now! Non-Subscribers can download for FREE by clicking HERE.
Georgia dawg Olivia Smoliga graces the cover of the third edition of the 2017 Swimming World Biweekly. Smoliga, a senior, is currently winding down her senior season at Georgia, but is more motivated than ever.
Also available in this issue of Swimming World Biweekly: Bob Costas steps down as NBC's Olympic host, Stanford prevails over Cal in women's water polo, and Susan Teeter races down the home stretch of her storied tenure at Princeton.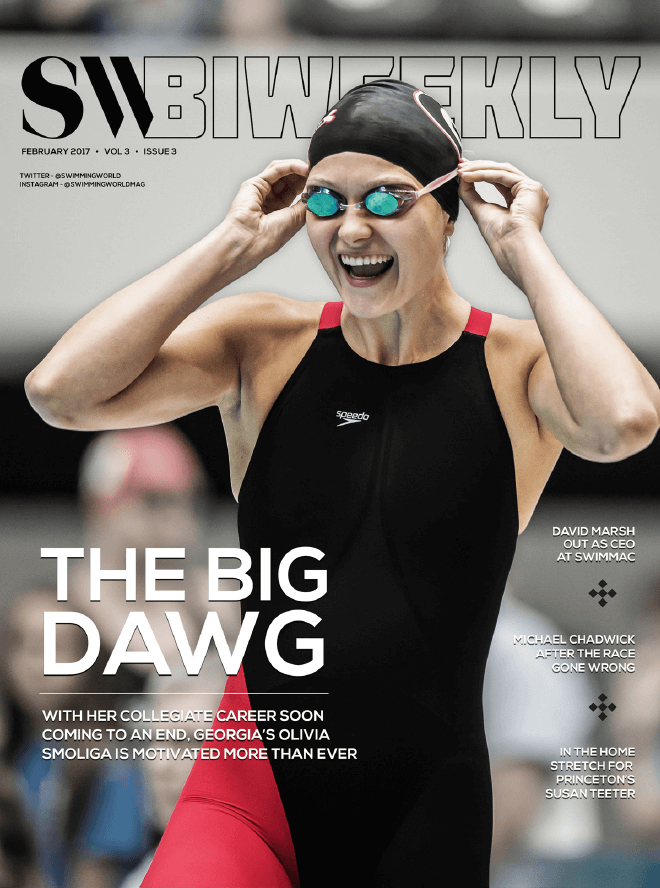 Be sure and download your FREE copy of Swimming World Biweekly today!
Save 25% on a 1 year subscription and download more issues from the Swimming World Vault and get the following:
Use Coupon Code:

realnews

and save 25%
A monthly print copy of Swimming World Magazine in the mail for 1 year!
Free download of the next 12 issues and the past 12 issues of Swimming World Magazine!
Free download of next 24 issues and the past 24 issues of Swimming World Biweekly!
Free download of next 4 issues and the past 4 issues of Swimming Technique Magazine!
Click Here For This Special Offer with coupon code "

realnews

"
FEATURES
006 INDIANA ADDS COLEY STICKELS TO COACHING STAFF
Indiana University head swimming coach Ray Looze announced the hiring of Coley Stickels as Associate Head Sprint Swimming coach effective July 1. Stickels will take over for Associate Head Coach Dennis Dale, who will be retiring at the end of the season.
007 DAVID MARSH STEPS AWAY FROM HEAD COACH/CEO ROLE AT SWIMMAC
by David Rieder
David Marsh, the head coach of this summer's U.S. women's Olympic Team, will no longer be the head coach and CEO of the SwimMAC Carolina. Coach Terry Fritch has taken over as the club's head coach.
008 ONE YEAR AFTER BREAKOUT ACCs, MALLORY COMERFORD STILL ON THE UPSWING
by David Rieder
At the biggest meet of her life, Mallory Comerford stepped up onto the blocks in a key spot. In the first event of the 2016 ACC Championships, Kelsi Worell had given Comerford a lead of two tenths of a second for the anchor leg of Louisville's 200 medley relay…
010 WHAT CHANGED FOR MICHAEL CHADWICK AFTER THE RACE-GONE-WRONG
by David Rieder
The plan went off the rails before Michael Chadwick even had time to blink. Seeded fifth overall, he had a middle lane next to Anthony Ervin in the prelims. But as soon as he dove into the water, everything fell apart, and there was nothing he could do about it…
012 IN TRAINING WE TRUST
by Chandler Brandes
Swimming is a sport of delayed gratification. We work months, if not years, for a race that's over in the blink of an eye. As Championship season quickly approaches, a variety of emotions takes over your brain: excitement, anxiousness, eagerness. And, inevitably, a little bit of self-doubt and lack of self-confidence…That's where trust comes into play.
014 STACKING UP THE MEN'S TEAMS IN THE SEC
by David Rieder
In any discussion of the favorites for this year's men's NCAA Championships, three teams have gotten most of the love –Texas , Cal, and NC State. All for very good reasons…
016 PROGRAM-CHANGING DUAL MEET WIN FOR DUKE BLUE DEVILS
by David Rieder
Duke and North Carolina have developed one of the best rivalries in college athletics. Men's basketball gets most of the attention, but the competition encompasses almost all sports. Except, that is, swimming and diving, where the match-ups between the two schools have been notably one-sided…
018 ARIZONA AND ASU MEN TIE AFTER INTENSE RIVALRY SHOWDOWN
by David Rieder
First came the drawn-out chants of "ZO-NA! ZONA!" from the team clad in red and blue on the side of the pool. After barely a second of silence, a quick-paced "A-S-U! A-S-U!" cheer emanated from the young men and women in maroon and gold lined up along the upstairs railing inside the Hillenbrand Aquatic Center…
020 SUSAN TEETER REACHING THE HOME STRETCH AT PRINCETON
by David Rieder
If it seems like Susan Teeter has been coaching at Princeton forever, think about this fact: when most of her current class of freshmen was born, Teeter was already in her 14th season on the job. Her tenure at the school has now stretched to 33 years.
022 BOB COSTAS STEPS DOWN AS NBC OLYMPIC HOST; PASSES TORCH TO MIKE TIRICO
by David Rieder
After 25 years as NBC's prime-time Olympic host, Bob Costas and NBC have announced that the Olympic hosting torch is being passed on to Mike Tirico.
024 USA SWIMMING ANNOUNCES SELECTION PROCEDURES FOR WORLD CHAMPIONSHIPS, WORLD UNIVERSITY GAMES
by David Rieder
USA Swimming has posted the qualifying procedures for this summer's major international meets, the FINA World Championships and the World University Games.
025 OLIVIA SMOLIGA MORE MOTIVATED THAN EVER
by Dan D'addona
Olivia Smoliga is heading into the stretch run of her collegiate career more motivated than ever. The Georgia senior has the motivation of a defending national champion, the motivation after a disappointing finish and the motivation after her team's wake-up call…
028 FOR 15 YEARS, PHELPS AND BRADY ON TOP OF THE WORLD
by David Rieder
The Patriots' streak is one of unprecedented dominance in the National Football League: the team has won one-third of all championships over a 15-year period. That stretch just so happened to correspond with the reign of Michael Phelps as the best swimmer in the world…
030 STANFORD PREVAILS OVER CAL IN WOMEN'S WATER POLO
by Michael Randazzo
At the 17th annual Stanford Invitational, the host Cardinal's top-ranked women's water polo team passed its first big test of the season with a 10-7 win over #4 Cal Berkeley…