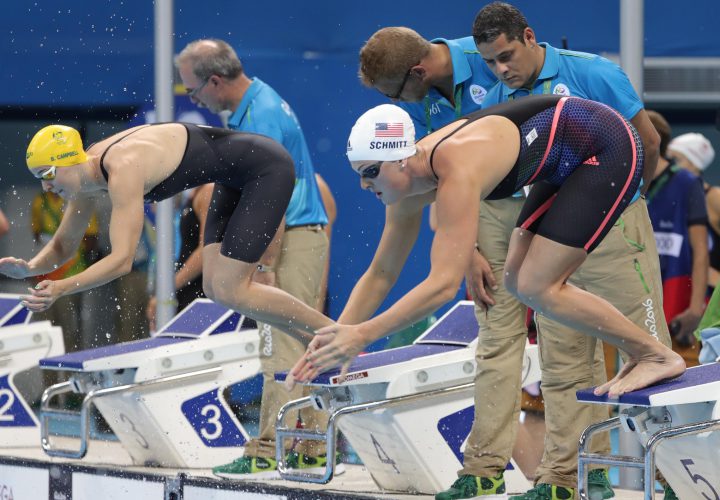 Photo Courtesy: Erich Schlegel-USA TODAY Sports

Editorial Coverage Sponsored By FINIS
Women's 400 Free Relay:
In the final heat, Amanda Weir got the Americans to the wall first at the 100 mark, but the Canadians held the lead at the halfway point. The Australians surged ahead in the back half and earned the top seed with a 3:32.39. The time was an Olympic record, and a strong reminder of why the Australians are the favorite in the event.
The Australian combination of Madison Wilson (54.11), Brittany Elsmlie (53.22), Bronte Campbell (53.26), and Cate Campbell (51.80) overturned their own existing Olympic record of 3:33.15.
Fellow Australian Emma McKeon will likely swim in tonight's final, making the chances of the Olympic Record falling once again a reasonable bet.
Weir (53.60), Lia Neal (53.65), Allison Schmitt (53.72) and, Katie Ledecky (52.64) combined for a second seeded 3:33.59 for the Americans. , just ahead of the Canadians.
Canada's Sandrine Mainville (54.17), Chantal van Landeghem (52.90), Michelle Williams (53.73), and Taylor Ruck (53.04) delivered a combined 3:33.84 for third.
The Italians won the first heat in 3:35.90 to take the fourth seed, just .04 ahead of the Netherlands with a 3:35.94.
Sweden (3:36.42), Japan (3:36.74), and France (3:36.85) also clinched spots in the final.