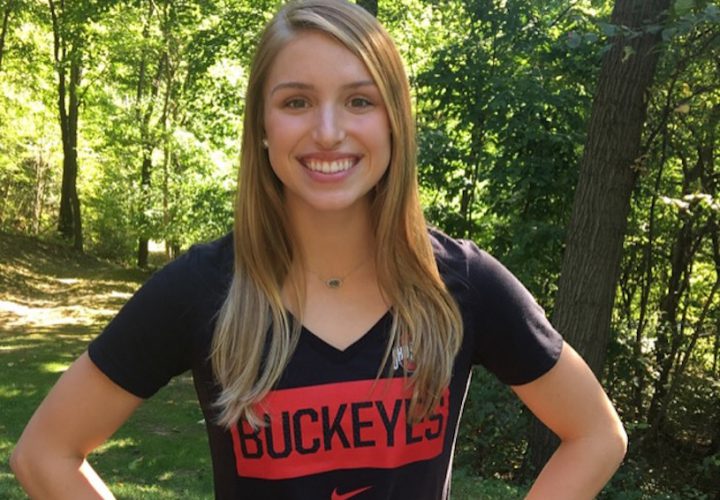 Photo Courtesy: Taylor Petrak
Agon is the proud sponsor of all high school coverage (recruiting, results, state championships, etc.) on SwimmingWorld.com. For more information about Agon, visit their website AgonSwim.com.
Taylor Petrak has given her verbal commitment to Ohio State University. Petrak, who lives in Ellwood City, PA swims for Butler Y Aquatic Club.
Petrak said,
"The moment I stepped on campus I fell in love with the culture of the university. At Ohio State I can see myself growing and developing as a swimmer, but also as a person. The attitudes of the coaches and team members make me even more excited to become a buckeye!!"
Petrak is a long axis swimmer. Her best events and SCY times are:
50 Free: 23.19
100 Free: 50.33
100 Back: 57.50
200 Back: 2:02.12
This summer she was a finalist in the 50 free (26.62) and 100 free (57.68) at YMCA Nationals. At the 2015 Pennsylvania High School AA State Championships, Petrak, swimming for Ellwood City, won the 50 free (23.62) and was third in the 100 free (51.23). At the 2016 meet, Petrak was second in the 50 free (23.19). She'll look to take back the title this season.
The Buckeyes finished fourth at Big Tens last season. Petrak would finish just outside scoring range in the 50 and 100 free. She has the potential to earn a relay spot during her four years in Columbus. The splits on the Buckeyes' third place 400 free relay ranged from 48.41 to 49.91.
Nicole Fye will also be a member of the Class of 2021.
To report a verbal commitment email HS@swimmingworld.com.