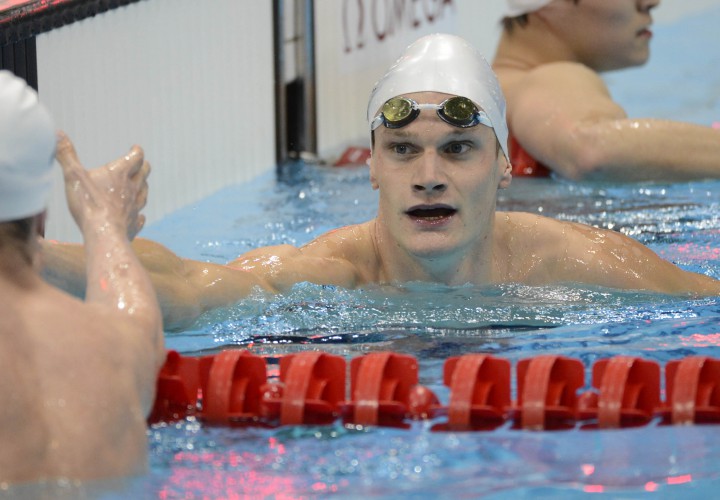 PHOENIX, Arizona, January 21. THE Austin Grand Prix was a great opportunity for us to see how some of the world's best swimmers look after some tough holiday-time training. Some are in much better form than others, making us excited for this summer's championships.
Yannick Agnel has been doing very well during his time training at the North Baltimore Aquatic Club, and that success continued last weekend as Agnel won the 200, 400 and 1500 freestyles. That win in the mile was the most surprising, given that we have never seen Agnel in that event in the past few years. Though he's a great 400 freestyler, it's an entirely different thing to go all the way up to the mile, and Agnel did it very well, posting a 15:07.76 to beat his previous lifetime best by nine seconds. Agnel attempted to descend his 100-meter splits, and succeeded for the most part, starting at 1:01.94 and getting down to 59.14 on the last 100.
The Frenchman's swim in the mile begs the obvious question: Will Agnel start considering the 1500 freestyle in his event schedule? Considering that he was not fully rested or shaved for the meet, a 15:07 is a very impressive time. Obviously, a taper and a shave could get him under 15 minutes, but he'd need to be in the low-14:40 range to be in the medal hunt at the European championships, world championships and Olympic Games. The Olympic schedule might offer Agnel the opportunity to do the 1500, unless he would be needed on that final day of the meet to swim freestyle on France's medley relay.
Either way, it shows some great endurance for Agnel, which could bode well for his shorter events. Felicitations, Yannick, you've won the Speedo Performance of the Week.