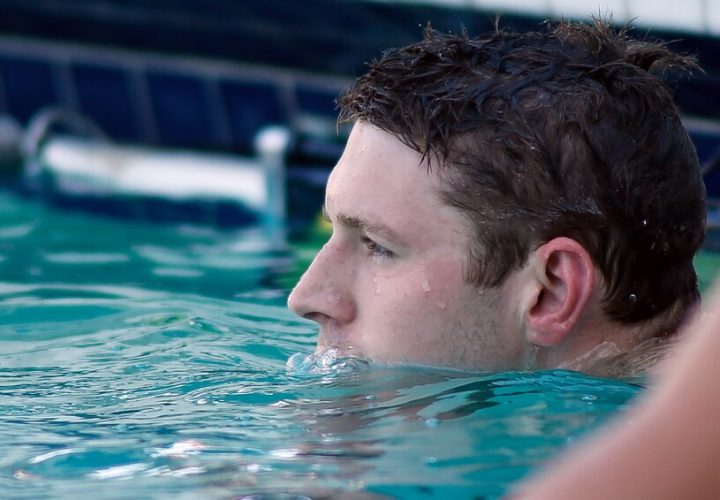 Photo Courtesy: Stan Szeto/USA Today Sports
Editorial content for the 2017 USA Swimming Nationals is sponsored by TritonWear. Visit TritonWear.com for more information on our sponsor. For full Swimming World coverage, check event coverage page.
By David Rieder.
For once, not everything went right for Ryan Murphy at the NCAA championships. Yes, he swept the backstroke events for a fourth consecutive season, but he finished a half-second off his own American record in the 100-yard back and more than a second off in the 200.
It was by no means a poor performance, and Murphy's Golden Bears got the points they needed on the way to a fourth-straight runner-up finish, but it just wasn't as sharp and dominant as fans have come to expect from Murphy. Certainly not after the way he dominated at the Rio Olympics, winning three gold medals and setting a world record in the 100 back.
So after that meet, Murphy had to take a step back and evaluate.
"Coming off that meet, a lot of different things were running through my head," Murphy said. "I sat down and looked at the things I did right and wrong and made some adjustments in terms of technique and lifestyle coming into the long course season."
Like his results from the college season, his early results from the Olympic-sized pool were solid but not spectacular. Coming into Nationals, he ranks fifth in the world in the 100 back at 53.48 and seventh in the 200 back at 1:55.82. He's second among Americans in both distances.
That's fine, but compare that to last year, when Murphy had already been 52.76 headed into Olympic Trials.
Of course, even if Murphy doesn't swim times close to his lifetime best marks from Rio, he should have no trouble finishing in the top two in both events at this week's U.S. Nationals in Indianapolis. (What happens once he gets to the World Champs Budapest might be a different story, but that's still four weeks away.)
When Murphy is in the pool this week, he will at least have some pressure off his shoulders: He has signed his first major endorsement deal.
"It's a big weight off your shoulders, just knowing where my future's at," Murphy said. "So that's definitely a process that I took really seriously. I definitely did my due diligence."
Speedo announced last week that it had signed the backstroker to an apparel deal, and Murphy seemed thrilled with his choice.
"I train with a couple of Speedo athletes, and they said the support they get from the top-two is second to none," he said. "The amount of resources they have in marketing is second to none. The amount of resources they have in development is incredible."
Murphy got plenty of good guidance through the progress of choosing which suit company to sign with. His coach, Dave Durden had guided Nathan Adrian, Tom Shields, Josh Prenot and Jacob Pebley through that process, and Adrian, also a part of Team Speedo, encouraged Murphy to enjoy the transition in his life while making sure he stayed focus on the task at hand.
"Now is the time I learned that going through the pro process is super fun," Adrian said. "here's a lot more that goes into it than meets the eye. The thing that you can do best for yourself more than any level of branding is just swim fast."
And even if he hasn't been up to his usual level of excellence lately, Murphy will surely be ready to step up and swim fast in the key moments at World Champs. Even when he's not at 100 percent, he's a handful for the rest of the world's top backstrokers to deal with.
Watch a full replay of Murphy's pre-meet press conference at U.S. Nationals:
Watch more pre-meet press conference videos by clicking here.