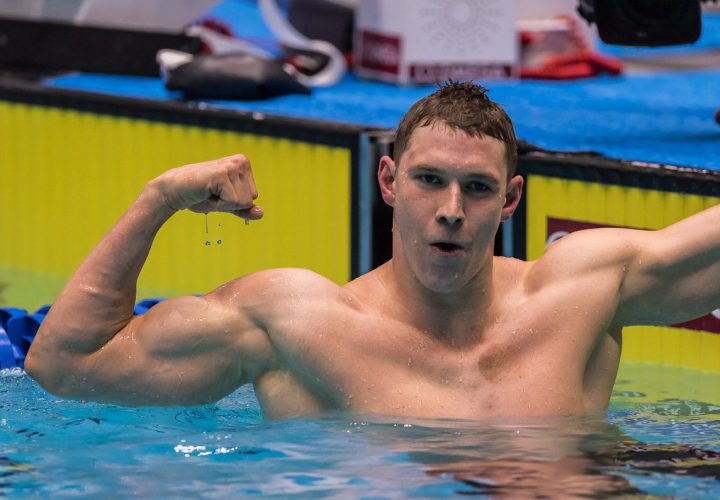 Photo Courtesy: Peter H. Bick
Speedo has announced their deal with three-time Olympic Gold Medalist and 100 backstroke World Record holder Ryan Murphy. The backstroker went pro this month after the completion of his NCAA eligibility at the University of California-Berkeley.
As a Golden Bear, Murphy added historic four-peats in both the 100 and 200 backstroke at the NCAA Championships to his resume. Next up, Murphy will compete at the upcoming USA Swimming 66 National Championships looking to earn a spot on the USA's World Championships roster.
He will be doing so with a new sponsor in Speedo. The company is confident in his ability to make an impact on the sport of swimming:
"He would probably tell you it's more of a team effort, but we do see him as someone over the course of the next couple years being the face of swimming," Speedo president John Graham told Yahoo Sports. "He can be that person."
Aside from his 6'3″ 205 pound "specimen" frame, Speedo said they also liked Murphy because of his low-risk behavior outside the pool. They said that in the era where incidents have happened involving Olympic swimmers over the past years, Murphy is more down-to-earth and did not let the Rio success go to his head.
"Honestly, not too much has changed," Murphy said. "The biggest thing is that more young kids want my autograph or want a picture, which is awesome. I love that. But otherwise it's been the same – wanting to improve, looking for ways to get better, wanting to build on last year."
The authenticity of Ryan Murphy is exactly what the company was looking for. Graham said he is grounded and stays true to his values, that he "follows the North Star." He said this is what marketers look for.
While becoming the new face of swimming may be a lot of pressure for any swimmer in a post-Phelps era, Murphy has proved that he can succeed under pressure. The future of USA men's swimming is up for grabs, and Speedo believes Murphy is the man for the job.
Read the full press release from Speedo USA below.
Speedo USA, a division of PVH Corp., today announced their 2017 roster of elite swimmers in advance of the upcoming national and world championship swimming competitions. Anchored by returning veterans Nathan Adrian, Missy Franklin, Conor Dwyer, Cullen Jones and Elizabeth Beisel, Team Speedo USA welcomes Ryan Murphy, its most recent addition to the team, as well as newcomers Kevin Cordes, Katie Meili, Hali Flickinger and Becca Meyers.

Hailing from cities across the United States, Team Speedo USA's 10 athletes boast a combined 16 Olympics and Paralympics' worth of experience, where they have won 35 medals (23 gold, five silver, seven bronze). In total, they have also competed in 16 World Championships, garnering an additional 38 medals (21 gold, nine silver, eight bronze). Team Speedo USA holds 12 world records and 16 American records.

"Team Speedo USA has always been a force to be reckoned with in the water, and this year's team reinforces our dominant position on the blocks and podium," said Speedo USA President John Graham. "We have assembled a truly dynamic group of brand ambassadors, from their world-class expertise in the pool to the way they represent Speedo in the community with our incredible fans and on the national and global stage. We look forward to watching them compete throughout the summer and beyond."

Outside of competition, each athlete touches Speedo USA's additional initiatives of Speedo Fit and aquatic fitness; water safety and the "Begin to Swim" program; and other community and brand initiatives that engage with Speedo USA's fan base.
Yahoo Sports contributed to this report.