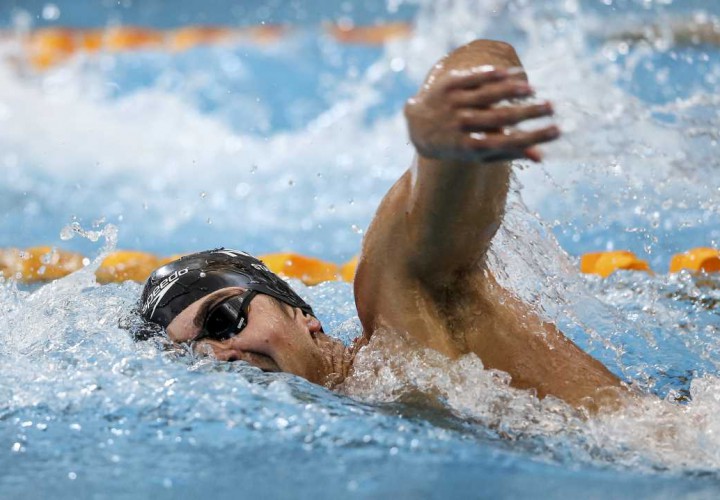 Photo Courtesy: Simon Watts/BW Media

Editorial Coverage Sponsored By FINIS
By Dave Crampton
Six New Zealand swimmers have so far qualified in eight events for Rio at the conclusion of the New Zealand trials in Auckland, with eight para-swimmers also going under the nomination standard, two of them in world record time.
Thirteen US-based New Zealand college swimmers will compete at the Canadian trials next week, with high hopes for backstroker Corey Main and NCAA medallist Matt Hutchins of joining the New Zealand roster.
Swimming New Zealand head selector Mark Saunders said having Helena Gasson and Brad Ashby – two of the targeted swimmers for Tokyo 2020 – going to Rio and bettering their standard in Auckland was a big plus.
"They swam fast in the morning and faster at night which is something we have not always managed to achieve in the past, and must do if we want to move from heats into semi-finals and finals."
"There are some big plusses with the likes of Lauren Boyle and Matthew Stanley achieving the qualifying standard in multiple events, and Glenn Snyders has come home from the United States and really stood up," he said.
Ashby, part of Swimming New Zealand's high performance squad, took out the 200m backstroke in 2:01.40 to complete an outstanding meet where he went under the Rio standard in the 200m individual medley.
Gasson who twice beat the qualifying mark in the 100m butterfly earlier this week, took out the 400m individual medley in a personal best 4:52.06.
However 15-year-old Mya Rasmussen is the New Zealand queen of 400m individual medley; she is currently competing at the Australian Age Group championships, winning her event on Thursday by seven seconds, in NAG record time. All splits were below 41 seconds.
Her 4:46.87 time was the fastest of all age groups, and would rank her third in France, sixth in Australia and would top this year's US rankings for a 15-year-old.
Matthew Stanley made it a clean sweep of his freestyle events with victory in the 100m freestyle after a battle with Daniel Hunter, who broke the national record, clocking 49.43, in the morning heat.
Hunter, who missed the 50m Rio standard by just 0.04 seconds, turned in front in 23.32 chasing the Rio standard of 48.9, but Stanley, who has beaten the qualifying time in the 200m and 400m freestyle, stormed home to win in 49.59.
New Zealand's Para-Swimmers also impressed this week with eight swimmers going under the nomination standard in 24 events.
Mary Fisher secured the trial's second world record in her last dash, clocking 32.92, in the non- Olympic S11 50m butterfly event, 0.3 seconds inside her record set in 2013. The previous night, Sophie Pascoe clocked a world record 1:02.60 in the S10 100m butterfly.
"It's definitely given me a lot of confidence," she told Swimming World.  "It's a little bit annoying that I don't have a fly swim at Rio."
Fisher met the Rio standard for 100m backstroke, and the 50m, 100m and 400m freestyle. Like all swimmers, she wants to improve further in Rio.
"I'm working on improving my technique by being able to hold (it) – and work on the middle 100m," she said.
"All I can do is my best – it just comes down to the day."
Para-coach Jon Shaw said it was an outstanding week for his swimmers, who have created real competition amongst themselves because of the number of available quota spots for New Zealand.
"The pleasing aspect is that this has been achieved within a great team culture.
"We've seen virtually all of our para-swimmers swim faster at night, and of course Sophie and Mary continue to show they are world class."
New Zealand's Rio roster is expected to be announced on April 15 after the Canadian trials.
Swimming New Zealand contributed to this report.