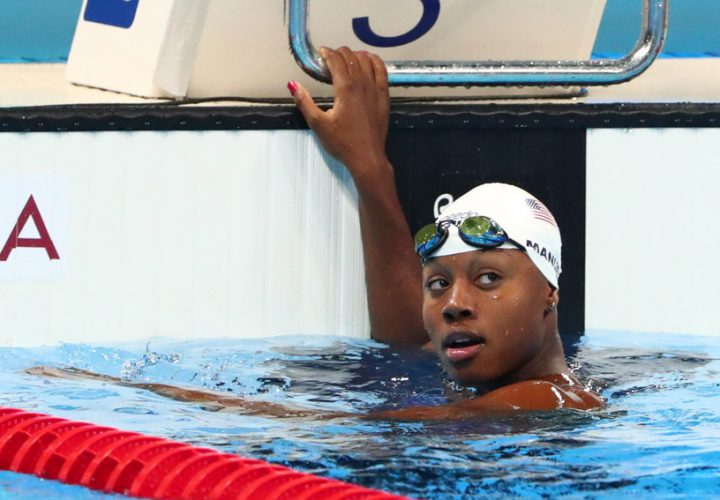 Photo Courtesy: Rob Schumacher-USA TODAY Sports

Editorial Coverage Sponsored By FINIS
By David Rieder.
It's hard to blame Simone Manuel for being a little tired when she got back on the blocks for the prelims of the women's 50 at about 1:30 p.m. this afternoon Rio.
After all, less than 14 hours had passed since Manuel swam by far the best race of her young career, tying with Canada's Penny Oleksiak for gold in the women's 100 free. She was the first black female swimmer to ever win an Olympic gold medal, and the first African American woman from the U.S. to win an individual swimming medal of any color.
The swim was the breakthrough in long course that Manuel had long been waiting for—she already owned the American record in the 100-yard free, but with her time of 52.70, she broke her first national mark in the Olympic pool Thursday night.
After the race, NBC camera captured Manuel's emotional reunion in the hallway with Stanford teammates Lia Neal and Maya DiRado and coach Greg Meehan. And then when Manuel returned to her room in the Olympic village, she had a future Cardinal teammate waiting for her.
"Katie [Ledecky] was actually up," Manuel said. "I opened the door to the room, and she got up and gave me a hug. She was like, 'I wasn't going to fall asleep until I gave you a hug.' And that really meant a lot to me. She didn't have to say much after that, because her staying up meant enough in itself."
Manuel still has business to take care of in the pool—she qualified 11th for the 50 free semifinals in 24.71, and she figures to anchor the American women's 400 medley relay Saturday night, where the team will be favored to earn another gold medal.
Manuel was an icon for black swimmers worldwide even before her race Thursday night. But even though the gold medal figures to boost her profile outside of the sport, Manuel does not want to get caught up too much in the hype—at least until after she's done racing.
"I'm a person that tries to stay the same," she said. "I don't really think about what people are saying about me. I'm glad that I can be an inspiration to others, but I haven't really thought about how my life has changed yet."
*As for DiRado, she is going out with a bang in Rio, having already won one medal of each color at an Olympics that she insists will mark the end of her swimming career. And by that math, tonight's final in the 200 back will be her last race ever.
"It's crazy," DiRado said after finishing in the semifinals in 2:07.53.
"I realized like two hours ago that I had just done my last prelims swim, too. It hasn't really set in yet. I'm just trying to enjoy it, but it's been the best meet of my life, so it's really fun."
DiRado had swum on a pair of World Championship teams in 2013 and 2015 but swum IMs only. Since winning the event at U.S. Olympic Trials last month, she's had to quickly shift her mental approach to the event.
"I actually have to get better at being nervous for this race because it's always been kind of my fun, third event, and now it's like, 'Okay, focus,' but it's nice to swim this more relaxed and chill," DiRado said.
*Caeleb Dressel anchored the U.S. men's 400 medley relay squad in prelims, splitting 47.74 to set up the gold medal favorites as the second seed for Saturday's finals. But Dressel will not be on that squad as he gives way to 100 free bronze medalist Nathan Adrian.
Dressel is now done for the Olympics, having helped the U.S. win gold on the 400 free relay and finished sixth in the 100 free final in 48.02 after getting under the 48-second barrier for the first two times in his career in the earlier rounds.
With his racing complete, Dressel was reflective.
"It's been awesome," he said. "After the 100 free certainly I was disappointed. It's ok to have disappointments—I don't want to have any regrets. I have a fire that just got lit inside of me after this meet to keep on going, so I'm excited to get back and show what I think I can do and what's possible for me."
In the 400 free relay final, Dressel had the opportunity to lead-off and give way to Michael Phelps—and then to be a part one of Phelps' record 22 gold medals. That race and its aftermath will be moments Dressel insists he will never forget.
"Standing on the podium next to Michael, him giving some of the best advice I've ever gotten: to slow down and enjoy the moment," Dressel said. "That's what I've been doing the whole time I've been here, and I'm never going to forget those words."