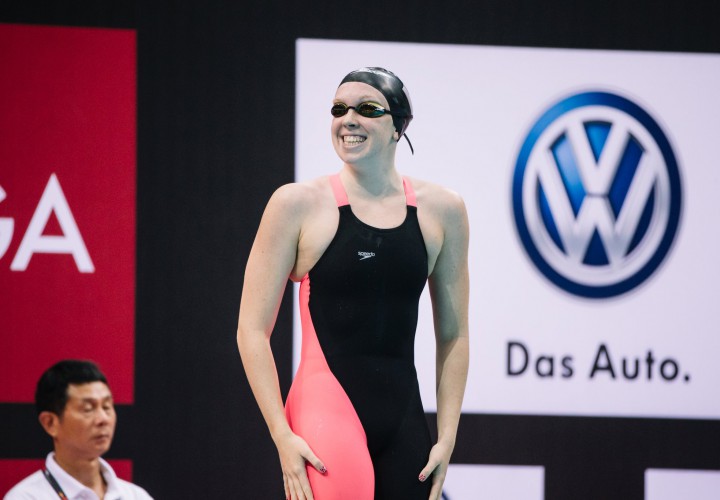 Photo Courtesy: Singapore Swimming Federation
Sierrra Schmidt of the USA turned in a sizzling 4:09.65 to claim the top seed in prelims of the women's 400-meter free. Schmidt added slightly to her seed time of 4:09.52, but doesn't sit far off of Elena Sokolova's championship meet record of 4:06.30 from 2008.
Australia's Tamsin Cook claimed the second place seed with a finishing time of 4:10.45. Cook's seed time was a 4:07.14, look for her to challenge Schmidt for first come finals.
Hannah Cox of the USA finished third overall in prelims with a time of 4:12.54, adding slightly to her seed time of 4:09.61.
Great Britain's Holly Hibbott, Russia's Arina Openysheva, and Great Britain's Chloe Finch kept it close in heat six of the race, finishing within 1.02 seconds of each other. Hibbott got to the wall first to claim the fourth place seed with a time of 4:13.05 with Openysheva close behind at 4:13.65 for fifth. Finch took sixth overall with a final time of 4:14.17.
Italy's Linda Caponi grabbed seventh overall with a time of 4:14.45, while China's Dong Fuwei rounded out the top eight with a finishing time of 4:15.11.
Schedule of Events:
2015 FINA World Junior Swimming Championships: Live Results – Results