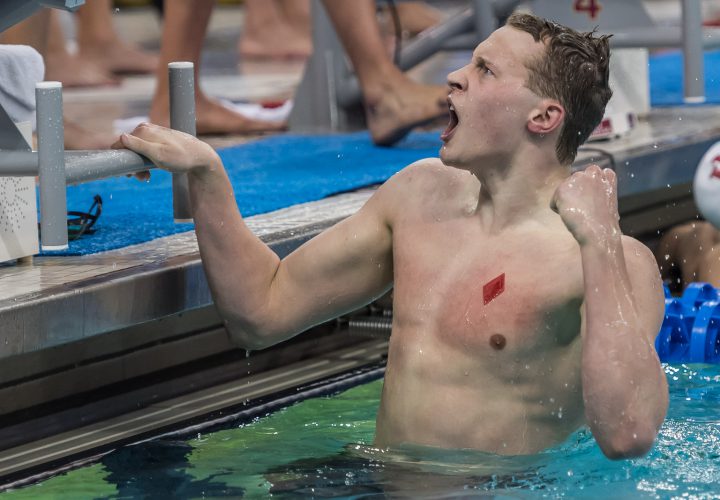 Photo Courtesy: Peter H. Bick
Editorial content for the 2018 NCAA DI Championship coverage is sponsored by TritonWear. Visit TritonWear.com for more information on our sponsor. For full Swimming World coverage, check event coverage page.
By David Rieder.
Traditionally, the 4×200 free relay fell at the end of the Friday night session of the NCAA championships. Those who specialized in the 200 free were swimming the race for the third time in one day, and it wasn't terribly unusual for coaches to opt for their stars to sit out the event for rest.
But in 2016, the NCAA made a change, moving that relay to Wednesday night, before the meet otherwise began. That guaranteed that everyone on the relay would be swimming fresh—and swimmers would be able to take their best shots at bludgeoning relay records but also the individual mark in the 200 free.
Wednesday evening in Minneapolis, Townley Haas stepped up in the final relay heat to lead off the for the University of Texas men. Two years earlier as a freshman, Haas became the first man to swim under 1:31 in the 200 free. He's now the two-time defending NCAA champion in the event, and in long course, he won the silver medal in the 200 free at the World Championships.
Haas powered his way through his first swim of the meet and touched the wall in 1:30.41, five hundredths faster than his previous American and NCAA record of 1:30.46. One problem: Blake Pieroni was leading off for Indiana two lanes over, and Pieroni made history.
Swimming just under Haas' American-record pace for the entire race, Pieroni came home in 23.18 on the final 50 yards. He finished in 1:29.63, becoming the first human being to ever swim under 1:30. The NCAA swimming community had waited two years to see a sub-1:30 performance, ever since Haas hinted that it might be possible, and their patience was rewarded.
Pieroni entered the meet with the country's second-fastest time in the 200 free at 1:31.14, posted when he was sporting a full beard at the Big Ten championships. Fully shaven on Wednesday night, he exploded.
"Couldn't really be happier with it. I've been thinking about trying to break 1:30 for over a year," Pieroni said. "This year, the way that I've been pacing more in dual meets made me think that I'd have, obviously a best time, but I didn't know how far under my previous 1:30.8. 1:29.6, I'm thrilled with it."
Naturally, Pieroni gave his Indiana a substantial lead, and teammates Mohamed Samy and Vini Lanza held it. But NC State was still in range—and Justin Ress would make the Hoosiers pay.
Ian Finnerty, the top seed at the NCAA championships in the 100 and 200 breast, was set to anchor for Indiana. He split a valiant 1:32.21, but it wouldn't be enough, with Ress coming home in 1:30.77. Just like one year ago, when the now-graduated Soren Dahl held off Haas to secure the win for the Wolfpack.
"It was very reminiscent of Soren," Ryan Held said after splitting 1:31.09 on the second leg. "We were going in neck and neck with another team, and I said the same thing to him as I said to Soren. Right as he's about to go off, I said, 'Alright, Justin, remember all those 800 free relay practices. Don't make them useless. You hated Monday afternoons. This is your time. Let's go.'"
The foursome of Andreas Vazaios, Held, Jacob Molacek and Justin Ress combined to swim a time of 6:05.31, more than a second under the previous American and NCAA record the Wolfpack set last year (6:06.53).
"Last year, 6:06, I thought that record was untouchable," Held said. "I thought no one was going to break that. And we just went 6:05? We had guy who literally swam one 200 free this year and has never swum on that relay before, Jacob. It was like, 'How did we do that with us four scrubs thrown together?'"
The team competition is worth considering quickly: The NC State won after being seeded third, Indiana fell from first to second, and Texas jumped up from the fifth seed to third place. Those are swings of plus-eight, minus-eight and plus-six, respectively. Is that significant? Well, maybe, but there's a long way to go.
The entire NC State team would be the first to admit it. Last season, the Wolfpack posted a big win over Texas in the meet-opening relay but could not sustain their momentum over the next four days. That team ended up falling to fourth overall while Texas cruised to its third straight national championship.
"Last year, we were like, 'We're going to win the meet! This is crazy,'" Held recalled. "But this year, we're like, 'It's just another day. Move on to tomorrow. Never too high, never too low.'"
Having momentum after one day is a big deal, but there are still three long days and 20 total events to go.
Still, it's worth appreciating the first night of the meet for what it is: A chance for the teams to put up four swimmers for a fast 200 free. For the third straight year, it took the fastest time in history to win the relay.
Swimmers who don't normally swim the 200 free got a chance to throw down fast splits, like Vazaios and Cal's Andrew Seliskar each posting 1:31-low leadoff splits. And for the first time, the fans inside the Jean K. Freeman Aquatic Center got to witness a man swim the 200 free in 1:29.
Thursday morning, the NCAA weekend grind begins. Pieroni, for instance, has 12 races coming up over the next three days. But before that, there was one 30-minute blast of pure intensity, a spectacle of its own.