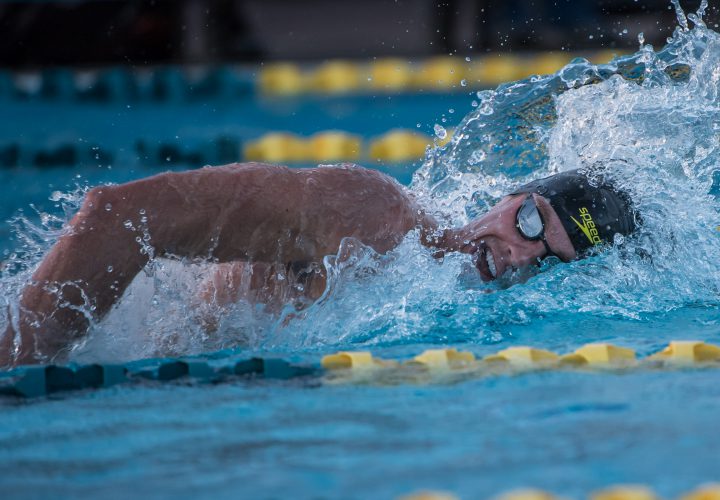 Photo Courtesy: Peter H. Bick
Welcome to Swimming World's Set of the Week! This week's set is a short set for warming up freestyle before a main set, with a particular focus on lengthening out the stroke, reminding your athletes about core and body awareness, and staying on their walls. Take a look at the set and the description below:
2 Rounds:
1 x 150's long axis combo
2 x 100's as 25 kick/50 six kick DPS/25 swim
4 x 50's
#1: build into turn
#2-3: fast middle 25
#4: all fast
Use this set after about 1000 or so yards of warm-up to get your athletes' freestyle ready for an intense freestyle main set. The set begins with a 150 of long axis combo, where swimmers will alternate between 3 strokes of freestyle and 4 strokes of backstroke. This short 150 is to wake your swimmers up and get them to focus on their body position, rotation, and core control before heading into 2 x 100's that work on setting up a long, efficient stroke.
The 2 x 100's that follow mix kicking and six kick DPS drill to wake up your swimmers' legs and focus on the length of their stroke. Make sure they are keeping their body position high in the water and that they are rotating using their hips and the propulsion of their legs, not just from their upper body.
Following the 2 x 100's will be 4 x 50's that gradually have your athletes apply some power and speed behind their stroke. This also is meant to help hem focus on carrying their speed and stroke tempo into and out of their flipturns, so watch to make sure they are hitting their walls and maintaining their long, efficient strokes as they speed up. Adding in some speed at the end of each round gets your swimmers fully warmed up and makes sure they are ready to go when it is time for the main set. Happy swimming!
All swimming and dryland training and instruction should be performed under the supervision of a qualified coach or instructor, and in circumstances that ensure the safety of participants.