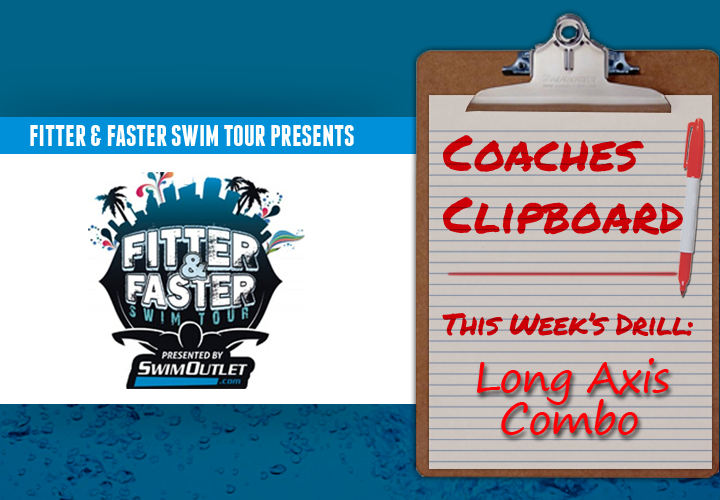 Welcome to the "Swim Drill of the Week" sponsored by The Fitter and Faster Swim Tour presented by Swimoutlet.com. Swimming World will be bringing you a drill, concept, or tip that you can implement with your team on a regular basis. While certain weeks may be more appropriate for specific levels of swimming (club, high school, college, or masters), Drill Of The Week excerpts are meant to be flexible for your needs and inclusive for all levels of swimming.
This week's drill is long axis combo. Similar in concept to Short Axis Combo, this drill has swimmers alternate between 4 stroke of freestyle and 3 strokes of backstroke. Rotating from stroke to stroke, the idea of the drill is to maintain proper body line, core control, and a strong and immediate catch in their pull.
When presenting this drill to your swimmers, many of them will simply interpret this as corkscrew. And while they aren't far off, this drill is different than simply rotating along your long axis down the pool. Present it as corkscrew with a purpose. The key is in the transitions between the strokes. When switching from freestyle to backstroke, the last stroke should still stay extended long in front as your swimmers rotate onto their backs, maintain an in-line head position, and use their core and legs to steady themselves quickly into the correct position for backstroke. While they are in the process of flipping over, they should seamlessly set their catch with their top arm and take their next stroke for backstroke to continue their forward movement.
Similarly, when transitioning from backstroke to freestyle they should keep their last stroke arm extended, use their core and legs to rotate over as they set up a strong catch with their top arm to transition into freestyle as they rotate over. When done poorly, this drill can have your swimmers wiggling their way down the pool with exaggerated rotations and hitchy transitions. But with mindful, purposeful control of their body position and core muscles it will help teach them the subtleties in each stroke and how to make quick, efficient body position changes. Happy swimming!
All swimming and dryland training and instruction should be performed under the supervision of a qualified coach or instructor, and in circumstances that ensure the safety of participants.