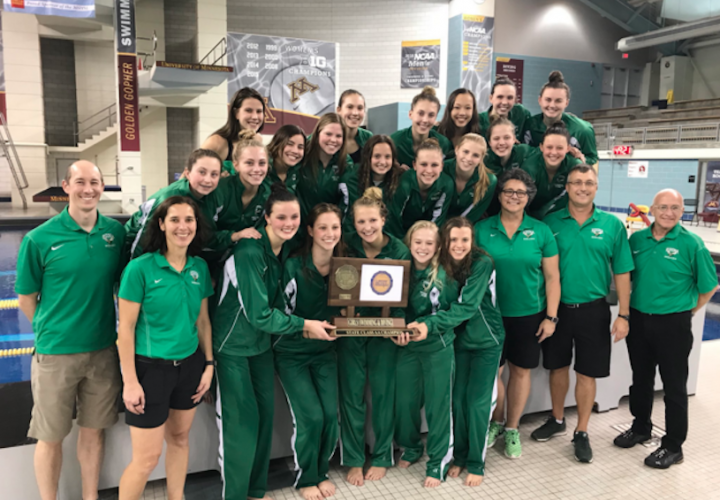 Photo Courtesy: Edina Hornets Twitter (@edinahornets)
Agon is the proud sponsor of all high school coverage (recruiting, results, state championships, etc.) on SwimmingWorld.com. For more information about Agon, visit their website?AgonSwim.com.?National Records for High School Are Pending Application Verification.? Click Here to Learn More
Agon is the proud sponsor of all high school coverage (recruiting, results, state championships, etc.) on SwimmingWorld.com. For more information about Agon, visit their website AgonSwim.com.
At the 2017 Minnesota Girls High School Class AA Swimming and Diving Championships Edina scored 382.5 points to win the meet by just over 100 points, earning their second consecutive state title. Minnetonka totaled 281.5 points. Wayzata edged Rosemount for third place by a single point as the two teams scored 133 and 132, respectively.
In the first individual event of the night Edina took first and second behind swims from seniors Kelli McCarthy (1:48.31) and Ashley Post (1:49.49). Armstrong sophomore Sierra Smith was third (1:50.85). McCarthy also won the 500 freestyle by ten seconds with her 4:52.83.
Edina's senior Raime Jones was runner up in the 200 IM with a 2:03.89. Blaine sophomore Isabelle Stadden won the event in 2:00.49, a Class AA record. Stillwater freshman Sydney Rogness was third (2:05.33).
Lakeville South's Ryenne Hathaway won the 50 free in 23.20 ahead of Roseville's Pyper Doo (23.34) and Minnetonka freshman Abigail Kapeller (23.54) and senior Emily Haan (23.59). Doo later won the 100 free in 49.61 ahead of Wayzata's Jordan McGinty (50.42) and a pair of Edina seniors: Jones (50.78) and Post (51.18).
Minnetonka won the opening 200 medley relay by over two seconds. Kapeller, Julia Brazeau, Raegan Willis, and Haan touched in 1:42.94. Wayzata's McGinty, Jenna Marquette, Melinda Zhang, and Cindy Zhou were second in 1:44.98. Finishing third with a 1:45.37 was St. Michael-Albertville's Kelsey Kocon, Emma Lezer, Kristen Pieper, and Jordyn Schnell.
Hopkins junior Molly Meland stopped the clock in 55.36 for 100 fly victory ahead of Mpls Southwest's Peyton D'Emanuele (55.53). Chanhassen senior Rowan Hodgins (56.02) touched third.
Edina also took home a victory in the diving where Megan Phillip won with 476.05 points.
Minnetonka edged Edina 1:34.10 to 1:34.28 in the 200 freestyle relay. Haan, Ellie Schini, Nichole Burg, and Kapeller raced for Minnetonka. Nora Clarkowski, Post, McCarthy, and Jones were Edina's quartet.
After her second place finish in the 200 IM Stadden won the 100 backstroke by a large margin with a 52.78. Eagan's Lara Mitchell (55.59) and Meland (55.82) were second and third.
Lezer swam a 1:01.92 to win the 100 breaststroke ahead of Anoka freshman Reese Dehen (1:03.27) and Eden Prarie sophomore Kylie Rydland (1:03.88).
Edina ended the meet with one more victory, a 400 freestyle relay gold by nearly four seconds. Clarkowski, Post, McCarthy, and Jones combined for a 3:24.72.
Full results available here.