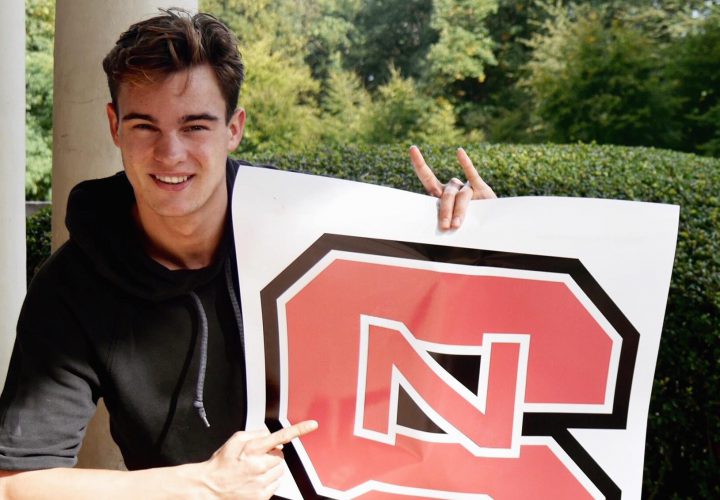 Photo Courtesy: Nyls Korstanje
Agon is the proud sponsor of all high school coverage (recruiting, results, state championships, etc.) on SwimmingWorld.com. For more information about Agon, visit their website AgonSwim.com.
To report a college commitment, email HS@swimmingworld.com. Join Swimming World's Watch List
NEW COMMIT: Dutch sprinter Nyls Korstanje has given his verbal commitment to NC State University. Korstanje lives in Eindhoven where he trains with the Dutch National Team under Marcel Wouda, the 1997 400 IM world record setter, and 1998 200 IM World Champion. Korstanje still calls the city of Nijmegen and it's club Aqua Novio '94 home.
Korstanje is not a total stranger to swimming in the United States. He learned to swim in North Reading, Massachusetts, while living in Boston suburb from ages six to nine. His swimming career took off there as he trained with Reading's Burbank YMCA and in 2008 won the New England Championships eight and under 25 free and 25 backstroke.
More recently, and on a larger, international stage, Korstanje won gold in the 50 free and silver in the 100 free at the 2015 European Youth Olympic Swimming festival. His biggest international success to date came at World Short Course Championships in Windsor, Canada last winter. There he was a member of the Netherlands' bronze medal earning 4×50 freestyle mixed relay. He also raced the 100 freestyle in Canada.
His best SCM times are:
50 free – 21.59
100 free – 47.59
200 free – 1.46.35
100 fly – 52.21
100 IM – 54.51
His best LCM times are:
50 free – 22.49
100 free – 49.57
50 fly – 23.96
100 fly – 53.98
Those freestyle times convert to a 19 low, 42 high, and 1:35 high. The Wolfpack's lead sprinter Ryan Held will graduate this spring, making Korstanje's timing perfect. While he isn't quite to the 18.68 Held used to win the 2017 ACC 50 freestyle title, it took a 19.61 to make that A final. A 43.11 was good enough for the eight spot in the 100 freestyle championship final. At NCAAs last year the Wolfpack's 400 freestyle relay touched seventh, with splits ranging from 41.36 to 43.13. Korstanje should be in immediate contention for relay positions in Raleigh.