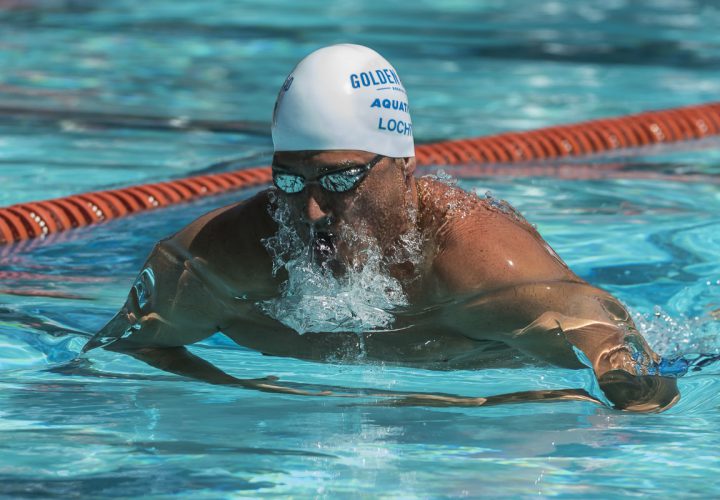 Photo Courtesy: Peter H. Bick/U.S. Masters Swimming
Ryan Lochte is headed back to the University of Florida. Beginning in September, Lochte will again be training in Gainesville under Gregg Troy, previously his coach from 2002 to 2013.
Jeff Ostrow, who represents Lochte with Pro Players Sports, confirmed the news to Swimming World in a statement.
Ryan will be returning to Gainesville to train with the Gator Swim Club under legendary University of Florida Coach Gregg Troy and Head Swim Coach Robert Pinter. He will start in September with the post-graduate international swimming group and plans to train through the 2020 Olympics in Japan.

Ryan achieved his greatest success as a swimmer during his time at the University of Florida and the years he trained there post-graduation.

There are many things that he could have done better during the last couple of years, in and out of the pool, and we believe that Gainesville affords him the best opportunity to get back to what made him so great. The Gainesville swimming community has always been supportive of Ryan and he is excited to join them once again.
Lochte competed this summer at the U.S. Open after returning from a 10-month suspension that resulted from his behavior at a Rio gas station at the conclusion of last summer's Olympics. Lochte is a four-time U.S. Olympian and won four straight World titles in the 200 IM from 2009 to 2015.
Lochte trained at the University of Southern California for much of this year under coaches Dave Salo and Jon Urbanchek. He swam at the U.S. Open in early August, where he finished fifth in the 100 back and won the 200 IM, albeit in a non-noteworthy time of 1:59.24.
It's also been a big year for Lochte outside of the pool, as he got engaged to girlfriend Kayla Rae Reid, and the two gave birth to a son, Caiden.