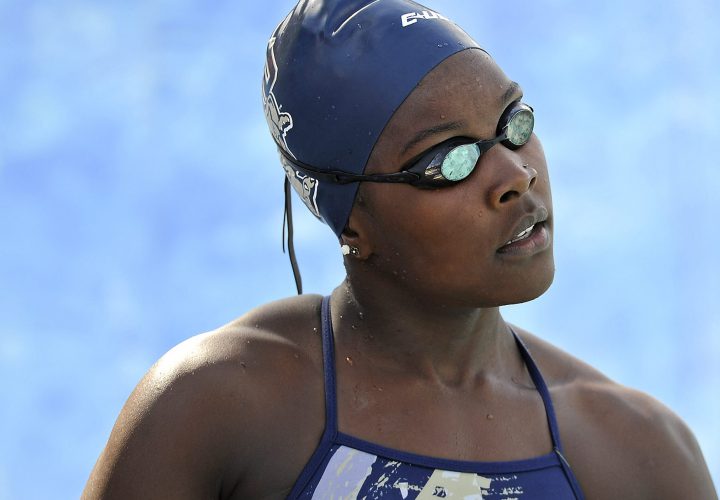 Photo Courtesy: Sam Lewis
Two records were broken to highlight the second day of the 2018 Conference USA Swimming and Diving Championships.
After breaking those two records, Florida International leads the team scores with 358 points, followed by Rice (235), Marshall (197), North Texas (141), Florida Atlantic (124) and Old Dominion (109). The Panthers will seek to win their fourth-straight conference title.
Women's 500 Free
Rice's Alicia Caldwell won the first individual event of the meet, touching first in the 500 free. The senior stopped the clock in a time of 4:45.33 to finish nearly five seconds ahead of the rest of the field.
Florida Atlantic's Natalie Clausen finished second in 4:50.02 and Florida International's Kyna Pereira took a close third in 4:50.08.
Florida International's Oceane Peretti (4:50.22), Rice's Hanna Huston (4:51.19), North Texas' Leigh Faires McGee (4:53.35), Rice's Kelsey Evans (4:54.64) and Florida International's Berta Triola (4:59.99) rounded out the top eight.
Women's 200 IM
Two swimmers cracked the two-minute barrier in the 200 IM, led first by Marshall's Catherine Bendziewicz. The sophomore dropped nearly three seconds from her entry time to win the gold in 1:59.40.
Rice's Jaecey Parham also snuck under the two-minute mark to earn silver in 1:59.59 and Rice's Kaitlyn Swinney grabbed bronze in 2:00.44.
Marshall's Emma Lockyer (2:01.37), Florida International's Stephanie Hussey (2:01.94), Florida International's Skye Carey (2:02.01), Marshall's Caroline Wanner (2:02.40) and Old Dominion's Ashley Brem (2:03.72) completed the top eight.
Women's 50 Free
Florida International earned big points in the women's 50 free, sweeping the podium with all three swimmers under the 23-second barrier. Naomi Ruele won the event with a quick 22.11 and the junior's time was just under her own Conference USA mark of 22.23 she set back in 2016.
Ruele's teammates Letizia Bertelli finished second in 22.63 and Ally Mayhew took third in 22.81 to complete the podium sweep for the Panthers.
North Texas' Brittany Thurstin (23.06), Marshall's Lauren Cowher (23.20), Rice's Lauren Rhodes (23.23), Florida International's Sara Gyertyanffy (23.29) and North Texas' Isabelle Morris (23.31) also competed in the A-final.
Women's 3-Meter Diving
Florida International took the top five spots in the meet's first diving competition. Rachel Foord led the Panthers after winning with a final score of 328.45.
Her teammates Becca Quesnel dove to second with 305.55 points and Brittany Haskell finished third with a score of 284.05.
Laura Coronado (282.65), Brooke Bouchard (277.15), Florida Atlantic's Lauren Beyer (254.30), Marshall's Madison Young (235.10) and North Texas' Averie Ruiz (231.70) also dove in the top heat.
Women's 4×50 Free Relay
After sweeping the podium in the 50 free, it's no surprise that Florida International dominated the 4×50 free relay. The Panther quartet of Bertelli (22.95), Mayhew (22.16), Gyertyanffy (23.70) and Ruele (21.79) touched the wall in 1:30.60 for their third victory of the day.
Rice finished second in 1:31.91 and Marshall took third in 1:32.03.
Day three prelims will begin at 10:30 a.m. EST.