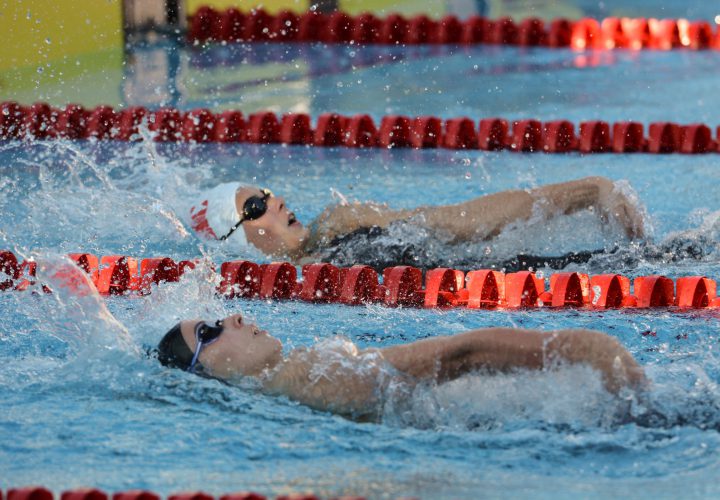 Photo Courtesy: Donna Nelson
By Katie Wingert, Swimming World College Intern. 
Regan Smith of Riptide Swim Team made history not once but twice  in the 100 butterfly and the 100 backstroke tonight at the finals for the 2016 Speedo Winter Junior Championships West.
With her 100 butterfly time of 51.73, the 14-year-old shattered the previous 13-14 women's 100-SCY butterfly National Age Group Record time of 52.22, a record she set this morning at prelims. Smith also broke the elusive 52-second barrier and edged out Aquazot Swim Club's Eva Merrell by two tenths for gold.
Smith entered the 51-club in the 100 backstroke as well, but her claim came with a much wider victory margin. The "Riptide Rocket," as Smith was dubbed by the meet announcer, nabbed both the meet record and the NAG 100-SCY backstroke record with the time of 51.09. Her closest competitor was Julia Cook from Aggie Swim Club, who posted a 52.47. The winning time was over nearly half a second faster than the meet record and previous NAG record of 51.62, established by Nashville Aquatic Club's Alex Walsh. 
Smith swam all-around consistent 51-second races. She went out in her 100 butterfly at a 24.24, and came back in a 27.49. Her 100 backstroke demonstrated more restraint in the first 50 with a 25.07, but her explosive underwaters in the back half helped her to an impressive 26.02.