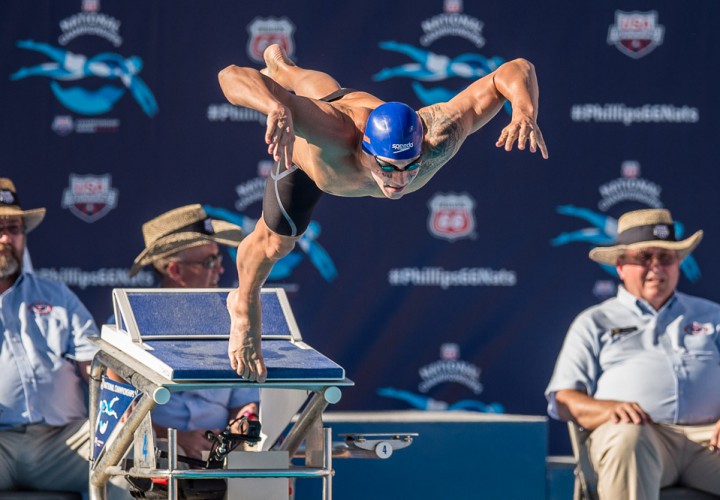 Photo Courtesy: Peter H.Bick
NCAA DI Championship Editorial Coverage is proudly sponsored by Adidas. Visit All-American Swim for more information on our sponsor. For all the latest coverage, check out our event coverage page.
Florida's Caeleb Dressel unleashed the second 18.2 in history as he nearly beat his NCAA, American record in the men's 50-yard free at the 2016 NCAA Division I Men's Championships.
Dressel, who earlier already clocked an 18.32 on relay duty, blasted an 18.29 in prelims.  That's just off his 18.23 record as the fastest 50 free ever.
Dressel wins the 50-free prelims with an 18.29 — nearly breaks his own American & U.S. Open Records. #GoGators pic.twitter.com/kO9dAdfFTe

— Gator Swimming (@GatorsSwimDv) March 24, 2016
Dressel now has the top four performances of all time, all within the time frame of a month and a half.  He started out with an 18.39 during prelims at the Southeastern Conference Championships last month, and has now has the only four sub-18.40 times in history.
All Time Top 10 50 Free Performances:
1 18.23 Caeleb Dressel, Florida, Columbia 2/17/16
2 18.29p Caeleb Dressel Florida Atlanta 3/24/16
3 18.32r Caeleb Dressel, Florida, Atlanta, 3/24/16
4 18.39p Caeleb Dressel, Florida, Columbia, 2/17/16
5 18.47r Cesar Cielo Auburn Federal Way, Wash. 3/27/08
6 18.52 Cesar Cielo Auburn Federal Way, Wash. 3/27/08
6 18.52 Matt Targett Auburn Auburn, Ala., 2/19/09
8 18.63 Vlad Morozov USC 3/28/13
9 18.64 Kristian Gkolomeev Alabama 2/18/15
10 18.66 Nathan Adrian California Minneapolis 3/24/11
Dressel, who won the 50 free last year in 18.67, is looking to join a long list of multiple 50 free winners. As a sophomore this year, a win by Dressel would keep him on the path to making history as no one has ever accomplished a career sweep of the event.
Multiple 50 Free Winners:
3 – Joe Bottom, Southern California
3 – Fred Bousquet, Auburn
3 – David Edgar, Tennessee
2 – Nathan Adrian, California
2 – Robert Anderson, Stanford
2 – Charles Barker, Michigan
2 – Matt Biondi, California
2 – John Bryant, Dartmouth
2 – Cesar Cielo, Auburn
2 – Richard Cleveland, Ohio State
2 – Andrew Coan, Tennessee
2 – Charles Flachmann, Illinois
2 – Steven Jackman, Minnesota
2 – Tom Jager, UCLA
2 – Ed Kirar, Michigan
2 – Brent Lang, Michigan
2 – Richard Weinberg, Michigan
2 – Zac Zorn, UCLA
Several other swimmers will attempt to dethrone Dressel.  NC State's Simonas Bilis, who moved to ninth all time with an 18.76 relay leadoff earlier in the morning, posted an 18.79 for the second seed in the individual event.
Michigan's Paul Powers also cleared 19 with an 18.99 for the third seed.  He is ranked 14th all time with an 18.85 from Big Tens last month.
NC State's Ryan Held (19.01), Missouri's Michael Chadwick (19.06), Georgia's Michael Trice (19.16) and Texas' John Murray (19.17) also safely made it into finals.
Auburn's Peter Holoda, Texas' Brett Ringgold and Alabama's Kristian Gkolomeev set up a threeway swimoff for eighth with 19.18s.
Gkolomeev, the 2014 50 free victor alongside Brad Tandy in a tie, won the swimoff in 19.04.  Ringgold (19.09) and Holoda (19.13) wound up moving to the B final.
                    === Preliminaries ===                       
 
  1 Dressel, Caeleb        SO Florida             18.23      18.29C 
     r:+0.66  8.82         18.29 (9.47)
  2 Bilis, Simonas         SR NC State            18.94      18.79P 
     r:+0.67  9.01         18.79 (9.78)
  3 Powers, Paul           SO Michigan            18.85      18.99  
     r:+0.63  9.10         18.99 (9.89)
  4 Held, Ryan             SO NC State            18.92      19.01  
     r:+0.65  9.15         19.01 (9.86)
  5 Chadwick, Michael      JR Missouri            19.17      19.06  
     r:+0.69  9.30         19.06 (9.76)
  6 Trice, Michael         SR Georgia             19.31      19.16  
     r:+0.69  9.14        19.16 (10.02)
  7 Murray, John           SR Texas               19.26      19.17  
     r:+0.65  9.17        19.17 (10.00)
  8 Holoda, Peter          SO Auburn              19.17      19.18  
     r:+0.65  9.43         19.18 (9.75)
  8 Ringgold, Brett        SO Texas               19.38      19.18  
     r:+0.71  9.36         19.18 (9.82)
  8 Gkolomeev, Kristian    JR Alabama             19.21      19.18  
     r:+0.70  9.43         19.18 (9.75)
 Swim-Off Required ----------------------------------------------
 11 Virva, Dillon          SR UNLV                19.09      19.25  
     r:+0.62  9.22        19.25 (10.03)
 12 Khalafalla, Ali        SO Indiana             19.27      19.28  
     r:+0.69  9.38         19.28 (9.90)
 13 Sorenson, Payton       SO BYU                 19.23      19.40  
     r:+0.76  9.45         19.40 (9.95)
 14 Perry, Sam             SO Stanford            19.30      19.41  
     r:+0.60  9.38        19.41 (10.03)
 15 Schiellerup, Andreas   JR NC State            19.52      19.42  
     r:+0.69  9.35        19.42 (10.07)
 16 Darmody, Kyle          JR Auburn              19.44      19.48  
     r:+0.67  9.46        19.48 (10.02)
 -----------------------------------------------------------------
 17 Kaliszak, Lucas        SO Alabama             19.73      19.53  
     r:+0.65  9.39        19.53 (10.14)
 17 Lynch, Justin          SO California          19.41      19.53  
     r:+0.66  9.51        19.53 (10.02)
 Swim-Off Required ----------------------------------------------
 19 Apple, Zach            FR Auburn              19.48      19.54  
     r:+0.66  9.47        19.54 (10.07)
 20 Plaschka, Justin       SO Notre Dame          19.61      19.56  
     r:+0.61  9.35        19.56 (10.21)
 20 Jackson, Tate          FR Texas               19.25      19.56  
     r:+0.77  9.57         19.56 (9.99)
 22 Decoursey, Kyle        FR Tennessee           19.43      19.59  
     r:+0.73  9.71         19.59 (9.88)
 22 Ellis, Matt            SR Texas               19.58      19.59  
     r:+0.69  9.59        19.59 (10.00)
 22 Main, Corey            SR Florida             19.36      19.59  
     r:+0.62  9.43        19.59 (10.16)
 25 Duderstadt, Michael    JR Auburn              19.71      19.60  
     r:+0.64  9.34        19.60 (10.26)
 25 Lewis, Sam             SR UNC                 19.49      19.60  
     r:+0.57  9.36        19.60 (10.24)
 25 Mendes, Arthur         SR Auburn              19.88      19.60  
     r:+0.63  9.46        19.60 (10.14)
 28 Peek, James            JR Duke                19.54      19.61  
     r:+0.66  9.32        19.61 (10.29)
 29 Clifton, Cannon        JR Wisconsin           19.57      19.64  
     r:+0.67  9.45        19.64 (10.19)
 30 Carroll, Trevor        JR Louisville          19.57      19.67  
     r:+0.69  9.52        19.67 (10.15)
 31 Walsh, Brett           SR Alabama             19.61      19.71  
     r:+0.62  9.40        19.71 (10.31)
 32 Bohus, Richard         JR Arizona St          19.74      19.72  
     r:+0.68  9.63        19.72 (10.09)
 33 Bams, Laurent          SO Alabama             19.56      19.74  
     r:+0.68  9.61        19.74 (10.13)
 34 Lile, Nathan           SR Gardner-Webb        19.49      19.78  
     r:+0.69  9.59        19.78 (10.19)
 35 Hu-Van Wright, En-wei  JR Princeton           19.37      19.80  
     r:+0.69  9.61        19.80 (10.19)
 36 Tavcar, Anze           JR Indiana             19.62      19.87  
     r:+0.74  9.75        19.87 (10.12)
 36 Linge, Alex            SR LSU                 19.78      19.87  
     r:+0.71  9.69        19.87 (10.18)
 38 Park, Patrick          SO Arizona St          19.90      19.88  
     r:+0.69  9.57        19.88 (10.31)
 39 Conaton, Patrick       SO Stanford            19.83      19.91  
     r:+0.65  9.82        19.91 (10.09)
 40 Duskinas, Tadas        JR Arizona St          19.97      19.92  
     r:+0.73  9.68        19.92 (10.24)
 41 Robrock, Kyle          JR Denver              19.53      19.94  
     r:+0.69  9.50        19.94 (10.44)
 42 Hammoud, Youssef       SR GT                  19.85      20.01  
     r:+0.75  9.72        20.01 (10.29)
 43 Coan, Kyle             SO California          20.16      20.10  
     r:+0.63  9.58        20.10 (10.52)
 44 Schultz, Eric          SR Penn                19.68      20.11  
     r:+0.68  9.52        20.11 (10.59)
 45 Marsh, Andrew          SR WVU                 19.89      20.18  
     r:+0.66  9.72        20.18 (10.46)
 46 Becker, Bowen          FR Minnesota           19.53      20.19  
     r:+0.59  9.83        20.19 (10.36)
 47 Knox, Jonathan         SO USC                 19.92      20.46  
     r:+0.68  9.83        20.46 (10.63)