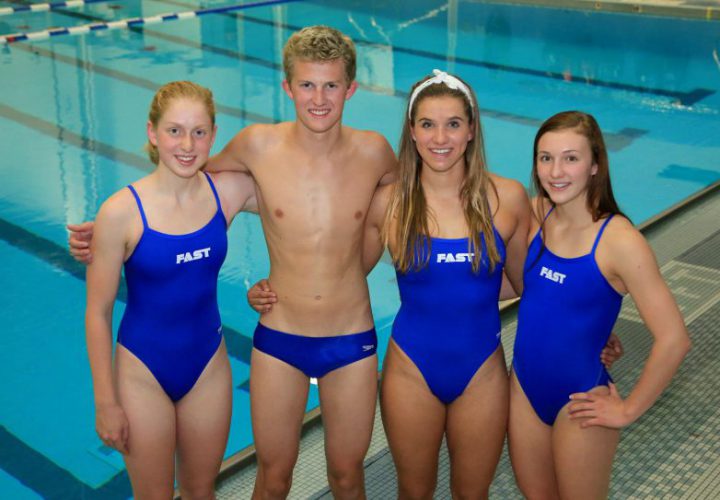 Photo Courtesy: Lance Holter
Speedo Sectional Series is proudly sponsored by Speedo. Visit SpeedoUsa.com for more information on our sponsor.
Iowa City will be one of four locations for Speedo Sectionals meet this weekend.
The Fort Collins Area Swim Team girls enter the meet as a dominant force. In the 200 backstroke they take the top five seeds, led by Bayley Stewart. Stewart's teammates Zoe Bartel and Bailey Kovac are also consistently in the top of the mix on the psych sheets.
Bartel, the 200 breaststroke National Age Group record holder, is the fastest entrant in the 200 IM and 100 and 200 breaststroke. She's also in the top five in the 100 backstroke and 200 backstroke and the 100 freestyle. Kovac is a top eight seed in the 100 and 200 breaststroke, 200 IM, and 200 backstroke. The 18 year old also leads the way in the 400 IM.
Ruby Martin, the Iowa Flyer swimmer who had a breakout Olympic Trials this summer, is the top seed in the 200 butterfly by a full five seconds. The 17 year old also leads the way in the 100 butterfly. She'll also swim the 200 IM, 400 IM and 200 backstroke.
Piranhas Swim Club's Sarah Schemmel is top seed in the 100 freestyle and seeded second in the 50 free. Melissa Pish from Waves Bloomington/Normal Y has a large lead headed into the 500 freestyle. Pish is also top seed in the 200 freestyle and third in the 100. The Duke commit's teammate Noell Peplowski is second in the 500 and third in the 100 breaststroke.
On the men's side, there is a little more team diversity at the top. Lake Forest Swim Club's Levy Nathan is among the top of the distance events. He's first seed in the 1650 and the 1000 and second only to Terrapins' Alexei Sancov in the 500.
Fifteen year old Peter Larson is top seed in the 200 backstroke. The Edina Swim Club swimmer also enters fourth in the 100 backstroke.
Unattached 21 year old Justin Winnett has the fastest times in the 100 and 200 breaststrokes. He's also the leader in the 50 freestyle while Sancov tops the 100. Sancov also has the fastest entry in the 200 butterfly and 200 freestyle. Lane 4 Aquatics' Caleb Aman is entered in just one event this weekend- the 200 IM- but he is the top seed.
View the full psych sheet here.