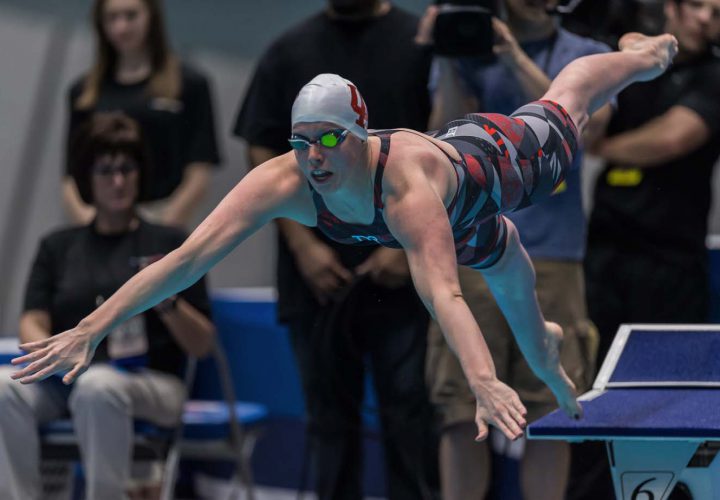 Lilly King -- Photo Courtesy: Peter H. Bick
Editorial content for the 2018 NCAA DI Championship coverage is sponsored by TritonWear. Visit TritonWear.com for more information on our sponsor. For full Swimming World coverage, check event coverage page.
Let's be honest: No one expects Lilly King to finish anywhere but first in the 100 breast at the women's NCAA championships. Ditto Katie Ledecky in the 1650 free. But plenty of races will be extremely competitive, and how individuals and relay teams perform in the racing pool will make a big impact in the team scores.
The meet will feature 13 individual swimming events and five relays, so Swimming World's David Rieder and Andy Ross each predicted their expected top three finishers for each event. Check out who they picked — some agreements and some major disagreements — and see who comes out looking smart when all is said and done.
Wednesday, March 14
4×200 Free Relay
David's Picks:
1. Stanford
2. Cal
3. Michigan
Andy's Picks:
1. Stanford
2. Cal
3. Michigan
Thursday, March 15
4×50 Free Relay
David's Picks:
1. Cal
2. Stanford
3. Louisville
Andy's Picks:
1. Cal
2. Stanford
3. Tennessee
500 Free
David's Picks:
1. Katie Ledecky, Stanford
2. Mallory Comerford, Louisville
3. Courtney Harnish, Georgia
Andy's Picks:
1. Katie Ledecky, Stanford
2. Joanna Evans, Texas
3. Mallory Comerford, Louisville
200 IM
David's Picks:
1. Ella Eastin, Stanford
2. Kathleen Baker, Cal
3. Sydney Pickrem, Texas A&M
Andy's Picks:
1. Kathleen Baker, Cal
2. Ella Eastin, Stanford
3. Sydney Pickrem, Texas A&M
50 Free
David's Picks:
1. Simone Manuel, Stanford
2. Abbey Weitzeil, Cal
3. Liz Li, Ohio State
Andy's Picks:
1. Liz Li, Ohio State
2. Simone Manuel, Stanford
3. Abbey Weitzeil, Cal
4×100 Medley Relay
David's Picks:
1. Stanford
2. Cal
3. Indiana
Andy's Picks:
1. Stanford
2. Cal
3. Texas A&M
Friday, March 16
400 IM
David's Picks:
1. Katie Ledecky, Stanford
2. Ella Eastin, Stanford
3. Sydney Pickrem, Texas A&M
Andy's Picks:
1. Ella Eastin, Stanford
2. Katie Ledecky, Stanford
3. Sydney Pickrem, Texas A&M
100 Fly
David's Picks:
1. Erika Brown, Tennessee
2. Louise Hansson, USC
3. Janet Hu, Stanford
Andy's Picks:
1. Louise Hansson, USC
2. Liz Li, Ohio State
3. Janet Hu, Stanford
200 Free
David's Picks:
1. Mallory Comerford, Louisville
2. Simone Manuel, Stanford
3. Siobhan Haughey, Michigan
Andy's Picks:
1. Mallory Comerford, Louisville
2. Siobhan Haughey, Michigan
3. Simone Manuel, Stanford
100 Breast
David's Picks:
1. Lilly King, Indiana
2. Lindsey Kozelsky, Minnesota
3. Miranda Tucker, Michigan
Andy's Picks:
1. Lilly King, Indiana
2. Lindsey Kozelsky, Minnesota
3. Miranda Tucker, Michigan
100 Back
David's Picks:
1. Kathleen Baker, Cal
2. Ally Howe, Stanford
3. Beata Nelson, Wisconsin
Andy's Picks:
1. Kathleen Baker, Cal
2. Ally Howe, Stanford
3. Janet Hu, Stanford
4×50 Medley Relay
David's Picks:
1. Cal
2. Stanford
3. Indiana
Andy's Picks:
1. Cal
2. Indiana
3. Stanford
Saturday, March 17
1650 Free
David's Picks:
1. Katie Ledecky, Stanford
2. Hannah Moore, NC State
3. Ally McHugh, Penn State
Andy's Picks:
1. Katie Ledecky, Stanford
2. Hannah Moore, NC State
3. Joanna Evans, Texas
200 Back
David's Picks:
1. Kathleen Baker, Cal
2. Asia Seidt, Kentucky
3. Janet Hu, Stanford
Andy's Picks:
1. Kathleen Baker, Cal
2. Asia Seidt, Kentucky
3. Janet Hu, Stanford
100 Free
David's Picks:
1. Simone Manuel, Stanford
2. Mallory Comerford, Louisville
3. Abbey Weitzeil, Cal
Andy's Picks:
1. Simone Manuel, Stanford
2. Mallory Comerford, Louisville
3. Abbey Weitzeil, Cal
200 Breast
David's Picks:
1. Lilly King, Indiana
2. Sydney Pickrem, Texas A&M
3. Bethany Galat, Texas A&M
Andy's Picks:
1. Lilly King, Indiana
2. Sydney Pickrem, Texas A&M
3. Bethany Galat, Texas A&M
200 Fly
David's Picks:
1. Ella Eastin, Stanford
2. Louise Hansson, USC
3. Katie McLaughlin, Cal
Andy's Picks:
1. Ella Eastin, Stanford
2. Louise Hansson, USC
3. Megan Kingsley, Georgia
4×100 Free Relay
David's Picks:
1. Cal
2. Stanford
3. Virginia
Andy's Picks:
1. Stanford
2. Cal
3. Michigan