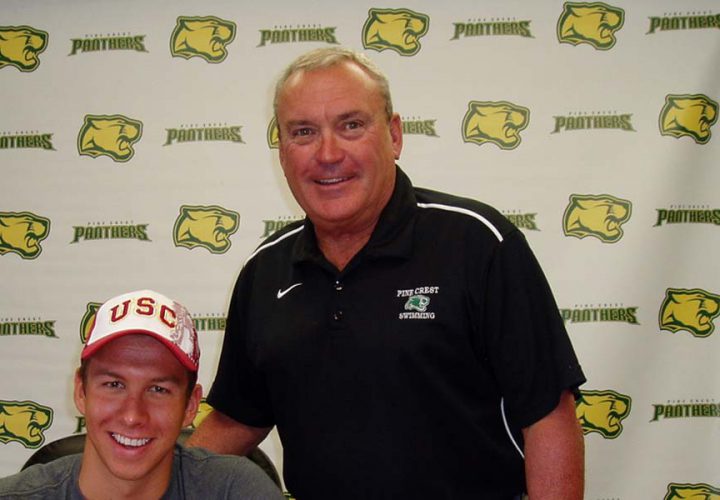 Photo Courtesy: Pine Crest Swim Camp
Jay Fitzgerald, who has served as head coach and aquatic director at Pine Crest School since 1995, has announced his retirement, effective at the end of the 2017-2018 school year.
Fitzgerald announced the news at the school's athletic awards last week. Mariusz Podkoscielny, currently Fitzgerald's assistant and a two-time Olympian for Poland, will take over as head coach and aquatic director next season.
Before Pine Crest, Fitzgerald was head coach at the Dad's Club in Houston, at the Cincinnati Marlins and at Santa Clara Swim Club. Before that, he assisted legendary coaches Don Gambril at Alabama and Skip Kenney with the Marlins.
Fitzgerald produced strong team finishes at U.S. Nationals at each club he worked at, including efforts that turned the Dad's Club from a team with no National qualifiers to a top-ten program and YMCA national champions within two years. In Santa Clara, Fitzgerald helped rebuild the strong legacy of success after a down period prior to his arrival.
At Pine Crest, his girls and boys teams have eachwon district titles in 21 of Fitzgerald's 23 seasons, and on the state level, Fitzgerald's boys have been runner-up 16 times while the girls have 10 second-place finishes.
Internationally, Fitzgerald coached three members of the 1984 U.S. Olympic team (Betsy Mitchell, Dave Wilson and Kim Rhodenbaugh), and he twice served on U.S. coaching staffs at the FINA World Championships.