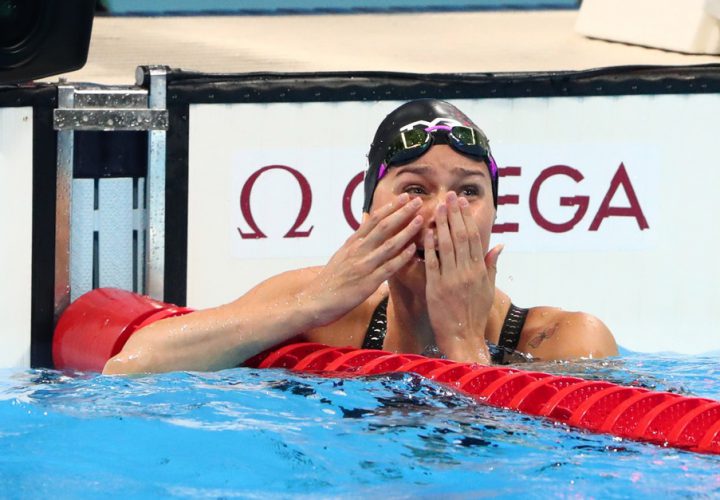 Photo Courtesy: Rob Schumacher-USA TODAY Sports

Editorial Coverage Sponsored By FINIS
Women's 50 Free FINAL:
The torch for Olympic 50 Freestyle Champion has once again passed as Denmark's Pernille Blume continued to dominate the women's 50-meter freestyle ending the swift sprint with a gold medal. The Netherlands' Inge Debruijn is the only woman to defend her own Olympic title in the 50 free with gold medals in both 2000 and 2004. Blume led the event from prelims into semi-finals and through the last stroke of finals cultivating in Denmark's third ever Olympic gold medal at a time of 24.07.
Finishing second was the USA's Simone Manuel, who on night six made history by becoming the first African-American woman to win a gold medal in swimming, with a final time of 24.09.
Aliaksandra Herasimenia, 2012 silver medalist in this event, picked up the bronze medal with a quick 24.11.
The close times just continued as Great Britain's Francesca Halsall posted a 24.13 for fourth, just ahead of Australia's Cate Campbell's 24.15.
2012 Olympic champion Ranomi Kromowidjojo slid to sixth with a 24.19, while Bronte Campbell of Australia turned in a 24.42 for seventh.
Hometown favorite Etiene Medeiros wrapped up the top eight with a 24.69 finish.
Full results can be found here.