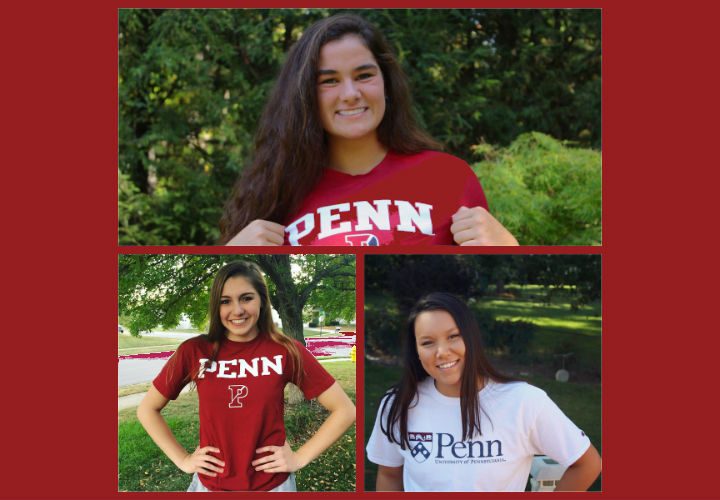 Photo Courtesy: Anna Newnam, Grace Estabrook, Grace Giddings (Twitter)
Agon is the proud sponsor of all high school coverage (recruiting, results, state championships, etc.) on SwimmingWorld.com. For more information about Agon, visit their website AgonSwim.com.
To report a college commitment, email HS@swimmingworld.com. Join Swimming World's Watch List
NEW COMMIT: The University of Pennsylvania has received a trio of verbal commitments. Anna Newnam, Grace Estabrook, and Grace Giddings have all announced their verbal commitments to the Ivy League school in the past two days.
Anna Newnam
Newnam swims for the YMCA of Western North Carolina and is a senior at Asheville's TC Roberson High School. A USA Swimming Scholastic All-American, Newnam is primarily a butterflier whose top times include:
200 Fly 2:02.16
100 Fly 55.56
50 Fly 26.42
100 Back 57.57
Newnam ended the short course season at YMCA Nationals last spring where she set butterfly lifetime best times. She knocked nearly two seconds off her 200 fly time last year and just shy of a second from her best 100 fly.
She told Swimming World,
"I picked Penn because when I was walking on campus I knew it was where I wanted to be. I loved the team and the coaches and the sense of community there! Everyone was wearing Penn clothes and I just loved the school spirit and everyone I met!"
Grace Estabrook
Estabrook is a senior at Carmel High School and trains with Carmel Swim Club. The USA Swimming Scholastic All-American and NISCA All-American is strongest in the breaststroke events.
Her lifetime best times include:
100 Breast 1:03.33
200 Breast 2:17.87
200 IM 2:07.39
At the Indiana High School state championships last year Estabrook set a lifetime best in her 100 breast, ending the season nearly a second quicker than she went in her sophomore year. She finished fifth to score 14 points. She also swam the breaststroke leg (28.93) of Carmel's winning 200 medley relay, a piece of the team's overall dominant, historic victory.
Grace Giddings
Giddings hails from Olney, Maryland where she is also a USA Swimming Scholastic All-American. The freestyler swims for Rockville Montgomery Swim Club and is a senior at Sherwood High School.
Among her top times are:
1650 Free 16:50.25
1000 Free 10:00.25
500 Free 4:54.24
200 Free 1:54.47
400 IM 4:31.37
Giddings ended last year at NCSA Junior Nationals where she posted lifetime best times in her 1000 and her 500. She improved her 1000 by ten seconds from her sophomore year to her junior year.