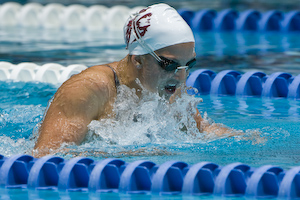 LONG BEACH, California, March 1. REBECCA Soni of USC broke her own NCAA record in the 200-yard breast and Arizona won its third consecutive conference title as the Pacific-10 Conference women's swimming championships came to a close at Belmont Plaza Olympic Pool.
Soni shattered her own record set last December by almost a second, winning in a time of 2:06.11 seconds. She also came close to besting the American record held by Tara Kirk with a 2:05.71 in 2006, who competed at Stanford from 2000-2004.
A junior from Plainsboro, N.J., Soni was named Swimmer of the Meet with two individual titles, including a win in the 100-yard breast.
"I didn't expect this. It feels great," said Soni, who will attempt to claim her third-consecutive NCAA championship in the 200 later this month.
Also delivering throughout the four-night event were the Wildcats, who took the team title with 1,501 points. Stanford came in second with 1,472, while California finished third (1,262).
"I'm happy for the girls," Arizona Coach Frank Busch said. "It was a total team effort."
Senior and Pac-10 Swimmer of the Year Lacey Nymeyer won the 100-yard free (48.20), while also teaming with Justine Schluntz, Taylor Baughman and Katherine Raatz for a second-place finish in the 400-yard free relay.
The Golden Bears took the 400y in a meet record 3:13.22, while sophomore Lauren Boyle cruised to an easy win in the 1650-yard free (16:03.51).
Teammate Lauren Rogers was victorious in the 200-yard backstroke, defeating sophomores Andrea Boritzke of Arizona and Julia Smit of Stanford in 1:55.53.
Elaine Breeden of the Cardinal set a meet record in the 200-yard fly (1:52.27).
In total, more than 100 NCAA qualifying times were posted in 13 individual events for this month's national championships. In five relays, 26 successful qualifying times were met.
Special thanks to Pac-10 for contributing this report.