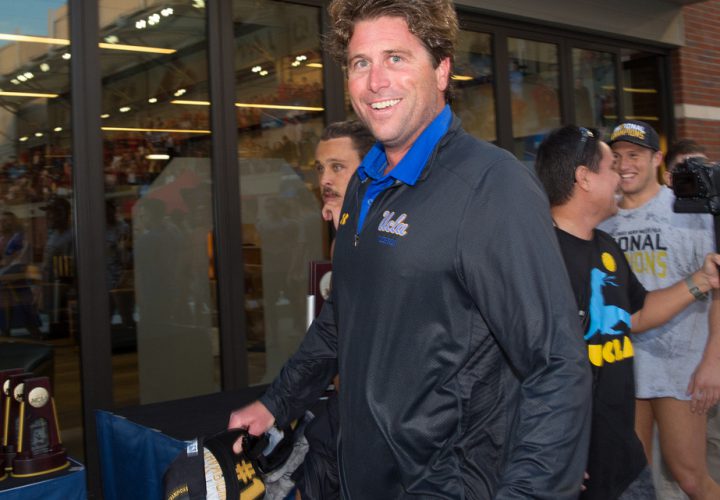 UCLA's Adam Wright. Photo Courtesy: Catharyn Haynes/KLC fotos
By Michael Randazzo, Swimming World Contributor
Editor's Note: Last weekend, Swimming World spoke twice with Adam Wright, head coach for the men's and women's water polo teams at UCLA: the Friday before a 2017 NCAA Men's Water Polo Tournament semifinal match against Pacific—an 11-9 win for the Bruins—and at a press conference following UCLA's 7-5 win over Southern Cal in the NCAA title game.
With three NCAA men's championships in the past four years as a coach, two while a player at the University of California at Los Angeles (1999, 2000) and a silver Olympic medal representing the United States in the 2008 Beijing Games, UCLA men's and women's Head Coach Adam Wright has succeeded at every level of the sport. Mountain Pacific Sports Federation Coach of the Year for a second time, Wright recently spoke about how his current team defied expectations to win the program's 11th title, a core group of seniors who inspired a young team to the top of NCAAs, the influx of foreign-born players at the highest level of American polo and his upcoming assignment with UCLA women's team.
Statement following UCLA's 7-5 Win over USC in the 2017 NCAA title match.
It's important to recognize how good a team USC is. Every time we play them we know we're going to have our hands full. It's an incredible program [with] an incredible coaching staff; it's like a game of chess.
We've been on [the losing] side, and it's tough. My hope is [that USC] understands what they were able to achieve over a long stretch is pretty incredible. It's their 13th time in the NCAA finals—that's incredible.
As far as today, it was a rough start. We had opportunities; it's not easy playing USC at home. There were some jitters out there. But I told the guys after the first quarter: "We're getting opportunities, we're just not putting them down."
We didn't really start playing until midway through the third [quarter]. We were forcing stuff and that's not who we are. We try to play smart and under control. We were able to get the game to where we wanted it, midway through the third, and then these guys just dug deep and made stop after stop.
Everybody thought that UCLA was an afterthought with the departure of nine players that did some really special things. But I challenged these seniors to really lead the group. And what they were able to do with the influx of a large class of freshmen and show them just how they're supposed to operate as athletes and students.
These guys did it all. I couldn't be happier for them. They deserved it. The reality is: nobody believed in us except ourselves. These guys kept believing, and there were big moments over the season that prepped us for today. Even when our backs were against the wall.
Loss of USC's Lachlan Edwards to suspension due to flagrant misconduct call in NCAA semifinals.
Obviously, it's a big loss. But we know in sports that teams rise to the occasion. Sometimes it's more difficult. We've been through that. 2012 two players from Cal [Aleksa Saponjic and Collin Smith] didn't get to play in the MPSF Final and we thought this was great. Guess what? We didn't win.
But it's a massive loss. It made us think about adjusting our game plan. We were all ready to go with who's matched up with whom, and then it becomes a chess match, Because Jovan [Vavic's] one of the best.
To figure out who he's going to put in there because we know he's going with a second center, and he subs non-stop. We did our best to put the right guys on the right [USC] players. They were looking for mismatches, taking on guys they thought they would be able to exploit in the center position, and our guys for the most part did a good job with that.
+++++++++++++++++++++++++++++++++++++++++++++++++++++++++++++++++++++++++++++++++++++++
Interview on Friday, December 1st
UCLA lost 18 players over the past two seasons but still came out on top.
It stems back to the group and the program as a whole. The culture, the kids that we have in our program, their everyday approach in the classroom, their approach as people and their approach at the pool. We know—especially with a team like ours, with some older guys who have had a lot of experience and then some newer guys—who you are every day is who you're going to be.
It's a credit to those who were here before us; it's a credit to the guys who have been here the last five years, the last eight years, the last 10 years. Culturally, this program has always been a really special place.
Obviously last year didn't end the way we wanted it to. But what that group was able to accomplish and the legacy they left behind [NCAA-record 57-match win streak] was incredible.
The reality is that the outside world counted us out, but I believed that our ceiling to grow could be exponentially bigger than a lot of these other teams just from the fact that we were such a new team. If we can construct the group [properly], it organically grows closer as the year goes on, but also how they approach everyday training.
I can tell you that the older group had a hell of an offseason—it was one of the better off-seasons I've ever been a part of—but there was a time we were kind of questioning them: where are we going to be this year?
They really pulled it together. The MPSF Invite was a great start to the year. It also proved to our team that, if we do things the right way, we can play with the very best.
With a young team, what happened in Irvine [a 9-8 loss to UC-Irvine] was good for us. One game like that could have cost us the chance to be playing this weekend. But we learned from that.
After our Pepperdine game this group really turned a corner in their consistency and approach. Before that it was a little bit up and down. Even when we lost to Stanford [score] there were so many positives in that game. But they really turned a corner after the Pepperdine game. You could really see the group take off and begin to grow.
They've put the work in, they've grown closer and here we are.
Stanford went to great lengths to prepare for this season—including red-shirting four seniors—but they're again the odd man out of NCAAs. In the new MPSF alignment, has it become harder to qualify for the national tournament?
Oh yeah; and we don't know what the future holds, either. The hard part is the Golden Coast [Conference], the WWPA, the East Coast; there's great teams everywhere. In an ideal world, the tournament simply grows. But [that's] probably not happening. We've already got it to grow over the past 3 – 4 years.
We all understand [this is not possible]. That's why I said: that Irvine game, as big of a lesson as that was, it could have been the difference. And they're a good team.
But it's tough. Stanford obviously is an excellent team. We all go into this thing with the understanding just how crucial every game is. The Golden Coast Conference decided to make a change and here we are.
The scary part would be in the future if there's one less team in NCAAs. That would be tough because an incredible team that's at home with their season done.
I have all the respect in the world for Stanford and [John] Vargas. He was my coach on the national team [2000]. But I'm not there every day and it is sports. We see these things happen all the time. I'm so consumed with and worried about our world, I don't know what happened up there.
The other hard thing about sports is everybody's got their own opinions. Was Stanford a hell of a team? They're a great team. And they had a lot of good pieces. But for whatever reason it didn't all come together.
You got significant contributions from Matt Farmer, Max Irving and Alex Roelse, members of your senior class.
And the other one would be Jack Grover. Look, all those guys, this will be their fourth trip to NCAAs. Each one of them has their own unique qualities they bring to our team.
I think most people never thought Grover had a chance to play at UCLA. He was one of the 16 on the bench in 2014, he played in 2015, he played big minutes last year and he's playing big minutes this year. It's a credit to who he is every day.
Matt Farmer, coming from Illinois, we were having a laugh about this today in practice. He had the drive before he come to UCLA. That's instilled probably from home. And he was coming out to California to play in the summers.
That guy willed his way into being a big contributor on our 2014 team. If you were looking at the straight depth chart under center when he came in as a freshman, he was at the bottom. He took it upon himself in his redshirt year… he was going to the weight room six days a week and coming to the pool at night. [Matt] did everything he could because he wanted to be in there. [His success] is a direct result of his drive to be the very best he could be.
A guy like Roelse, his evolution just within this year has been incredible—first as a person, second as a player.
There's no doubt that he's got talent. His size, speed and ability; he's been in Olympic games. As far as how he's evolved, working within a group, showing every day how you need to train. And that was learned from those guys before him. The Paul Reynolds, the Danny McClinticks, the Ryder Roberts.
Roelse and Irving got to spend time this summer with the U.S. Men's Senior National Team.
I think it was a great opportunity for them. They didn't end up getting the result they wanted, but there's no experience like World Championships.
The funny thing about Max, he had—whether you want to call it God-given abilities, whatever the abilities that are truly special—he was able to skate by on those. He didn't make the roster in 2014. The reality is, he should not only have been on that team, he should have been playing.
But he hadn't really learned how to approach every day. One of my favorite pictures in my office is from 2014, he's got face paint on and he's in the stands. In 2015 he's an All-American. Because he finally understood that skating by isn't the way to go.
There's no doubt when he's got the belief going, he's a first-class player. It's a beautiful thing to watch him train. It's incredible the way he moves in the water and the effort he brings.
This was a year of fantastic freshmen in the MPSF: Ben Hallock at Stanford, Marko Vavic at USC and Nicolas Savelijic at UCLA. What does this say about the future for your conference?
They're all three special players. Marko's a great kid. The last two years, his game, it's really incredible how far he's come. He absolutely deserved to be on that world championship team.
He has an unfair advantage. He grew up around the pool, his dad is a fantastic coach and he's a smart player.
With Hallock, you really don't get a grasp of how good he is until you have to play him—and this year was the first year we had to do that. The guy's just a monster. He has the ability to become one of the special centers—not only in our country but I believe in the game.
It's exciting to see where he goes with the national team this summer. I knew he was really good but it's really incredible. And we have to deal with him—and Marko—for the next three years.
As for Nicolas, he has the chance to evolve into a fantastic kid and to develop as an athlete here with an understanding of an everyday approach and that he can get better by being here in the U.S. Our staff's biggest concern is for him as a person. It's not easy to leave home as a young kid. It's not easy to move here and have to deal with school. And school is different here; schools there are excellent, but the combination of the two is certainly different than it is here.
His maturity level and where he's already grown this year has been impressive.  Does he have a lot of room to grow? Absolutely. As far as his arm and his ability to get himself free, that's pretty special, for sure. And his speed is first class. I've never seen a kid so fast, and his stroke is incredible. At the end of a practice the times that he can hit are really off the charts.
24 foreign nationals played in the 2017 NCAA Final Four. Is it good for American water polo that top U.S. program are bringing in all these foreign players?
First, we have two, if you want to count Roelse. We're in the minority.
It's a fine line. I had the opportunity to play in other countries; they had limitations too. When I was in Italy it was two foreigners per team; when I was in Russia it was three. and limitations are good. But it's not just sport, it's student athlete. You can't cut access off. That would be a hard argument to make.
Do I believe a limit would be good? Sure, probably. But I also believe there are institutions that have easier access to get foreigners, whether through financial or academic means. In my early years, I thought about that a lot because we've had nothing but great experiences with the foreign players we've had in our program.
In the early going we had some tough, close losses. And we were in that same boat: playing teams that had six or seven foreigners. And how did they have the ability to do that? you can consume yourself with that until you go crazy.
I don't see this changing. From my end, we don't have the ability to have, six, seven foreigners. Also in our program, every person from a financial standpoint, nobody's taking a great majority of [money] out of the 4.5 scholarships we have. We want the ability to continue [to support] kids who are doing a great job in our program, as opposed to giving something to everybody right away. That's not been our approach.
Our biggest concern is that we're bring the right people into our environment, whether it's a foreign or domestic player.
Is that game going to change? I don't think so. It would have to be on an NCAA level, right? It can't be all the coaches, because the depth of it is so much bigger than to say: "Okay, we can have two or three foreigners per team." It's school first. They're student athletes.
In regard to your question, it is tough. If there are six-seven foreign players on a team, are there lost opportunities [for American players]? Sure. But on the flip side you're increasing the level of play. You can spin the issue a million different ways.
Now that you are leading the UCLA women's team, how do you take what you know about the game and recast it for a different audience?
Every team's different. Every group responds differently and every athlete responds differently.
Am I going to drop my standards because I'm coaching a women's team? Absolutely not. Is there a way that you have to approach certain individuals in a team? Absolutely. My expectations—whether male or female—and the expectation that you're going to be an asset to the group, the expectation that you're going to be a great person, that you're going to be a great student.
The reality is: if those things aren't happening then we have to hold people accountable. But how we hold them accountable is important. Will there be some differences? Of course.
At the same time, I'm excited because what I've had a chance to see in the fall has been really awesome. We're in the early stages but at the same time, the level of interest and attention to detail is different from the men.
Boys will be boys, and they want to resist everything. Standards, expectations: all that remains the same.