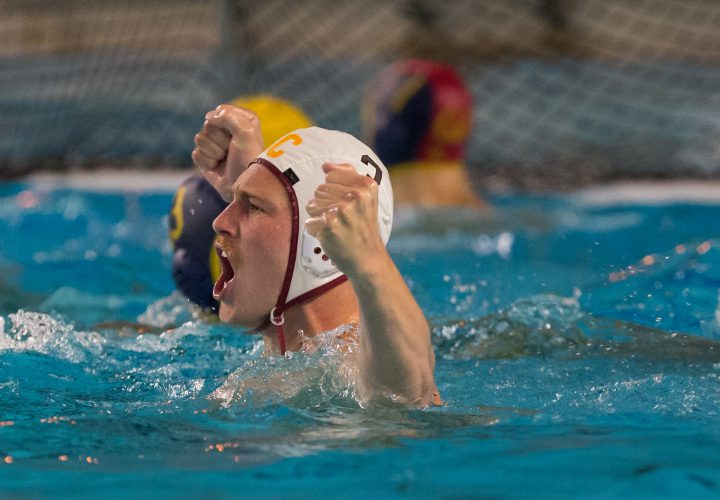 Trojan Triumph; Marko Vavic celebrates win over Cal. Photo Courtesy: Catharyn Hayne/KLC fotos
By Michael Randazzo, Swimming World Contributor
LOS ANGELES — In a compelling contest that saw the home team go up by three goals early then fall into a sizable deficit late, host USC got standout performances from senior Grant Stein and freshman Marko Vavic to defeat defending champion Cal 12-11 in a 2017 NCAA Men's Water Polo Tournament semifinal Saturday night at a sold-out Uytengsu Aquatics Center. With the win, the Trojans advance to a record 13th-straight NCAA championship final today at 3 p.m. (PST) where they will face cross-town rival and top seed UCLA.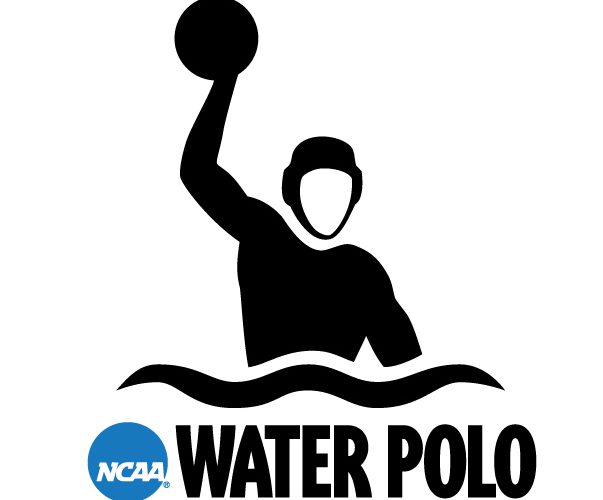 USC Head Coach Jovan Vavic, who in 23 seasons has now guided his team to a remarkable 17 NCAA title tilts, spoke about how his veteran team never panicked when they went down 10-7 with two minutes left in the third period.
"Nobody on our bench and none of our coaches was thinking we're going to lose this match," he said in remarks following the match. "I believe in these boys and they believe in each other."
Citing both sides in an extremely physical match that saw USC's Lachlan Edwards ejected and Cal's Johnny Hooper and Odysseas Masmanidis rolled, Vavic added: "When the game becomes physical, emotions flare up. We were at one end of these emotions when we went down. We recovered, fought through, and never gave up."
In a decisive third quarter, when things looked bleakest for nine USC seniors who have yet to win a national championship despite numerous opportunities, it was a freshman who sparked the Trojans to victory.
"I was just trying to get us back in the game," Marko Vavic said about back-to-back goals late in the period. "I did not want to lose."
After the deflating defeat, Cal Head Coach Kirk Everist, who described the match as a "heavyweight fight," acknowledged the younger Vavic's success but put their significance in the context of a back-and-forth game.
"They got through and they're nice plays," he said, then added: "In a flow sport like this, runs are going to happen. You're up by three and you're pretty happy. But you look up at the clock and realize: there's a lot of time, and this team's not going away."
Excessive passion in the stands and the pool
On a cloudless night, heightened emotions in the stands reflected the charged action in the water. The two finalists for last year's crown hit the water with alternating chants from their respective supporters echoing off Uytengsu's brick walls.
The host Trojans broke out to a quick lead. Matt Maier converted a pass in front from captain Blake Edwards with USC on the man advantage. Cal answered two minutes later on a Ryan Hurst goal, but Stein converted on another USC power play, and when Matteo Morelli and Zach D'Sa added goals at 2:27 and 54 seconds respectively, the Trojans had already exceed their total in last month's 6-3 loss to the Golden Bears.
Just when it appeared that the home team would take a three-goal lead into the second period, Cal's Safak Simsek scored the first of his game-high four goals with a rising shot that beat USC goalie Baron McQuin at the buzzer to make the score 4-2.
In the opening minutes of the second period, when USC's Thomas Dunstan hammered a shot past Cal goalie Kevin Le Vine, the host's fourth goal with the man advantage, Trojan fans were ecstatic. Cal's coach explained why his team didn't panic despite trailing in a hostile environment.
"We knew that they were going to come out with a lot of intensity," Everist said. "We had opportunities but were rushing a little bit."
"Even though we were down, we were doing some good things [and] eventually we'd score our goals," he added.
The coach's faith in his players paid off. Simsek scored 20 seconds after Dunstan's goal, and—following a Stein lob shot that beat Le Vine—Cal continued its rally. Pedro Stellet took a shovel pass from Hooper and beat Baron in front of the USC cage, then Luca Cupido, the 2017 Mountain Pacific Sports Federation Player of the Year, rattled a cross-cage shot past the beleaguered USC goalie to tie the match at 6-all going into intermission.
Third Period Reveals Trojans' True Character
The younger Vavic put his team on top again with a 6-meter blast a minute and a half into the third period, but Cal answered with four straight scores to silence the pro-USC crowd. Simsek scored on a power play at 4:12, then Nicholas Carniglia gave the Golden Bears their first lead of the match, beating Baron from three meters with 3:28 to go in the period.
Less than a minute later, momentum shifted again, in what was the game's pivotal moment. At the 2:53 mark Cupido appeared to have been struck by Lachlan Edwards, and a cut was identified when he exited the pool.
Cal's Everist was given a yellow card by referee Danielle Dabbaghian for arguing an initial call of misconduct, but referee Joe Piela elevated the ruling against Edwards to flagrant misconduct, ejecting the Trojan senior from the match while awarding the Golden Bears both a 5-meter penalty and a subsequent man advantage.
Simsek hit the penalty shot, and when Nikos Delagrammatikas beat Baron with a tip inside on the ensuing power play, the Golden Bear fans deliriously celebrated a three-goal lead.
Their enthusiasm was quelled by Coach Vavic, who stopped the game to appeal the referees' decision, an act that certainly chilled the Golden Bears' momentum. Walking slowly around the pool deck to engage in a protracted exchange with Bob Corb, the NCAA Referee Coordinator, the Trojan coach gave his charges a moment to catch their collective breath.
"My protest was that a call was changed," Vavic said. "The original call was misconduct. When [Cupido] got out of the water and there was blood, then they changed it to flagrant foul."
Explaining that the delay in reversing the call was troubling, the USC coach argued in vain for Edwards, an All-American 2-meter man who will almost certainly miss today's final, what would have been his final match as a Trojan.
With the five-minute delay concluded—not to Vavic's satisfaction—son Marko took matters into his own hands. On USC's next possession, he beat Le Vine with a long shot off of an ordinary foul, then scored again, his third goal of the period, with 51 seconds remaining to cut his team's deficit to one.
A two-minute pause between periods didn't stall the Trojan comeback. When Marin Dasic scored on a break away at 6:34 of the fourth period, it was the Trojan faithful's turn to exalt. USC gained its first lead since early in the third period when D'Sa broke past the Cal defense for a goal at 5:47. That advantage did not last long as Carniglia fought past the Trojan interior defense to beat Baron, tying the match at eleven with four minutes remaining.
Both teams traded possessions, then USC caught another break when Cal's Vassilis Tzavaras picked up an exclusion at 2:53. The Trojans went back to their power play, which had already generated four scores. After working the ball around the perimeter, Stein completed his hat-trick with a beautiful skip shot at 2:32 that handcuffed Le Vine.
"I knew it was my shot," Stein explained. "Jovan talks to us about seeing that moment before it happens, and throughout this whole last week I visualized that same shot."
"I saw it and it happened." he added.
The Golden Bears had two chances to equalize but couldn't break through Baron and the Trojan defense, setting up an NCAA championship match-up that we've all seen before. UCLA and USC—currently tied at the top of the polls—will play for a national title for the sixth time since 2009.
That result is just fine with Coach Vavic.
"You spend so much time preparing and sacrificing a great deal and this is why," he said. "This is the best of the best: playing your number one opponent in a championship match."
Of course all Trojans hope the result will be different from a 10-7 Bruin win at UCLA's Spieker Aquatics Center.
"Last time we played them it was in their own pool," said the leader of USC water polo. "Now we're at home, in our house; it's going to be tough."