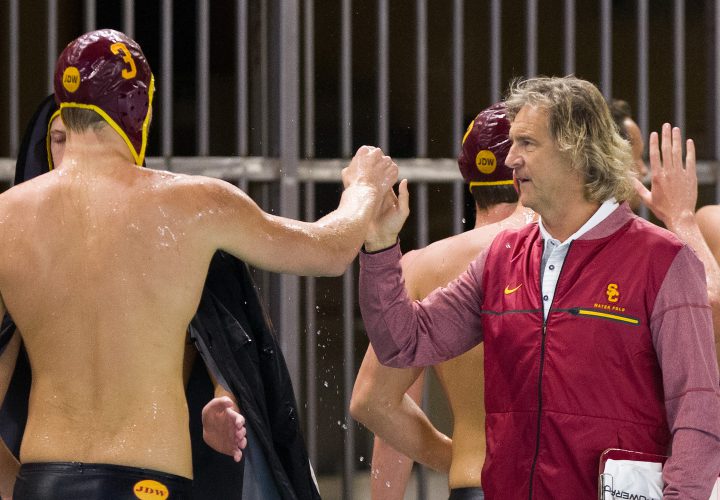 Marko and Jovan Vavic. Photo Courtesy: Catharyn Hayne/KLC fotos
By Michael Randazzo, Swimming World Contributor
Marko Vavic may only be a freshman for the USC men's water polo team but he is wise beyond his years, which comes from growing up in one of the sport's most recognizable families.
Following a stellar career at Loyola High School, where the Cubs went to the California Interscholastic Federation (CIF) Section Div. I semifinals his junior and senior years, the 6-6 Vavic has moved on to bigger challenges: playing for the U.S. Men's Senior National Team and for the mighty Trojans of USC and their ultra-successful coach, Jovan Vavic.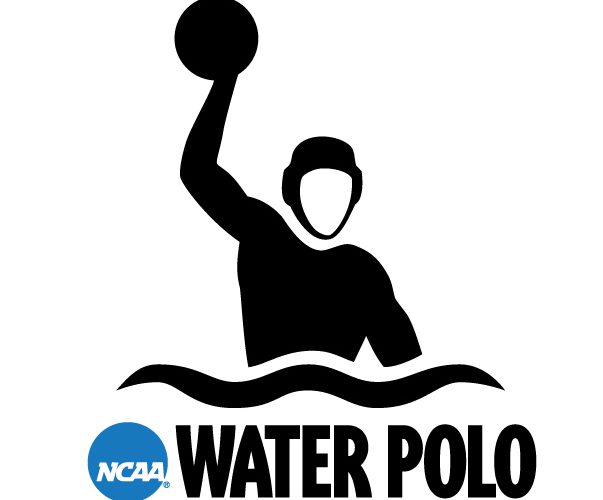 Who just happens to be Marko's father.
On the eve of the 2017 NCAA Men's Water Polo Tournament, where host USC is looking to book an appearance in its 13th straight finals match—and perhaps win the 10th men's national title of Coach Vavic's career—Marko spoke with Swimming World about his life in polo, the influence of older siblings Nikola and Monica on his development, the importance of Trojan pride in all things and growing up as the son of one of the greatest coaches in the history of the sport in America.
What was it like growing up Vavic?
It's normal, like any athletic household. We talk about sports a lot, we'll watch sports together. When I hang out with my friends it's about the same as at their houses. Most of my friends are athletes as well so we'll talk about different sports like football, basketball, soccer—just about anything.
Now that you're enrolled at USC, where do you live?
I live at a house at SC with a couple of teammates. I go home for dinner once a week. I live pretty close—about 35 minutes away—so I go back when I can.
The transition wasn't that bad. My high school was only five minutes away from here. I come [to USC] a lot, especially the last couple of years. If I had to get a ride home with my dad I'd be at the pool and I'd talk with the people who are injured, the ones who aren't practicing at the time.
For most people, moving off to college is a huge thing but for me it was normal because for my whole life I was waiting to come here.
Given your success in high school, it seems important to ask this: was there any chance that you might not play water polo at USC?
Not really. I didn't want to go anywhere else so it never really came up.
Does your younger brother Stefan play water polo as well?
He does. And he's going to be coming here too.
You played with the U.S. National Team this summer. What was that like?
It was awesome. I got to go to Australia, Russia, and on our Europe trip Italy, Montenegro and finally Budapest. Everywhere we went it was just crazy because water polo in Europe is huge and all the players on club teams are superstars.
We played an international game in Sicily in a small little pool but the stands were packed. It looked like it was empty during the day—and all of the sudden the whole town is there for the game. There's the same amount of people for a USA vs. Italy exhibition game as there is for our high school championships. It was awesome to see how enthusiastic everyone is.
We got to play against Croatia in four matches here [at Stanford last summer] before we played them in Russia and again in Budapest. It's awesome to play against those guys. My whole life I've been watching them on YouTube—videos of the best shooters like Milos Cuk or [Filip] Filipovic or [Dusan] Mandic and [Sandro] Sukno and [Maro] Jokovic—to play against them and guard them and see how I compare to them… just how they do everything.
Because they play at such a high level and have been in so many big games like the Olympic and play for their clubs in the Final Six… not every game is do or die, like when we have exhibition games. Playing them in [FINA] Worlds in them was huge because they come out as hard as they can and do their best.
Getting to play against them in those big tournaments is pretty cool because it's playing at a whole other level.
How was it to have some of your future USC teammates Thomas Dunstan and Baron McQuin and with you this summer to share the international experience?
When you go to another country and you're representing the U.S.—everyone on your team, they're your brothers. It's us against everyone else. Having close connections with USC and having some teammates that you know, that definitely helps. You have to rely on each other completely.
Distance is one of the difficult things. Playing with the national team—[our's] is a huge country so everyone is spread far apart. The teammates that you are with a lot or at least that have been around and spent time with. It was definitely a plus
How is the U.S. squad developing?
We're building a young squad, trying to get ourselves ready for the future. We've been looking ahead and have been taking the young guys but also the guys who can get the job done. A big thing for us is experience since our age is so much younger; when we played Italy, their average age was 35 while ours was 25.
We definitely have the talent; getting the guys to play together and experiencing big-level games—it can take people by surprise sometimes. That's a big part of us getting ready.
Not only was your older brother Nikola a great Trojan—winning titles every year while he was at USC (2010 – 2013)—he has also been a member of the U.S. Senior Men's National Team. How has he helped you?
Having Nikola is a huge bonus—not just for his advice but for setting goals. He's always given me advice on things, especially on the mental part [of the game]. He's an extremely smart player. We have different styles because he's 6-1 and I'm 6-6. Getting to see the way he plays and integrate it into the way that I play is huge.
At USC, he won four championships… I can't really beat that but can try to tie it. I'm not coming in just to make it to a final.
When he was on the [senior] USA team I was on the junior team. I'd hang at his place and spend time with those guys. That really helped when I started playing with the senior guys because I already knew a bunch of them.
He helps me stay focused so that I can do all that I can.
USC is hosting this year's NCAA men's tournament. You won MPSF this year and have only lost three times—but UCLA is the number one seed. How do you and your teammates react to this?
The reason we aren't ranked [in NCAAs] is that we had a couple of fluke games where we didn't play our best. When we had to beat Stanford in their pool in the first game of the MPSF [tournament] we dominated and went on to win the tournament.
We got seeded third behind CAL and UCLA, who we finished ahead of in our conference tournament. That definitely pissed us off and added heat to our drive to win. It is our pool and we don't want to see anyone else in the final besides us.
We have a lot of pride about how this weekend is going to go—especially having been in the last three finals and losing at the very end.
I think our senior class is definitely going to help us win that ring.
You led USC this year in goals scored (47)—which is a pretty impressive given the number of senior goal scorers on the squad. How was it to find your place given all the other offensive options in the Trojan arsenal?
It's the same as fitting into any team. I'm trying to not be a ball hog and being a younger guy on the national team and playing with the senior guys you learn how to slowly fit in.
We have older shooters on the U.S. team so when I first started you've got to be a good passer for them to like and respect you.
It's the same thing here; you start out by trying to get the guys to like you and gain their trust. I also had the benefit of training with them. [USC] has a club and I'm able to practice with them. So, for the last couple of years I've played a good amount of the summer with them. I was pretty good friends with everyone on the team even before I came here because I've been training a lot with the senior class for the National League.
Fitting in wasn't really difficult and being friends with guys in the water they'll want to help you out. Being a younger guy I need help from my older teammates, captains Blake [Edwards] and James [Walters].
How is it to play for your dad—one of the world's most recognizable water polo coaches?
Him coaching me is nothing new. He's coached me my whole life. Any time we get in the pool when it's hot, it always turns into a lesson—because he's got a coach's eyes.
I knew what I was getting myself into because I have my older siblings; I knew what they went through.
If we can get to the final again it will be our 13th straight year making it. There's not really a secret of how we do this; he works so hard just to prepare us every day. The reason we as a team have gotten to that many championships is without a doubt his dedication. There's nobody that works harder than him.
Playing for him is difficult because he's a demanding coach and pushes you to be the best you can. But it's rewarding. What I've gotten to do at my age, the teams I've been on—USA youth, junior and senior, my high school and now playing for USC—I couldn't have done it without him.