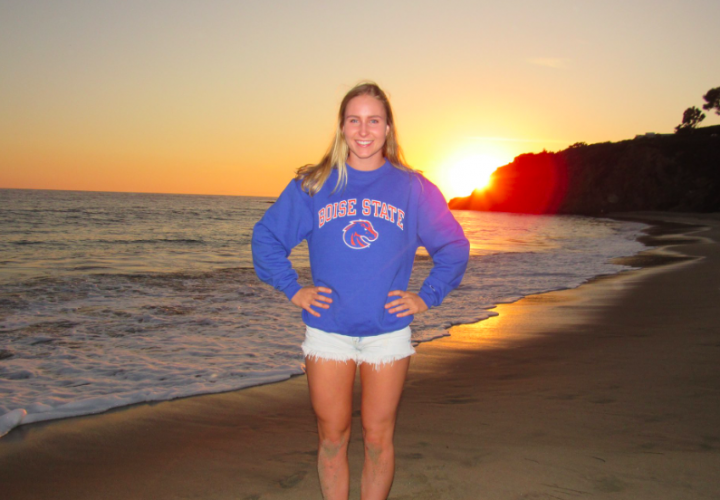 Photo Courtesy: Twitter @laurenvitort
Agon is the proud sponsor of all high school coverage (recruiting, results, state championships, etc.) on SwimmingWorld.com. For more information about Agon, visit their website AgonSwim.com.
To report a college commitment, email HS@swimmingworld.com. Join Swimming World's Watch List
Lauren Vitort of Irvine Novaquatics recently announced her verbal commitment to swim for Boise State for the next four years via her Twitter account.
Vitort, a senior at Martin Luther King High School in Riverside, CA, was a two-time finalist at last spring's California CIF State Swimming and Diving Championships. She finished fifth in the 200 free (1:48.79) and eighth in the 500 free (4:52.07). Primarily a mid-distance freestyler, Vitort also adds some breaststroke events to her repertoire.
She was also recently named to the NISCA All-America list for the 2016-17 season, as well as the USA Swimming Scholastic All-America list for the 2015-16 season.
Top times in SCY:
50 free – 23.74
100 free – 51.18
200 free – 1:48.79
500 free – 4:49.85
100 breast – 1:04.84
200 breast  – 2:21.02
According to her CollegeSwimming account,
I chose Boise State because from the moment I first met Coach Kipp and Meghan, I had a feeling that this would be the place for me. The academics and training are a perfect fit. The team, coaches, and staff are all so energetic, authentic, and passionate for swimming. I can't wait for the next four years to be a Bronco! 
Boise State is a member of the Mountain West Conference and has won the Championship meet for three years in a row. Vitort will arrive as current senior and reigning 200 free champion (1:45.59), Emma Chard, graduates. Vitort's current best time in the 200 free  would have finished just outside of the top eight at last year's conference, while her 500 free best time would have finished sixth overall, putting her in a strong position to make a mark early in her NCAA career.