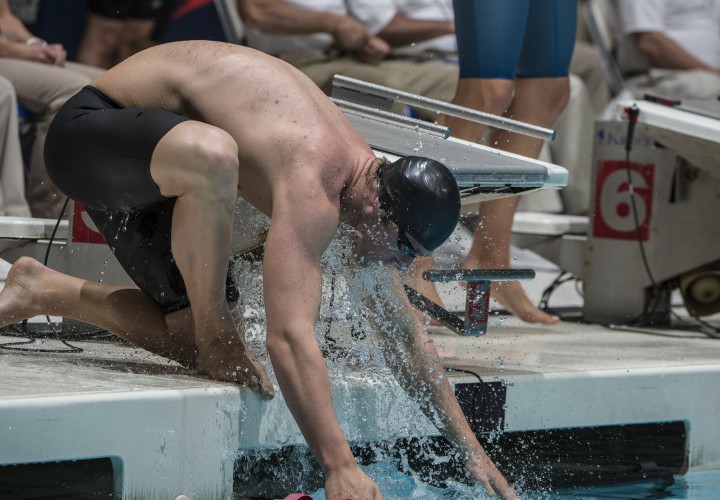 PHOENIX, Arizona, July 18. OUR National Interscholastic Swim Coaches Association All-America Showcase comes to an end today with the 400-yard freestyle relay. This year, Granada in California and Carmel in Indiana stood atop the All-American lists in the spotlight event.
The Granada foursome of Nick Silverthorn (44.96), Bryce McLaggan (45.43), Trent Trump (44.48) and Maxime Rooney (44.13) ripped off a 2:59.00 in the boys edition at the CIF North Coast Section Championships. That swim clipped the national public school record of 2:59.36 set by Chesterton High earlier in the year. The jaw-dropping overall record of 2:54.43 still stands to independent Bolles High.
The top two boys' times last season, including the 2:59.36 by Chesterton High School, put Granada and Chesterton in very rare company. Before them, only three schools in high school swimming history had broken the 3:00 barrier in the 400 free relay. Bolles was the first in 1991 with a 2:59.98, a benchmark that wouldn't be eclipsed for 21 years. Stay tuned later today to learn about the controversy surrounding that time.
For a full look into the sub-3:00 times, check out Jeff Commings' amazing article in the September 2013 edition of Swimming World.
In 2012, New Trier broke three minutes twice, and the amazing Bolles School team that included Ryan Murphy and Joe Schooling took the standard lower twice in one season to a 2:54.43. In February 2013, the Peddie School joined the mix with a 2:59.98, matching the original standard bearer – in the same pool.
Meanwhile, as part of their incredible 28th straight state title, the Carmel girls took the top time in the nation in the 400-yard free relay for good measure. The quartet of Kaylin Burchill (50.46), Katie Lemen (51.74), Kendall Smith (50.30) and Claire Adams (48.70) powered their way to a 3:21.20 in the finale. That time beat the previous national public school record of 3:22.50 set by Waukesha South in 2012.
Here's video of that impressive swim:

Boys 400 free relay Top 8
1, 2:59.00, Trent Trump (12), Nick Silverthorn (12), Maxime Rooney (10), Bryce McLaggan (12), Granada High School
2, 2:59.36, Blake Pieroni (12), Ethan Whitaker (12), Patrick Curley (12), Aaron Whitaker (12), Chesterton High School
3, 3:00.43, Hennessey Stuart (12), Mitchell Bruckman (12), Chris Dawson (12), Austin Phillips (12), Regis Jesuit High School
4, 3:00.59, Jack Montesi (10), Edward Moss (11), Thomas Dillinger (11), Alexander Lewis (12), Greenwich High School
5, 3:01.08, Nicholas Wargo (12), Brandon Cole (12), Bjorn Davis (12), Bryce Keblish (11), Fairfield College Preparatory School
6, 3:01.86, Joseph Schooling (12), Josh Booth (12), Luke Georgiadis (12), Tyler Rice (10), The Bolles School
7, 3:02.06, Gust Kouvaris (11), Bobby Powrie (10), Mark Blinstrub (11), Joseph Krause (12), Brother Rice High School
8, 3:02.23, Jacob Molacek (12), Sean Tate (11), Ryan Tate (11), Mike Bauwens (12), Creighton Preparatory School
Girls 400 free relay Top 8
1, 3:21.20, Veronica Burchill (10), Katie Lemen (12), Kendall Smith (10), Claire Adams (10), Carmel High School
2, 3:21.34, Kaley Buchanan (9 ), Vivian Tafuto (11), Madelyn Veith (12), Meaghan Raab (12), Hershey High School
3, 3:21.41, Ella Eastin (11), Emily Eastin (10), Tianna Jorgenson (10), Lindsey Engel (12), Crean Lutheran High School
4, 3:22.03, Racheal Bukowski (12), Aly Tetzloff (11), Hannah Kukurugya (9 ), Mackenzie Artim (10), Crown Point High School
5, 3:22.15, Nora McCullagh (11), Elsa Welshofer (12), Rebecca Postoll (11), Lauren Rhodes (12), Charlotte Catholic High School
6, 3:22.50, Abby Jagdfeld (12), Molly Manchon (11), Kaersten Meitz (12), Kierston Farley-Sepe (10), Waukesha South High School
7, 3:22.79, Asia Seidt (10), Ashley LeClair (12), Leah Stevens (11), Brooke Bauer (10), Sacred Heart Academy
8, 3:23.07, Emily Allen (11), Heather Merritt (12), Rachel Bright (11), Jessica Merritt (10), William A. Hough High School
2013-14 NISCA Girls High School All-Americans

2013-14 NISCA Boys High School All-Americans

NOTE: All America times have to be submitted to NISCA by a certain deadline in order to make the 2014 All-American list. Coaches can submit times here: http://www.niscaonline.org/aaswimming/. Corrections can also be submitted to NISCA via three emails: Boys Swimming contact: boysswaa@niscaonline.org; Girls Swimming contact: girlsswaa@niscaonline.org; Boys and Girls Diving contact: aadiving@niscaonline.org
This is the final day of an 11-day showcase of the NISCA All-American program. Swimming World is proud to partner with NISCA to provided a global spotlight on high school swimming in the U.S., and will be talking to some of the top movers and shakers in high school swimming this week as part of the Morning Swim Show. Additionally, we'll be taking a look back at some of the best of the best high school swimmers historically.
To access high school All-Americans all the way back through 1974, purchase back issues of Swimming World Magazine!
For more incredible high school content, make sure to subscribe to Swimming World TODAY to make sure you get our High School Swimmers of the Year (August) and High School National Champions of the Year (September) issues.