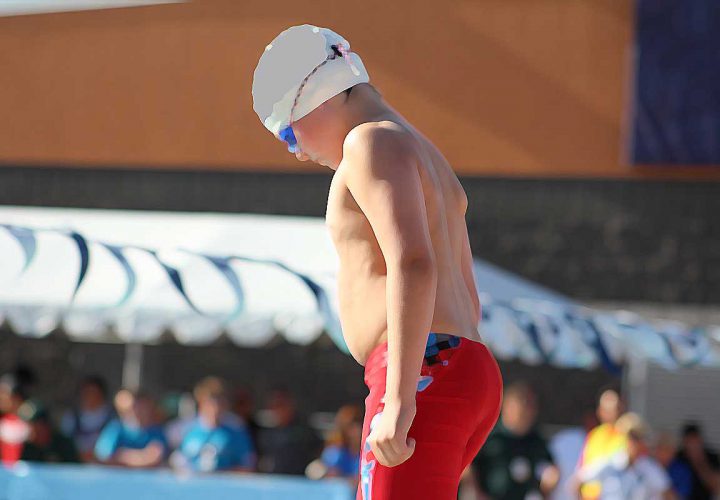 Photo Courtesy: Swimming World
Swimming World sources have confirmed that New Jersey Swimming has banned tech suits for 12-and-under swimmers at all New Jersey Swimming, Inc. sanctioned or approved meets.
The decision was made at the NJS House of Delegates Meeting on Oct. 7, 2017.
The news was first made public via the following Tweet:
UPDATE: NJS House of Delegates just banned tech suits for all 12 and unders. Please see https://t.co/tHybtNmYLr for more information

— NJ Swimming (@NJswimming) October 7, 2017
The full text of the new rule, per the NJ Swimming website, can be found below:
1. Swimmers 12 years old and younger may not compete in a "Tech suit" (i.e. Bonded or mesh seamed suits) in a New Jersey Swimming, Inc. sanctioned or approved meets. (Age is determined by the 1st day of the meet.)

2. Swimmers ages 12 and under may not compete in a "Tech" suit in a New Jersey, sanctioned or approved competition. Starting November 1, 2017.

3. There is no "Tech" suit restriction for swimmers age 13 and over.

4. A "Tech Suit" is defined, as a suit that has bonded seams, Kinetic Tape, or Meshed Seams, and/or have the FINA approved tag verifying the suit. The suits listed below are in this category, and will be posted on the New Jersey Swimming website.

5. Rule Enforcement and Penalty: Swimmers that race in a restricted suit will be disqualified from that event. Swimmers who are wearing restricted suits will not be permitted to compete in said suit. However, they are able to change into an acceptable suit to swim. No extra time before their race will be given to change suits. If there is any question about a suit, it should be addressed to the meet referee prior to the start of the session.

6. Coaches and Officials will be responsible for monitoring this Policy. Coaches need to educate their teams and be willing to speak up if they see a swimmer with a suit on at a meet. Officials should have the list of restricted suits available as a reference.

7. The following statement shall be added to all meet announcements.
The ban defines a tech suit as "a suit that has bonded seams, Kinetic Tape or Meshed Seams, and or have the FINA approved tag verifying the suit." It also included a list for clarity:
Restricted Tech Suit List
BLUE SEVENTY: NERO
JAKED: J12 WATER ZERO, LIMITED EDITION J11 STEEL, J11 WATER ZERO, JKATANA, JKEEL, JRUSH
SPEEDO: LZR X, LZR ELITE, LZR ELITE 2
TYR: TRACER SERIES, AVICTOR, AVICTOR PRELUDE, AP12
COMPRESSION NIKE SWIM NG
ARENA: POWERSKIN OPEN BACK, ALL ARENA CARBON SERIES (AIR, PRO, ETC)
DOLPHIN: TITANIUM
AQUASPHERE MP EXPRESSO
FINIS: VAPOR
HUUB: FINA TECHNICAL
Non- RESTRICTED Tech Suit List: (classic hip cut or knee skin)
SPEEDO: AQUABLADE (male & female), POWER PLUS (female), FASTSKIN 2/FSII (male & female), LZR PRO (male & female)
ARENA: POWERSKIN ST (male & female), POWERSKIN XP
TYR: FUSION 2, THRESHER
DOLPHIN: GRAPHLITE SERIES, LTF PRO SERIES, PLATINUM 2PRO
Swimmers that race in a now-banned suit will be disqualified from their race. They will be given the opportunity to change suits, but no extra time will be given before any individual race. However, they will receive one warning:
"Swimmers in restricted suits will get a warning for the 1st event that is swum in a restricted suit, and both swimmer and coach will be notified. The swimmer will not be disqualified. For all events after this warning event in the meet-they must be in a non-restricted suit or they will be disqualified or not allowed to swim," the proposal stated.
The policy will be completely enforced starting November 1, 2017.
New Jersey is not the first to make this change. Middle Atlantic and New England Swimming did so in September.
USA Swimming's Take
USA Swimming is in the midst of a national study determining whether tech suits should be legal at the lower age group levels. The organization has hired Stu Isaac to oversee this operation in figuring out what the impact of tech suits is for young swimmers and how the high prices of these suits can impact swimmers and their families financially. Check out a video interview with Isaac from the ASCA World Clinic.
Additionally, a recent Swim Poll of the Week showed that a majority of Swimming World readers are in favor of restricting tech suit use for age groupers.
New Jersey Swimming contributed to this report.