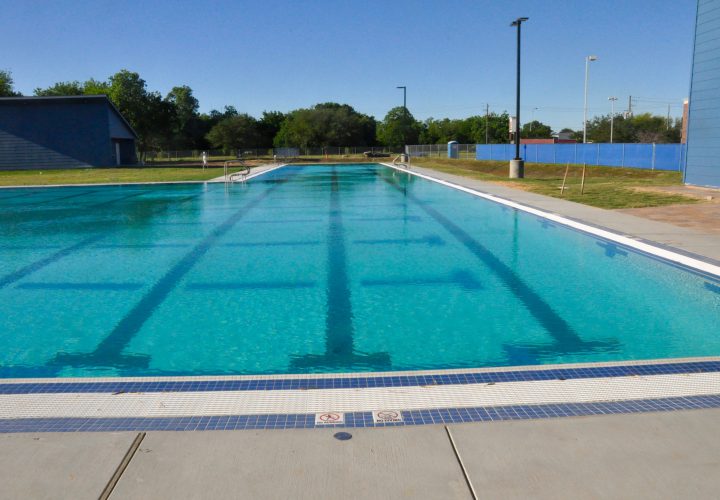 Photo Courtesy: Gilbert Legaspi
There's exciting news for Houston area swimmers! Long-time Gulf swim coaches Gilbert and Karol Legaspi have just announced their new USA Swimming approved club , Swim Houston Aquatics Center (SHAC). The SHAC team will practice year-round at its unique state-of-the-art facility, which boasts a nine-lane heated outdoor competition pool, with six 25-yard short course lanes and three 50-meter long course lanes (which will allow for year-round long course training!). The SHAC competition pool is adjacent to SHAC's indoor teaching and aquatic therapy pools. SHAC is the first coach-owned and run USA Swimming approved club in the Greater Houston Metropolitan Area. SHAC is located on three grassy acres of land in Southwest Houston, with easy access for swimmers living in Houston, as well as swimmers from neighboring suburbs, such as Sugar Land, Pearland, Stafford and Missouri City.
SHAC's goal is provide a high-caliber year-round training program, where all swimmers have the opportunity to meet their desired potential in the pool, while encouraging a life-long love of swimming. To achieve this goal, SHAC will strive to provide the excellence in professional coaching necessary to develop swimmers to the best of their abilities, create a safe and positive atmosphere and develop team unity amongst swimmers, families and coaches, by encouraging and taking pride not only in themselves, but in each other.
SHAC's impressive coaching staff will be led by Head Coach and Owner, Gilbert Legaspi. Coach Gilbert has been coaching under USA Swimming for almost 30 years. He graduated from the University of the Philippines Integrated School and earned a degree in Accounting and Business Administration from Houston Baptist University. Coach Gilbert has shown great commitment to the sport of swimming. He is involved with the governance of the sport at both the national and regional levels, through USA Swimming and Gulf Swimming. Coach Gilbert has lead his swimmers to many elite championship meets, including Junior Nationals, Nationals and Olympic Trials. Many of Coach Gilbert's alumni swimmers have gone on to swim in colleges such as the University of Texas at Austin, Texas A&M University, the University of Pittsburgh, the University of Missouri, Rice University, Yale University, Cornell University, Columbia University, New York University, Howard University, Rider University, Texas Christian University, Southern Methodist University, the University of Denver, the University of Hawaii and the United States Military Academy at West Point (including many with swimming scholarships). In 2015, Coach Gilbert was awarded Gulf Swimming's Head Coach of the Year Award.
Head Age Group Coach and Owner Karol Legaspi has been an Age Group Coach for almost 25 years.  She graduated from Houston Baptist University with a BS in Early Childhood Development and Elementary Education. She has been a certified USA Swimming Swim Coach since 1998 and is a lifetime member of the American Swimming Coaches Association. Because of her expertise in advanced swim technique, Coach Karol is sought after by swimmers for her private coaching sessions. Coach Karol's vast experience and commitment to the sport are evidenced in the quality of the swimmers she has produced.  Every season Coach Karol has had state qualifiers, many of whom have gone on to become finalists and/or winners at the Texas Age Group Swimming Championship.
Rounding out the coaching staff are Justin Reed and Leonel Dubon. Coach Justin, a Level 2 Swim Coach and Certified Strength and Conditioning Coach, will create and implement SHAC's dryland training program and has coached swimmers of all levels. Coach Dubon has coached beside Coach Gilbert and Coach Karol for over 15 years.  In that time, he has taught swim lessons and coached age group swimmers at all levels.
SHAC is looking forward to a terrific long course season. A Grand Opening Celebration will be held soon – details to follow!
For more information regarding the SHAC team or Swim Houston Aquatics Center, please contact Coach Gilbert at coachg@swimhouston.com or Coach Karol at coachkarol@swimhouston.com. You can also visit the SHAC website at www.shacswim.com.
Press release courtesy of Swim Houston Aquatics Center (SHAC).