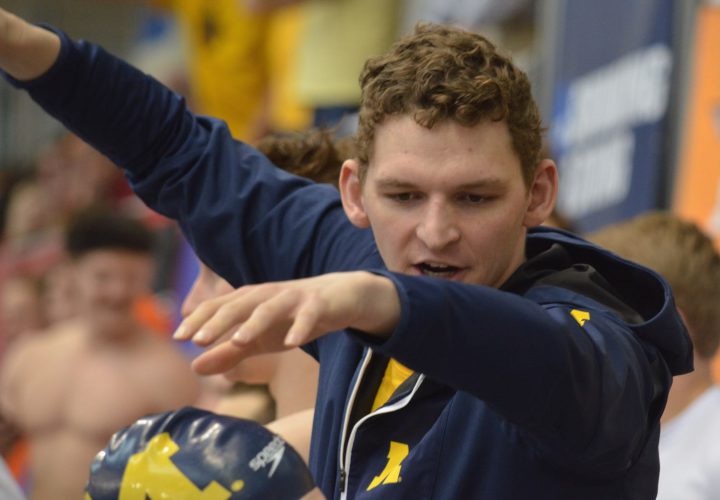 Michigan's PJ Ransford.
Photo Courtesy: Dan D'Addona
Editorial content for the 2018 NCAA DI Championship coverage is sponsored by TritonWear. Visit TritonWear.com for more information on our sponsor. For full Swimming World coverage, check event coverage page.
By Michael J. Stott.

Several years ago,the PGA embarked upon its "These Guys are Good" campaign promulgating the talent of its membership. The NCAA has a similar award called the Elite 90. It is conferred upon "the individual reaching the pinnacle of competition at the national championship level while achieving the highest academic standard among peers. The winner is the student-athlete with the highest cumulative grade-point average participating at the finals site for each of the NCAA's 90 championships."
Last night, for the second straight year, the honor for men's swimming and diving was presented to senior Michigan distance swimmer PJ Ransford. The Pittsford, New York, senior team captain is a five-time All-American with a 4.0 GPA currently pursuing a Masters Degree in mechanical engineering. First awarded in 2009-10 Ransford joins Brent Sterling of Tennessee and Tynan Stewart of Georgia as the only two-time winners.
A member of the U.S. national team and possessor of lifetime short course bests of 4:14.27 in the 500 free, 14.32.35 in the 1650 (his best event) and 3:46.20 in the 400 IM Ransford wasn't always as accomplished. "Coming into college I was really aggressive. I'd go out and just try to hang on," he says. "I learned from training that it's best for me if I don't do that and take a little off the front end, get into the race and keep getting faster and faster." The fruits of that training paid off at 2017 World Championship Trials where he finished a heartbreaking third in the 1500, dropping eight seconds to clock a 15.01.82.
Architect of the new and improved Ransford has been Josh White, Michigan's associate head coach and main distance guru. "PJ is an incredible student and a great person. He's come in every year, worked hard, made improvements and always found ways to get better," White said.
"He's always been a pretty good short-course trainer, but we also do a lot of long-course training at Michigan. Freshman year we worked on building out the 25. He's got an incredible kick and is now using that as a weapon." A prime example was at World Trials where Ransford's final 100 in the 1500 (57.37) was faster than his final 100 in the 400 (57.50). "PJ loves to win," White said, "and he's driven and willing to take risks, an admirable characteristic that most champions seem to possess."
Ransford's honor is, "symbolic of the hard work the team does as a whole to be great in the classroom. The team really values people who are academically successful. It makes such a big difference in the culture to have it reinforced by members of the team. When people are successful academically it is easy to pass it off as they are really smart and talented.
"What I love about PJ," says White, "is he doesn't feel shy about saying, 'It is really hard to be able to balance school and have a 4.0 in mechanical engineering.' Either one of those things is hard on its own. Pushing both together speaks well about how hard he works to balance those things. Talent and intelligence can only get you so far."
A Tri-Captain
Those around him will tell you he's come a long way as a team leader. "Being a team captain has been awesome, a lot of fun and a lot of work," says Ransford. "I love every person on the team. I know they support me. I lead by example mostly. I am not good at yelling at people. I just try and keep everyone moving in the right direction. If someone is having a bad day in practice I put my arms around them and try and get them to smile.
"We've made great strides in team culture and team performance," he says. Part of that has come as a result of getting a team chock full of underclassmen on the same page. Ten of Michigan's 14 individual NCAA qualifiers are freshmen and sophomore shooting for a top eight finish after placings of 12th and 17th at NCAAs the last two years. The effort seems to be working. Of particular pride is the second place showing at this year's Big Ten's where the Wolverines scored 1617.5, just 40.5 points behind Indiana — and 235.5 more than last year.
Ransford is modest about the Elite 90 award. "It's a testament to what support Michigan has given us. Coming into school I had so much support," he says citing, among other things, an athletic-only building and an outstanding academic support staff. As a freshman I was able to benefit from all of that and succeed. One thing that helps is that the team has a lot of engineers (about 30 percent), especially mechanical engineers. I got to take a lot of classes with teammates. It was nice to start a class and have someone you knew and cared about."
Saturday afternoon Ransford, seeded 23rd of 41 entrants, is matter of fact in his approach to his final college 1650. "I just have to swim my own race, build through and have a great finish. In the past couple of years, I have done that, but it probably didn't look like it." Such approaches included going for the lead, crushing the middle 500 and starting a finishing kick only to be overtaken in 2017 by the fastest field in event history (he finished sixth in his best time ever 14.32.35). "Last year, I tried to pick it up too early and paid for it the last 300, so hopefully this year I won't make that same mistake and stay strong the whole time."
White said, "We just want a good race. His most recent shave and taper long course was his best in terms of the overall race. That's what we are hoping for. He's trained incredibly well this year with more consistency and faster training than ever before. He just needs to go out and put together what he's trained for."
What's next?
"I graduate in December. I'm still not sure about swimming. I'm keeping my options open," says Ransford.
Sounds like an intelligent man.