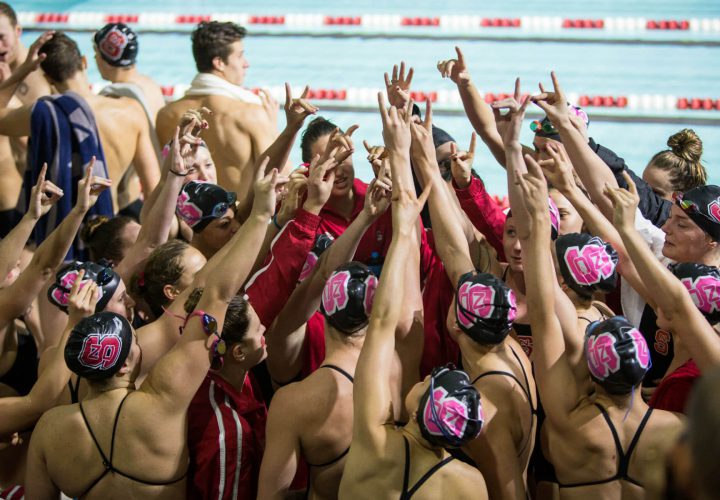 Photo Courtesy: NC State Athletics
The 2016-17 season was one for the history books for the NC State women's swimming & diving team, as it finished a program-best seventh at the NCAA Championships along with winning the Atlantic Coast Conference (ACC) for the first time since 1980. While the team saw nine seniors move on, several returners and newcomers will be looking to step up and fill their shoes. The Wolfpack also saw members of the team shine on the world stage over the summer, giving it further momentum to take into the new season.
Thoughts from head coach Braden Holloway:
"Heading into this year, our women are in kind of a unique position. We're a very young team; we only have three seniors and there are a lot of new faces joining us. It will be great to see the growth of this team and as we continue to build on the national level and what we're able to do. We have strong leadership on senior side. Hannah Moore leads the way for our distance ladies and that should be a strong area for us this year. We're counting on her to lead the way and finish her career on a great note for NC State, and we obviously have some new blood in there. We've had Tamila Holub join us; she has Olympic experience and has what it takes to perform at a high level so hopefully they can continue to raise that group.
"One of our stronger areas is our IM's this year. We lost some strength in the 200 but we have a lot of talent on the women's side and in the IM. Our 400 IM should be much better for us this year. It's going to be great to continue to build in that area with a lot of looks, and we have a lot of people that can do it.
"Backstroke is a strength of ours. We have some newcomers that will help bolster that area but I think a lot of it will be built our upperclassmen. Elise Haan is on the national team in the backstroke events, so that's going to be somewhere she can lead us.
"In breaststroke we graduated some strength, some firepower, but we're pretty excited to see what some of our newcomers can do with the addition of our sophomores and juniors, we have some great talent. They're going to need a lot of looks and a lot of chances to learn how to race at the collegiate level to continue to move forward.
"Krista Duffield leads the way for us in the butterfly. She's one of our seniors, one of our captains and I definitely feel she is our go-to person in the butterfly. We're looking for her to finish out with a great year.
"On the sprint side of things, we're led by co-captain Courtney Caldwell and Ky-lee Perry, defending ACC Freshman of the Year. Krista does the sprint free for us as well, we're bringing back some strong relays. You add in some new faces on the freshman and transfer side that have experience, and hopefully we're business as usual on the sprint side of things.
"Madeline Kline had a big year for us last year on the boards, so she leads that group for us this year hoping to take that next step for our lady divers.
"Overall, we have a strong but young team with a lot of new faces so we're looking forward to seeing what we do."
Thoughts on the divers from diving coach Yahya Radman:
"I think we have a very good year ahead of us. Last year was a good year for us and obviously every year we strive for a better year than the year before. Last year we started the foundation, we brought in a fantastic freshmen class that honestly did some damage on the boards to help us win some titles.
"I think Madeline Kline did an outstanding job. She essentially came and was thrown into thrown into the role of being our big dog, as a freshman and as a relative no-name in high school she came and proved her worth and I think the more she bought into the program, and the culture and the traditions we have here at NC State, it definitely showed on the boards. It showed the passion and the drive that she had. That carried through ACCs and into zones, then through to the summer where she qualified for the U.S. Diving Nationals in August, probably one of her better lists I've ever seen her make. At ACC's she made finals as a freshman, she was one of two freshmen at the ACC finals and I couldn't have been prouder of her.
"A big thing for divers is the communication and I think the communication that we have as a team is key to our success. I'm very excited about what this year brings.
"I'm very excited with progress from Madeline and the ladies. Madeline is our driving force and she works incredibly hard for what she gets and I'm excited about that."
Words from senior Hannah Moore:
"We have a strong, young team that has a lot of potential this season. While we did lose a great group of seniors last year, we have an exciting group of newcomers who are going to add a lot to the program. We're looking forward to performing well and learning on the way to a great season. Go Pack!"
Familiar Faces
Senior Hannah Moore
After playing an integral role in NC State's ACC Championships and sixth-place (??) finish at the NCAA Championships, the senior went from strength-to-strength as she had a stellar summer. She won bronze in the 1500 freestyle at the World University Games, and earned selection to the USA National Team in the 400, 800 and 1500 freestyle. Her leadership and the example she sets to her teammates are invaluable.
Junior Elise Haan
Wolfpack Nation can expect a lot from Haan, given her success during the 2016-17 season where she earned All-American honors in the 200 and 400 medley relays, along with the 100 backstroke. With two years remaining, expect her list of accolades to continue to grow. She is also a member of the USA National Team in the 100 backstroke, and competed at the U.S. Open in East Meadow, New York, over the summer and won the championship in the 100-meter backstroke.
Junior Courtney Caldwell
After earning All-American honors in the 200 freestyle as well as the 200 and 400 freestyle relays, in 2016-17, the sky is the limit for Cadlwell heading into the new season.
Sophomore Ky-lee Perry
Perry burst onto the scene for the Wolfpack in impressive fashion as a freshman – she gained All-America honors in the 200 and 400 free relays, as well as the 200-medley relay. She was also named ACC freshman of the year, and having already proven herself on the big stage, there are exciting times ahead for Perry.
Sophomore Madeline Kline
Kline had a strong freshman year for the Wolfpack, leading the divers in all three events and qualifying for the NCAA Zone B Championships, where she reached finals for the platform and one-meter. She also made her senior national debut over the summer, competing in the USA Diving National Championships in Columbus, Ohio, and will look to take that experience and confidence-booster into the 2017-18 season.
Newcomers to Watch
Freshman Tamila Holub
A native of Portugal, Holub comes to NC State with experience that defies her youth. She swam in the 800 free at the Olympic Games in 2016, and has times that will make an impact at the both the ACC and NCAA levels.
Freshman Kathleen Moore
The swimming gene is strong in the Moore family, with Kate being the younger sister of Hannah. Having competed in the 2016 Olympic trials in the 200 back, the Scholastic All-American (2017, 16, 15) is no stranger to the big stage and will be ready to be a point-scorer right away for the Wolfpack.
Freshman Julia Poole
A talented breaststroker, Poole competed in the 2016 Olympic Trials in the 100 and 200 breaststrokes, along with the 200 and 400 IM. She will be heavily counted on to try and fill the shoes of the departed seniors.
Freshman Jacqueline Clabeaux
Expect Clabeaux to make an immediate impact for the Wolfpack. She is a two-time Virginia High School 6A State Champion in the 100 breaststroke, as well as being the 6A VA District, Regional and State record holder in the 100 breaststroke. She also finished sixth in the 100 breaststroke at 2016 Winter Junior National Championships.
Rounding out the Wolfpack's talented batch of newcomers includes Olivia Calegan, Olivia Fisher, Maddie Morello and Anna Shumate.
The Schedule
There will only be limited opportunities for Wolfpack Nation to see the team compete in the Willis R. Casey Aquatic Center this season. Other than the Wolfpack Games that occurred on Sept. 29, NC State will host Penn State and Duke on Oct. 20, and also host Texas on Nov. 10.
On Oct. 27-28 NC State travels to Wisconsin for a dual followed by a trip to California. On Nov. 2 they take on reigning-NCAA Champions Stanford, then back up against California on Nov. 4.
The Wolfpack will then compete from Nov. 17-19 at the McCorkle Aquatic Center on the campus of Ohio State in the Ohio State Invitational, followed by the Winter National Championships from Nov. 30-Dec. 3, also at Ohio State.
The USA Diving Water National Championships are up next from Dec. 13-19, followed by the Tennessee Diving Invite from Jan. 3-5.
The Arena Pro Swim Series in Austin, Texas, is up next from Jan. 12-14, followed by back-to-back ACC dual meets on Jan. 19 and 26. The Wolfpack takes on Virginia first, then local rival North Carolina.
The Carolina College Nike Invitational in Chapel Hill follows from Feb. 2-4.
Things begin to wind down with the ACC Women's Swimming & Diving Championships in Greensboro from Feb. 14-17, and the season ends with the NCAA Championships from Mar. 14-17 in Columbus.
Press release courtesy of NC State Athletics.