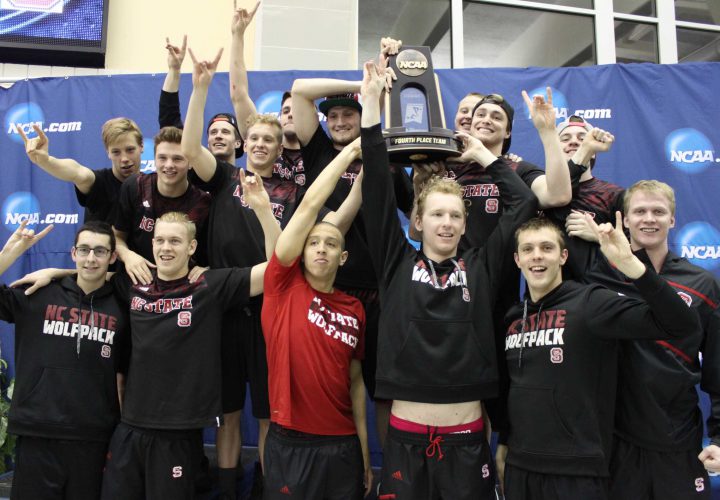 Photo Courtesy: Andy Ringgold / Aringo Photos
Coming off back-to-back fourth-place finishes at the NCAA Championships along with its third consecutive Atlantic Coast Conference (ACC) Championship, the NC State men's swimming & diving team will be looking to take things a step further in 2017-18 as it pushes for a National Championship. Featuring an intriguing mix of returners and newcomers, several members of head Coach Braden Holloway's squad were involved in international competition over the summer, building the Wolfpack's reputation on the global stage and giving the team further momentum to build off heading into the new season.
Thoughts from Head Coach Braden Holloway
"We return a strong team and one we can continue to move forward with as a program. We're bringing in some great newcomers, including both freshmen and transfers. The guys want to keep building on what they've accomplished the past few years and take it a notch further. Obviously, we're led by some real quality seniors not just in the pool but in the classroom. We've got Ryan Held leading our sprint area, our sprint crew. This is his last go and he leads a very dynamic group with a lot of sophomores, some talented freshmen coming on board and two transfers that have college experience. We want to continue to build on that.
Justin Ress is coming off a big summer and we're looking for him to help us more than he has in the past, and that's been the plan the whole time. I'm looking forward to seeing him progress with that sprint crew.
Our distance side is very strong this year. Obviously we lost Adam Linker last year to graduation but we bring in some newcomers that are hard workers and ones that will help the distance program have even more depth than last year. Anton Ipsen, being a senior this is his last college ride so he leads a strong group and I'm looking forward to seeing who can step it up in any given moment.
On the diving side of things, we have Holt Gray coming in and we have four guys on the boards, which is nice. It adds a bit of competition between them which is going to be healthy and we're looking forward to taking the next step. Obviously, this is last Charles' last year and he wants to end on a great note and we're looking for James Brady to continue on his success from last year. Even though he had a concussion for part of the year he still managed to make NCAAs. We're hoping he can make that big step this year.
Backstroke is a pretty deep area for us. We've got Coleman Stewart back and we've got Hennessey Stuart, who's always been a leader for us in and out of the pool for his senior campaign. We have Andreas Vazaios who broke our school record in the 100. When you also add some newcomers and some guys who've been here a few years we've got a quality group that can do a lot of damage on the national level.
Breaststroke is an area where it's going to be by committee. We graduated Derek Hren who was a workhorse for us in that area but there are a lot of guys who can step up. I'm looking forward to seeing who will take that opportunity and who will take the bull by the horns.
We don't have as many guys that do butterfly but the ones that do it are some heavy hitters. We're looking for them to take the next step on the national level.
We've moved some people around with the IM so we probably won't have as many people doing it this year. We do have some young talent coming in that can really help us in the IM and we're just looking to be better. Wherever that puts us, we're looking to be better and at the end of the year wherever we fall is wherever fall. I'm looking forward to the season."
Thoughts on the divers from diving coach Yahya Radman:
"I think we have a very good year ahead of us. Last year was a good year for us and obviously every year we strive for a better year than the year before. Last year we started the foundation, we brought in a fantastic freshmen class that honestly did some damage on the boards to help us win some titles.
Obviously, we had mixed emotions as it was a repeat of fourth-place but it was the first time in 20 years a diver qualified for NCAA's and on top of that it was on platform, which we don't have at our facility so I think James struggled throughout the year and he lit it up at zones when we needed him to and he came through big at ACC's as well. The more comfortable we get with each other the more we mesh and gel. I'm very excited to see what happens this upcoming year, he and Madeline have hunger in their eyes and are eager to improve. He had a record-breaking list at our zone meet leading up to Nationals, in the summer and unfortunately it doesn't count, but he saw what he's very much capable of and that would have put him in the top eight at NCAA's and given the taste that lingers in his mouth. He's very excited about what the season brings.
On the freshmen side, we have Holt Gray who's a local boy coming to us from Raleigh. Another very well-known name in the region, but he just latched onto the culture we have here and is something further to build on. He's going to be an exciting diver to watch for our alumni and our fans, he's going to bring a lot of depth on all three boards. The stronger he gets on spring boards, the more of a complete diver he becomes but, with Holt, he has a lot of upswing and a lot of quick turnaround. The fact that he has James, Stuart and Harrison to learn from makes me very excited. We have a complete men's team with one man in each class. This will be a very good year to springboard into the future classes with."
Words from junior Andreas Vazaios:
"The team is practicing hard and has set its goals higher than last year. We are all working together, swimmers, divers, coaches and faculty to achieve all our team and individual goals. I truly believe the sky is the limit!
We start our season against Penn State and Duke and I believe it is going to be a really good start for the whole team to try different things for their main events and dives. I am looking forward to a great opening dual meet and a much greater season. Go Pack!"
Familiar Faces
Senior Ryan Held
As he was prior to the 2016-17 season, the Rio 2016 gold-medalist enters the 2017-18 season with a head of steam. Over the summer he was named Men's Swimming captain for the USA at the World University Games, where he captured three gold medals and one silver. He earned selection to the USA National team and will be looking to carry that momentum over to the 2017-18 season.
Junior Justin Ress
Ress solidified himself as a rising star of global swimming, being named Most Decorated Male Athlete of the World University Games after he earned three gold medals and one silver. Along with this feat, he also won a National Championship in the 50-meter backstroke at the U.S. Open/World Championship Trials earlier in the summer and finished sixth in the 50 back at the FINA World Championships in Budapest, Hungary. Ress' progress going forward has Wolfpack National salivating.
Junior Andreas Vazaios
Vazaois, enters the 2017-18 season on the heels of breaking two Greek national records at the FINA World Championships – the 200 IM and the 200 freestyle, where he led of the Greek team in the 800 freestyle relay. On top of this, Vazaios' infectious enthusiasm rubs off on all those around him, making him a valuable commodity out of the pool also.
Senior Anton Ipsen
The Denmark native cemented his place among the world's elite 800-meter freestyle swimmers at the FINA World Championships over the summer, finishing 12th overall in the 800-meter freestyle while earning a new personal best and breaking the program record in the process. Ipsen also thrives in the classroom, as he earned 2017 College Sports Information Directors of America (CoSIDA) Academic All-America honors, a prestigious honor requiring a 4.0 GPA.
Sophomore Coleman Stewart
Stewart burst onto the scene for the Wolfpack in impressive fashion last season, as he was honored as 2017 ACC Freshman of the Year. He was named All-ACC in the 200 medley relay and 100 backstroke, along with being honored as an All-American in the 200 medley relay and 100 backstroke HM. Stewart also thrived in the classroom, being named a CSCAA Scholar All-American.
Sophomore James Brady
Brady comes off a stellar freshman year in 2016-17, where he qualified for the NCAA Championships on platform, making him the first NC State diver to qualify since 1996. He backed this up by competing in the USA Diving National Championships over the summer where he earned his way to the semifinal of the 10-meter platform. Still just a sophomore, Brady has a bright future ahead.
Rounding out the Wolfpack's decorated group of returners includes Matt O'Donnell, Danny Erlenmeyer, Lucca Martins, Mark McGlaughlin, Jacob Molacek, Tyler Rice, Coleman Stewart, Jabari Baptiste, James Bretscher, Parker Campbell, Cobe Garcia, Daniel Graber, Noah Hensley, Mason Revis, Quinlan Stuart, Harrison Mitchell, Patrik Schwarzenbach, Jack McIntyre and Hennessey Stuart.
Newcomers 
Freshman Eric Knowles
If you were to construct the prototype of a swimmer, they would resemble Knowles. Standing near 6 feet and 5 inches, Knowles has the length necessary to provide an advantage in the water and will only get better as his frame begins to fill out. He competed in the 400 IM at the FINA Junior World Championships in Indianapolis, Indiana, finishing tenth overall and will be exciting prospect to monitor throughout the season.
Freshman Gil Kiesler
Having broken the Israeli record in the 400 SCM freestyle in 2015, Kiesler is more than ready to contribute on the big stage. Be prepared for big things from him moving forward.
Freshman Giovanni Izzo
The native of Italy is no stranger to winning championships, as he won the 50 free at 43th Arena European Junior Swimming Championships in 2016. There are exciting times ahead in the already elite sprinters future.
The Wolfpack also adds Daniel Forndal, Jacob Johnson, Luke Sobolewski, Ray Van Deusen, Holt Gray and transfer Cobe Garcia.
The Schedule
The Wolfpack are going to be the definition of road warriors this season as it only has two home meets, along with the Wolfpack Games that occurred on Sept. 29. Penn State and Duke come to the Willis R. Casey Aquatic Center on Oct. 20, while reigning National Champions Texas make the trip to Raleigh for a much-anticipated showdown on Nov. 10.
Road trips include a dual with Wisconsin on Oct. 27-28, and the Ohio State Invitational from Nov.17-19. The McCorkle Aquatic Center will become familiar surroundings, as it also hosts the Winter National Championships from Nov. 30-Dec. 3.
Greensboro will play host to the USA Diving Water National Championships from Dec. 13-19, followed by the divers returning to Knoxville, Tennessee, for the Tennessee Diving Invite.
After over a month off from competition, the swimmers will travel to Austin, Texas, for the Arena Pro Swim Series from Jan. 12-14, followed by dual meet with ACC foe Virginia on Jan. 19. A week later, on Jan. 26, the Wolfpack renews its rivalry with the North Carolina Tar Heels as it travels to Chapel Hill for what is always an intense dual.
The Wolfpack return to Chapel Hill from Feb. 2-4 for the Carolina College Nike Invitational.
The season begins to draw to an end with the ACC Championships in Greensboro, where the divers will compete from Feb. 14-17, and the swimmers Feb. 21-24, and wraps up with the NCAA Championships in Minneapolis, Minnesota, from Mar. 21-24.
Press release courtesy of NC State Athletics.