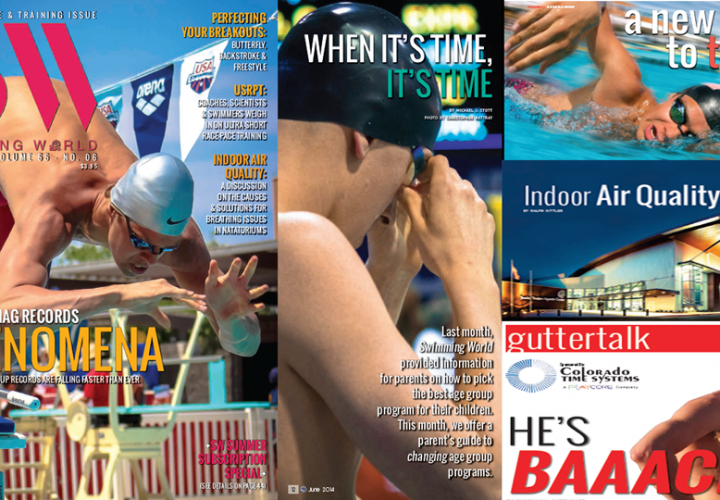 PHOENIX, Arizona, June 23. CHECK out what you'll find inside the June 2014 issue of Swimming World Magazine: Watch this month's Inside Swimming World video to find out about USRPT and more!

The June 2014 issue of Swimming World Magazine is now available for download to Total Access Subscribers!
Not a Total Access Subscriber? A Swimming World Magazine Subscription gives you unlimited access to all online content on SwimmingWorld.com and access to all of the back issues of Swimming World Magazine dating back to 1960! Purchase your Total Access Subscription TODAY!
June Swimming World Magazine Table of Contents:
On The June Cover Michael Andrew Michael Andrew, who just turned 15 in April, has already set 57 U.S. national age group records in his young career. He is trained by his father, Peter Andrew, perhaps the USA's foremost practitioner of a new training system called Ultra-Short-Race-Pace Training (known as USRPT). And Michael is also the youngest male swimmer ever to turn professional! (See stories pages 16,17,22 and 25) (Photo by Azaria Basile)
FEATURES
010 When it's Time, It's Time by Michael J. Stott
Last month, Swimming World provided information for parents on how to pick the best age group program for their children. This month, we offer a parent's guide to changing age group programs.
016All About Michael Andrew by Shoshanna Rutemiller
Meet Michael Andrew: NAG record holder extraordinaire, home-school scholar, professional swimmer…and he only just turned 15 years old!
022The NAG Records Phenomena by Emily Sampl
National age group standards in the United States are falling at a faster pace than ever before.
025A New Way to Trainby Michael J. Stott
Coaches, scientists and swimmers weigh in on Ultra Short Race-Pace Training, also known as USRPT.
030Indoor Air Quality by Ralph Kittler
Causes and solutions are discussed for IAQ and breathing issues in natatoriums.
034Top 10 Triumphs & Tragedies by Chuck Warner
Beginning in its April issue and continuing monthly through January 2015, Swimming World Magazine is counting down the top 10 triumphs and tragedies in the history of swimming. This month: #8 The Carliles-A Love Affair.
COACHING
008Butterfly, Backstroke, Freestyle Breakouts by Jeff Commings
The breakout after a turn is a very important element of every race. Whether you're swimming 50 or 1500 meters, the breakout determines the speed you carry into the first strokes and sets the tone for that particular length.
012Swimming Technique Misconceptions by Rod Havriluk
The misconception that butterfly and breastroke are considered "short-axis" strokes is based on classifying strokes as "short" or "long" axis according to the direction of the most prominent body rotation.
017 Michael Andrew's Favorite Sets by Peter Andrew
040Q & A with Coach Braden Halloway by Michael J. Stott
041How They Train Stephen Coetzer by Michael j. Stott
TRAINING
037Dryside Training: The Basic Four by J.R. Rosania
Here are four very basic resistance strength exercises that will strengthen the shoulder, leg, core and side abdominal (demonstrated by Maureen Rankin)
038Ask Dr. Shannon by Shannon McBride
There are other ways besides stretching to alleviate post-workout soreness. Foam rolling is a very effective method of self-massage that can also aid in faster recovery after workouts.
039 Nutrition: Improve Your Diet Quality Republished with permission of VeloPress from "Racing Weight Cookbook: Lean, Light Recipes for Athletes"
JUNIOR SWIMMER
014 Goldminds: The Swimming Zones by Wayne Goldsmith
There are five "zones" in swimming-the preparation, power, practice, performance and post-pool zones-and each one of them plays an important role in your swimming success story.
043 Up & Comers
COLUMNS
DEPARTMENTS
006A Voice for the Sport
044Gutter Talk
046Parting Shot