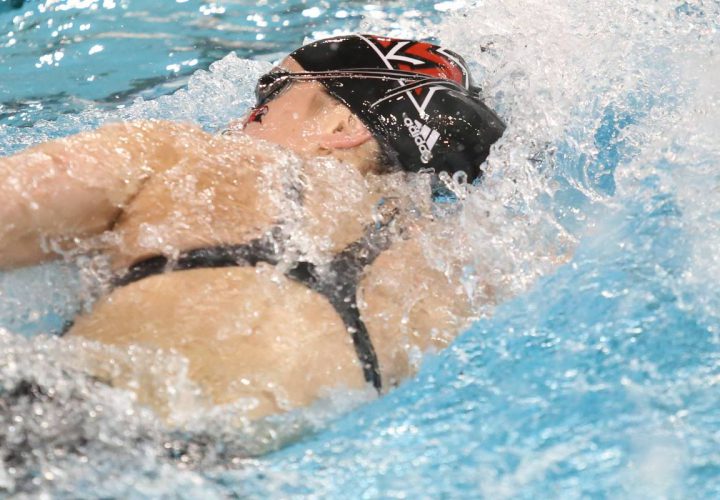 Photo Courtesy: MAC Athletics
Two records were broken to highlight the second day of the 2018 Mid-American Women's Swimming and Diving Championships.
Akron currently leads the team standings with 231.5 points, followed by Buffalo (184.5), Eastern Michigan (125), Miami Ohio (121), Bowling Green (84), Ohio (75), Toledo (72) and Ball State (44).
Women's 500 Free
Miami Ohio's Ella Moynihan won the first individual event of the meet, touching first in the 500 free for her second-straight win in this race. The junior stopped the clock in a time of 4:42.42 to finish over two seconds ahead of the rest of the field. Her time set a new Mid-American Conference record, breaking the old mark of 4:44.23.
Eastern Michigan's Nicole Swartz finished second in 4:44.60 and Miami Ohio's Emma Bradley took third in 4:47.49.
Buffalo's Hannah Miller (4:48.36), Buffalo's Brittney Beetcher (4:49.03), Eastern Michigan's Sarah Dombkowski (4:49.30), Akron's Brooke Lamoureux (4:49.84) and Akron's Jackie Pash (4:51.38) rounded out the top eight.
Women's 200 IM
Akron earned big points in the women's 200 IM after sweeping the podium. Paloma Marrero earned gold as the only swimmer in the field to crack the two-minute barrier. The senior posted a time of 1:59.04, dropping over a second from her prelims swim.
Her teammates Ellie Nebraska earned silver in 2:00.23 and Paulina Nogaj grabbed bronze in 2:00.40.
Buffalo's Olivia Sapio (2:01.34), Bowling Green's Jordan Andrusak (2:01.56), Miami Ohio's Carolyn Jungers (2:02.56), Toledo's Alida Ramden (2:03.23) and Bowling Green's Emily Verbrugge (2:03.28) completed the top eight.
Women's 50 Free
Buffalo's Megan Burns won an impressive fourth-straight MAC title in the 50 free. The senior sprinted her way to a final time of 22.47 for the win.
Burns' teammate Eve Kosten Akron's Sadie Fazekas tied for second with a time of 22.85.
Akron's Morgan Waggoner (22.87), Ohio's Corrin Van Lanen (22.90), Akron's Susan Franz (22.97), Akron's Madison Myers (23.08) and Buffalo's Andrea Ernst (23.17) also competed in the A-final.
Women's 1-Meter Diving
Bowling Green's Talisa Lemke won the first diving event of the meet. The sophomore dove to first with a final score of 319.65.
Miami Ohio's Pei Lin dove to second with 305.30 points and Eastern Michigan's Brielle Johnston finished third with a score of 289.15.
Eastern Michigan's Sophia Tsafantakis (282.10), Akron's Karly Crail (280.00), Eastern Michigan's Alli Shereda (279.90), Ball State's Rachel Bertram (275.50) and Ball State's Rachel Smallwood (265.30) also dove in the top heat.
Women's 4×50 Free Relay
Akron has gone 3-for-3 in relays thus far this championship meet, winning gold tonight in the 4×50 free relay. The quartet of Fazekas (22.79), Susan Franz (22.55), Morgan Waggoner (22.33) and Nebraska (22.07) finished in 1:29.71, eclipsing the previous MAC record of 1:29.97.
Buffalo finished second in 1:30.37 and Miami Ohio was third in 1:32.34.
Day three prelims will begin at 10:30 a.m. EST.