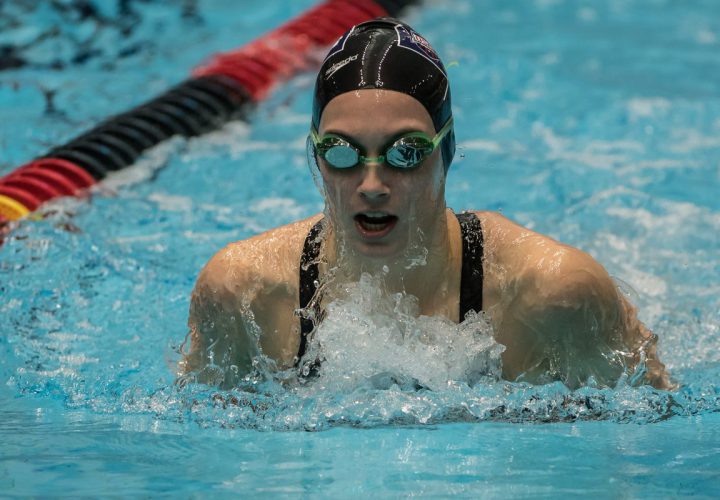 Photo Courtesy: Peter H. Bick
By David Rieder.
While following the two Junior National meets being held concurrently this weekend in Columbus, Ohio, and College Station, Texas, you might have noticed that some of the times seemed especially quick.
Well, they were. Ten different athletes posted times that would have placed in the championship finals at last year's NCAA championships.
Remember that these are high schoolers, and only two of the ten are seniors. Three are 15 years old or younger.
Hypothetical Placement of Junior Nationals Swimmers at 2016 NCAA Championships
| Name | Event | Time | Place |
| --- | --- | --- | --- |
| Morgan Tankersley | Women's 500 Free | 4:38.13 | 7 |
| Gabrielle Kopinsky | Women's 500 Free | 4:37.94 | 6 |
| Alex Walsh | Women's 200 IM | 1:54.48 | 4 |
| Brooke Forde | Women's 200 IM | 1:55.55 | 5 |
| Kate Douglass | Women's 50 Free | 22.04 | tie-8 (prelims) |
| Ryan Hoffer | Men's 50 Free | 18.71 | 2 |
| Brooke Forde | Women's 400 IM | 4:02.51 | 2 |
| Ryan Hoffer | Men's 100 Fly | 45.47 | 5 |
| Isabel Ivey | Women's 200 Free | 1:43.64 | 7 |
| Alex Walsh | Women's 100 Breast | 58.80 | 7 |
| Zoe Bartel | Women's 100 Breast | 59.03 | 8 |
| Regan Smith | Women's 100 Back | 51.09 | 6 |
| Regan Smith | Women's 200 Back | 1:51.79 | 8 (prelims) |
| Isabel Ivey | Women's 100 Free | 47.88 | 7 (prelims) |
| Ryan Hoffer | Men's 100 Free | 41.71 | 4 |
| Zoe Bartel | Women's 200 Breast | 2:07.73 | 6 |
| Reece Whitley | Men's 200 Breast | 1:52.37 | 4 |
Special mention as well to Grace Ariola (22.20 in the women's 50 free), Eva Merrell (22.26 in the women's 50 free, 51.93 in the 100 fly), Drew Kibler (1:33.36 in the men's 200 free, 4:15.36 in the 500 free), Grace Zhao (2:09.23 in the women's 200 breast) and Ruby Martin (1:54.74 in the women's 200 fly), all of whom almost made the cut as well.
Point made: kids these days are fast.
It's hardly surprising to see Brooke Forde or Ryan Hoffer on this list. After all, each has had fast-rising stock over the past few years, and each was a huge get for their respective Bay Area universities—Forde has committed to swim at Stanford and Hoffer at Cal.
In Columbus, Forde dropped her 400 IM best time down to 4:02.51—which still ranks her 18th all-time in the event—and cut almost two seconds off her top mark in the 200 IM, finishing second in the event in 1:55.55.
Hoffer, meanwhile, continues to utilize his underwater dolphin kicks better than any sprint specialist ever has. His 100 free time of 41.71 was not his personal best, but it's still faster than any returning NCAA swimmer aside from Caeleb Dressel posted at last season's championships. And of course, there was Hoffer's impressive 18.71-second 50 free, a best time by more than three tenths.
Hoffer is headed to swim for Dave Durden, who's spent nearly a decade at Cal pumping out sprinters. (Remember Michael Jensen's breakout performance at the Georgia Invite last week?) Hoffer has yet to show much in the long course pool, but Durden's track record says that might be only a matter of time. (Tom Shields, anyone?)
He'll arrive on campus in Berkeley with personal best times just off the school records in his two best events—0.05 in the 50 free and 0.15 in the 100 free. By the way, both of those records are held by a guy named Nathan Adrian.
It seems like Reece Whitley has been around forever, too, but the 6'8" breaststroker does not turn 17 until early next year. But after a rough go this summer—including at Olympic Trials, where he was eliminated in the semifinals of both breaststroke events—Whitley is back in business.
Whitley won the 200 breast at the Junior Nationals East meet in Columbus, posting a time of 1:52.37 that is his best by more than a second and ranks 25th all-time in the event. He also finished first in the 200 IM in (1:43.93), 400 IM (3:47.15) and 100 breast (52.95), none of them shabby times in the slightest.
Anyone else get the impression he was rather pleased with his 200 breast Saturday night?
One of Whitley's fellow high school juniors got some love last week when joined some older faces a cup of coffee in Atlanta last week. At Winter Nationals, Ivey finished a close second to Olympic gold medalist Melanie Margalis in the 200 free and then won her first National title in the 100 free.
Next up on Ivey's busy travel schedule was a trip to Columbus for Junior Nationals, and while there she put on a show. Friday night, she won the 100 fly in 52.61 and then minutes later took first in the 200 free in 1:43.61. A day later, she dominated the 100 free final, finishing in 47.88.
For some comparison, her best times entering last week stood at 1:46.88 in the 200 free and 48.44 in the 100 free, both from Junior Nationals last year in Atlanta, when a giddy 15-year-old Ivey won her first Junior National title.
Yes, that was a long time ago.
But perhaps no one left the kind of impression this weekend that Alex Walsh did. A year ago at Juniors, it was her backstroke races (51.62/1:52.07) that got the rest of the country's attention, but right now, it's hard to even declare backstroke her best stroke.
In fact, she actually added times in both backstroke events this past weekend (52.32/1:53.70) and still had a remarkable meet. She won the 200 IM in 1:54.48, a two-second drop from last year, and she also took first in the 100 breast in 58.80, dropping almost two-and-a-half seconds from her entry time of 1:01.25.
The 100 breast time was a new 15-16 NAG record, and her 200 IM ranks Walsh fourth all-time for 15-16 girls, trailing the not-too-shabby trio of Dagny Knutson, Meghan Small and Elizabeth Pelton. Walsh, of course, still has another year in that age group.
So, too, does Kate Douglass, who blasted a 22.04 in the 50 free at the same Columbus meet to tie Simone Manuel's 15-16 NAG record in the event.
And then there's the one 14-year-old on the list: Regan Smith. In College Station, Smith lowered Walsh's 13-14 NAG record in the 100 back with an impressive time of 51.09, and she swam a 1:51.79 in the 200 back, a time only one woman her age has bettered: Missy Franklin.
If for some reason you've skipped the last 20 or so paragraphs, here's the gist: the all-time age group lists took a beating this weekend.
Still, while all these NAG records and Junior National titles are great, they are merely precursors. Michael Phelps was not sitting at an interview podium in Brazil in August reminiscing about how many Junior National titles he won (surprisingly, not a lot) or NAG records he set (quite a few).
But to say that results from Junior Nationals mean nothing would be simply foolish. Need proof? Look no further than three years back, to the 2013 Winter Junior Nationals in Greensboro.
That was the meet where Dressel became the first high schooler to swim under 19 in the 50 free, and Ella Eastin, Lilly King, Townley Haas and Abbey Weitzeil all won individual events.
Chances are, you know exactly who those swimmers are now. For Hoffer, Whitley, Walsh, Smith and the others, their time is coming.
All commentaries are the opinion of the author and do not necessarily reflect the views of Swimming World Magazine nor its staff.