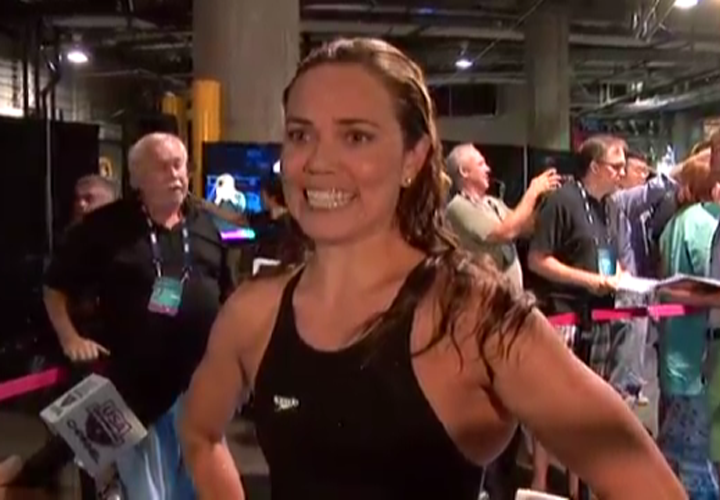 Editorial Coverage provided by

In this Morning Swim Show episode, we watch Natalie Coughlin discuss her semi-final swim of the 100M backstroke at the 2012 USA Swimming Olympic Trials. When asked if she knew how fast she was swimming, Coughlin mentioned that it felt fast enough to make the final. Coughlin went on to say that she would be resting heavily before the final the following evening.
Coughlin then went on to addressed whether it would take something special to make the U.S. Olympic team, she replied with, "of course it takes something special, it is the Olympics". Throughout the entire interview Coughlin eluded to the fact that all you need to do to have a lane in the finals… after that it is anyone's race.  Coughlin referenced the 2008 USA Swimming Olympic trials where a world record was set in the semi-finals of the 100M backstroke.  However, the world record holder had failed to make the team because she finished third in finals.
Revisit this 2012 Olympic Trial interview from the SwimmingWorld.TV video Vault.

Coughlin went on to represent the U.S. at the 2012 London Olympic games in the preliminaries of the 4×100M freestyle relay.
The Morning Swim Show went into the SwimmingWorld.TV vault to relive some of the great interviews from the 2012 USA Olympic Swimming Trials. You can watch all 223 athlete interviews by visiting our 2016 Olympic Trial landing page.
Click Here To Learn More About Natalie Coughlin
Special thanks to FINIS for sponsoring the Morning Swim Show's interview segments. Visit FINIS to learn more about their innovative products for aquatic athletes.