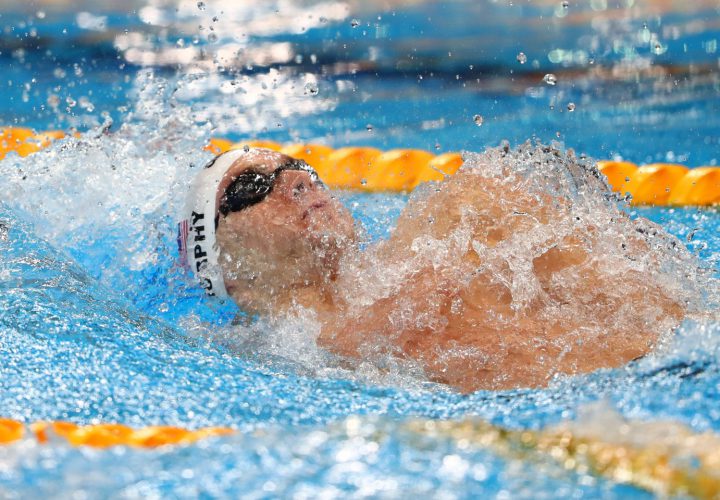 Photo Courtesy: Rob Schumacher-USA TODAY Sports

Editorial Coverage Sponsored By FINIS
By David Rieder.
Australia, China and the United States have traded top honors in the women's medley relay over the past decade and a half, but the men's relay has remained firmly in American hands. Since the relay made its Olympic debut in 1960, the Americans have won gold in 13 of 14 Olympics—the only exception being the boycotted 1980 Games in Moscow.
Since Michael Phelps made his debut on the American squad in 2002, the U.S. has not lost the medley relay at an Olympics, World Championships or Pan Pacs—although the team has twice been disqualified for false starts at Worlds.
With six days of Olympic swimming in the books and the medley relays actually getting started in this morning's prelims, it's time for a quick look at how things shape up. The 100 fly final has yet to happen—it's up second in tonight's finals—but we should have a pretty good idea of where this race will go based on the results of the 100s of back, breast and free.
Ryan Murphy, the gold medalist in the 100 back and one of only two men to ever crack 52 seconds in the event, leads off for the Americans. He set an Olympic record (51.97) in winning gold Monday night, and he will take another run at Aaron Peirsol's world record (51.94) leading off the relay.
Australia's Mitch Larkin entered as the defending World Champion in the event but settled for fourth in the final in 52.43. Also in that top eight were Russia's Evgeny Rylov and Japan's Ryosuke Irie, while Great Britain's Chris Walker-Hebborn finished in 11th place after the semifinals.
But the British won't be out of it yet, not when they have Adam Peaty going into the water next. Even if Walker-Hebborn fails to improve on his best time from this week (53.54 from prelims), the Brits will likely still be ahead at the halfway point. Peaty, after all, won the 100 breast Sunday in 57.13, twice obliterating his world record and winning the gold by more than a second and a half.
Cody Miller of the U.S. won bronze behind Peaty in 58.87, and Japan's Yasuhiro Koseki was also in the final. Australia's Jake Packard finished ninth after posting a strong 59.26 in prelims. Russia figures to fall behind here, as their best sprint breaststroker is Vsevolod Zanko, who clocked 59.91 in prelims Saturday before finishing 14th that evening.
It's hard to judge the butterfly leg right now as the 100 fly final does not come up until tonight. Specifically, we don't know exactly what Michael Phelps is capable of here. His semifinal swim Thursday night occurred just a half hour after the 200 IM final. Still, the three-time defending gold medalist in the 100 fly figures to give the Americans a big advantage on that leg.
But when James Guy touches at the 300 to hand over to Duncan Scott for the freestyle, the British could still be in front. Russia's Aleksandr Sadovnikov figures to have a strong leg here after he qualified for the 100 fly final, while Guy and the top Australian, David Morgan, both made it through to the semifinals.
Japan, though, could be in trouble on that leg, as veteran Takuro Fujii failed to qualify for the semis, finishing 20th in 52.36.
Two of the top three finishers from the men's 100 free will provide the anchor legs for their respective countries, Kyle Chalmers (gold) for Australia and Nathan Adrian (bronze) for the U.S. Great Britain's Duncan Scott was one of the surprise finalists in the 100 free, topping out at 48.01 and finishing fifth in the final.
Russia's Vladimir Morozov missed out on the top-eight in the 100 free, but he is notorious for big-time relay splits. As for Japan, they might have found a solution for their perpetually-weak freestyle leg when Katsumi Nakamura led off the 400 free relay in prelims in 47.99.
So add up the aggregate of the top 100 times from this meet (not including fly), and how does it look?
United States: 51.97 + 58.87 + 47.83 = 2:38.67
Great Britain: 53.54 + 57.13 + 48.01 = 2:38.68
Australia: 52.43 + 59.26 + 47.58 = 2:39.27
Japan: 53.21 + 58.91 + 47.99 = 2:40.11
Russia: 52.74 + 59.91 + 48.26 = 2:40.91
If you are a fan of the United States—or you want to see Phelps' gold medal tally pushed up as high as possible before he retires, you still should not be panicking. Yes, with only these three splits taken into account, the Americans are just one one-hundredth ahead of Great Britain.
But Phelps figures to open up a big advantage on the fly leg, as he should be able to out-split Guy by a full second, maybe more.
Even with Walker-Hebborn having a down year, Guy's strong butterfly form and Scott's emergence have the British sitting pretty for at least a medal on this relay, possibly their second silver after finishing in that spot behind the Americans in the men's 800 free relay Tuesday night.
Australia usually pulls something out on this relay with their depth across the board, and these Olympics figure to be no different, especially with strong bookends in Larkin and Chalmers.
But despite the numbers so far, the Americans will again be favored for gold here. If Phelps wins a medal in the 100 fly tonight—as expected—the American squad will include a medalist from each 100-meter event, and Phelps and Adrian both consistently come through when the pressure is on.
Of course, it would seem inappropriate for Phelps' career to end any other place than on top of an Olympic podium.
*It's been a long week for just about everybody at the Olympic Games, but imagine what the favorites in the men's 1500 have been through: a whole lot of nothing.
Sun Yang did swim the 200 free Sunday and Monday—where he won gold—while 400 free gold medalist Mack Horton contributed a leg to the Australian 800 free relay Tuesday. But other than that, Horton has been sitting on his hands like Connor Jaeger and Gabriele Detti, while gold medal favorite Gregorio Paltrinieri has yet to even compete in Rio.
Some consider the mile less physically demanding as a race like the 200 back or 400 IM, but no one can deny the mental burden of swimming a 15-minute, 30-lap race.
But each of these guys came here knowing full well what they were getting themselves into, and they've all saved up their emotional energy for this. When the fireworks have been going down at the pool these past few nights, it's been legs up in the athlete's village for the milers.
And come Saturday night, they'll be ready to put on a show in the final individual swim of the Olympic Games.
Click here to view the heat sheets for day seven prelims.