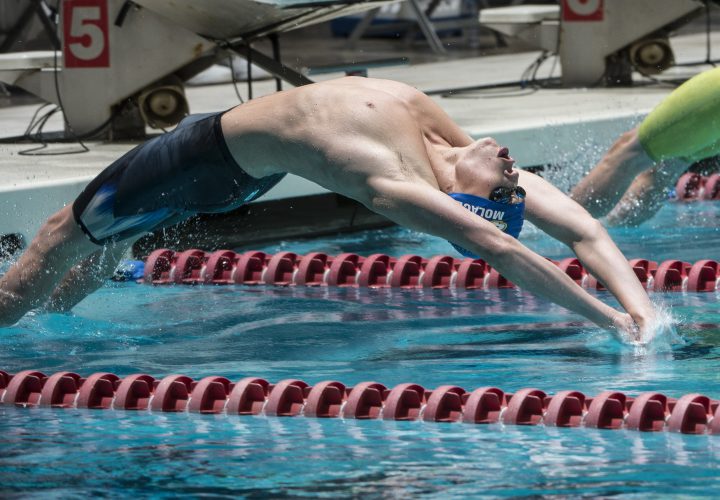 Photo Courtesy: Peter H. Bick
Speedo Sectional Series is proudly sponsored by Speedo. Visit SpeedoUsa.com for more information on our sponsor.
By Katie Wingert, Swimming World College Intern. 
Jacob Molacek touched out Michael Andrew twice, and Liberty Howell celebrated another distance title on the third night of Speedo Sectionals in Columbia.
The night started off with a strong swim by Greater Nebraska's Caroline Theil, who demolished her competition with a serviceable 2:01.14. Fellow breaststroker Nicole Williams of Columbia Swim Club used her aptitude in the third leg of the race to eek out the silver and a 2:03.99. She touched out 13-year-old Kate McCarville of Springfield Aquatics, last night's victor in the 400, by a mere hundredth of a second.
Meanwhile, the Race Pace Club's Andrew blazed to predictable victory in the men's 200 IM. His time of 1:43.27 is just shy of his best–1:42.77–but the swim still placed him a whopping six seconds ahead of the pack. Dane Florea of Columbia Swim Club, fresh off his win in the 400 IM last night, charged just ahead of Wichita Swim Club's Benjamin Patton, who he had been trailing for most of the race, with an aggressive 25.52 freestyle leg. Florea squeezed in for silver in 1:49.86 and was tightly followed by Patton at 1:49.93.
The tight finishes continued in the women's 50 freestyle. Iliana Jones of the University of Missouri topped the field with a 22.91. Close behind her, Bailey Grinter of Edwardsville YMCA, who has committed to Tennessee, stopped the clock in 22.96. Megan Keil of Wichita Aqua Shocks lost to Grinter by the blink of an eye; she earned bronze with a 22.98.
On the men's side, Andrew dueled once again with Great Omaha's Jacob Molacek. In a repeat of the turn of events last night, when Andrew swam the back-to-back 100 breast and 100 fly and lost his second race to Molacek, tonight Molacek once again beat out Andrew, fresh out of the 200 IM. Molacek dropped only a hundredth from the morning for a 19.08, while Andrew dropped 0.23 from the morning, for a 19.31. Oklahoma Baptist University's Julien Goyetche closed in for the bronze with a 19.97.
In the 200 breaststroke, Hanna Newby looked for redemption after a close loss to Columbia Swim Club's Nicole Williams last night in the 100. Despite being led for most of the race by Evie Pfeifer of CSP Tideriders, in the final fifty yards, Newby brought home the race for a 2:13.65. Despite losing out on the gold, the Columbia breaststrokers still came away with podium spots; Peifer was just behind Newby, in 2:13.82, and Williams hit the pad in 2:16.40 for third.
In the men's race, Fernando Morillas, swimming unattached, held his top seed from the morning to dominate the field. His 1:58.46 was bolstered by consistent splits: 26.97, 30.09, 30.35, and 31.05. The University of Missouri's Nick Staver, the runner-up in last night's 100 breaststroke, once again claimed silver in the longer breaststroke event, in 2:00.82. Samuel Drew of Empire KC Swim Club rounded out the group in 2:02.54.
Kylie Dahlgren, swimming under the University of Missouri banner, led the way for the entire 100 backstsroke, for the race-winning time of 53.40. Her teammate, Samantha Wilts, held near, but it was Clayton Shaw Park's Pfeifer, just off the 200 breast, who closed the race for silver and a speedy 53.74. Wilts claimed third with a 54.27.
The men's backstroke brought Molacek another victory, while Andrew showed the effects of his two prior races. Molacek won gold in 47.08, and Nick Alexander of University of Missouri nabbed the silver in 47.44, just ahead of Rockwood Swim Club's Jack Dolan. Andrew barely snuck in for fourth.
In the final individual event of the evening, the 500 freestyle, it was SwimTulsa's Howell who claimed gold and defended her title as the meet's distance female distance force. Howell was threatened once again, just as in the 1000, by the Kansas City Blazers' Katherine Sullivan, whose first three hundreds earned her a solid lead and an impressive end time of 4:51.97. Howell rallied in the final 200, however, for 4:51.81 and the gold. Katelyn Blattner of the Wichita Aqua Shocks was the next closest competitor, in 4:54.74.
The men's field was more wide open, with Kevin Callan of Trident Aquatics blowing away his competitors for a final time of 4:14.66. While Callan caught his breath, Empire KC Swim Club's William Bresette just touched out Columbia Swim Club's Florea. Florea swam a strong back half for a 4:27.79, but it was Bresette who got his hand into the wall for silver and a 4:27.86.
In the women's 400 medley relay, victory went to the Clayton Shaw Tideriders, in 3:46. thanks in no small part to an impressive breaststroke leg (1:02.45) swam by Pfeifer. Parkway Swim Club, bolstered by Karisa Franz in the butterfly leg (53.91) was good for silver, in 3:48.19. The host team, Columbia Swim Club, was not far behind, in 3:48.80.
The men's 400 medley relay finished out the night with an upset; Oklahoma Baptist University (3:19.62) beat out Greater Omaha Aquatics (3:21.73) for gold. Greater Omaha had Molacek swimming backstroke, but OBU's Goyeteche was better rested for the task. Thomas Peterson built on Goyeteche's work with a 56.76 in the breast. GOAL's Colin Lafave put in a valiant effort in the fly (57.67), but ultimately OBU's Austin Saunders (45.63), in the anchor role, was able to put the cherry on top of OBU's steady effort. Parkway Swim Club snagged the third rank, in 3:25.53, just ahead of River City Aquatics.
The Columbia excitement will reach its peak tomorrow, on the final day of the meet, with the 200 back, 100 free, 200 fly, 1650, and 400 free relay.
All results can be found on Meet Mobile – 2017 Speedo Sectionals Championship Series