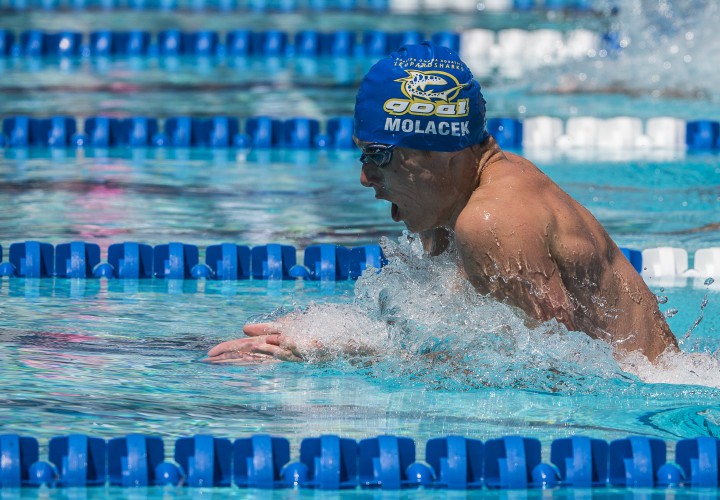 Photo Courtesy: Peter H. Bick
Speedo Sectional Series is proudly sponsored by Speedo. Visit SpeedoUsa.com for more information on our sponsor.
By Katie Wingert, Swimming World College Intern. 
Even the efforts of Michael Andrew were dwarfed by an upstart 13-year-old, Kate McCarville, on the second night Speedo Sectionals in Columbia, MO. In a night marked by close finishes, McCarville attacked the 400 IM and Andrew came away with a gold and a silver to kickstart a jam-packed session.
The evening started with a textbook victory from the University of Missouri's Aurore Jacolin in the 200 freestyle. Facing 16-year-old Alana Palmer of Lincoln Select, Jacolin swam a conservative first hundred. She was four tenths behind Palmer's 52.55, but Jacolin then chose to attack her second hundred in 55.01. The strategy paid off for gold and for a 1:47.96–a mere four hundredths ahead of Palmer. Meanwhile, Katherine Sullivan of Kansas City Blazers pounded out the fastest final hundred in the pool. She was ultimately unable to pass Palmer or Jacolin, but her 1:48.13 did top her closest competitor, SwimTulsa's Liberty Howell (1:49.29), who touched out Sullivan in the 1000 last night.
The men's race was more clear-cut in its decision. Kevin Callan of Trident Aquatics took out the race in a 45.88, a choice that established a gap too big for his competitors to close before he clocked in at 1:34.06. Callan's closest competitor, Rockwood Swim Club's Jack Dolan, finished in a solid 1:35.68, while Jordan Portela of Lawrence Aquahawks took bronze in 1:38.97.
With all eyes turned back on the women, the 100 breaststroke did not disappoint. Columbia Swim Club's Nicole Williams and American Energy's Hanna Newby hit the fifty-yard mark in a perfect tie of 29.48. It was Williams (1:01.68) who ultimately edged out Newby (1:01.74), but only by six hundredths of a second. Williams' teammate, Elma Zweifel, claimed third in 1:03.33.
The men's 100 breaststroke was exciting, but in a different way. Race Pace Club's Andrew raced the clock in the event and crushed his competition. His time of 51.92 was just shy of his personal best of 51.75 and of the National Age Group Record for 17- and 18-year-olds. Nick Staver of the University of Missouri was the next top finisher in 54.48. He was followed by Fernando Morillas of Oklahoma Baptist University, swimming unattached, in 55.06.
The 100 butterfly on the women's side continued the chain of fast, close races; the top five finished within seven tenths of one another. Kansas City's Cailey Grunhard attacked the first fifty yards of the race in a 24.57, which brought her the gold and a 54.16. Karisa Franz of Parkway and Kylie Dahlgren of the University of Missouri made significant gains in the second fifty but failed to overcome Grunhard. The 15-year-old Franz nabbed the bronze in 54.33, while Dahlgren hit the touchpad just behind her, in 54.35.
On the men's side, Andrew faced a challenging turnaround from 100 breast to 100 fly. Jacob Molacek of Greater Omaha established himself in the fly with an impressive 45.59. Andrew was unable to muster up his back-half speed in the fly, but he landed well ahead of the pack, in second, with a serviceable 46.54. Meanwhile, Dolan faced his second third-place finish of the night to the meet's male giants, finishing in 47.76.
The meet's most shocking event by far proved to be the women's 400 IM. The top seed, Caroline Theil, scratched the event in favor of the 100 breaststroke, and 13-year-old Kate McCarville, who went into the night as the fourth seed, snatched the opportunity for glory. McCarville annihilated the field in the front half with a daring fly leg (57.57) and a strong back leg (1:07.21) McCarville lost considerable ground as veteran Williams exploded into the breaststroke leg, but even Williams could not get her hand in for the gold. Williams took the silver in 4:21.75, while the Tideriders' Alexis Daniels settled into third with a 4:22.97.
The men's race followed a more predictable trajectory. Columbia Swim Club's Dane Florea  came away with gold, thanks to an all-around solid 3:52.03. His next closest competitor turned out to be teammate Zachary Lorson (3:56.62). Lorson's backstroke and breaststroke legs made all the difference in separating him from Oklahoma Baptist's Kristijan Stunkovic, who took third with a 3:58.25.
The 800 relays finished off the session in style as some of the meet's top competitors combined their talents for team accolades. The CSP Tideriders, anchored by Daniels, brought home gold in 7:26.11. The Kansas City Blazers, led off by by Sullivan (swimming a near-match of her earlier 200 freestyle, with a 1:48.57), posted a 7:27.21 and earned the second spot on the podium. The rest of the field lagged far behind, but Parkway grabbed third in 7:37.31.
The men's race produced a tighter field. With a 6:49.21, Rockwood Swim Club, anchored by Dolan, ultimately came away the victor. Oklahoma Baptist University followed with a well-rounded squad that was good for 6:50.07. The bronze went to Kansas City Blazers (6:51.21), who remained tight with OBU until the third leg.
The competition in Columbia will continue tomorrow with the 200 IM, 50 free, 200 breast, 100 back, 500 free, and 400 medley relay.
All results can be found on Meet Mobile – 2017 Speedo Sectionals Championship Series