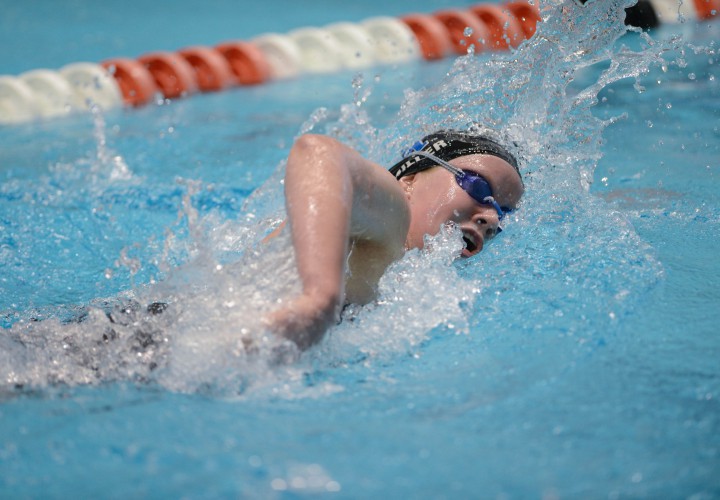 Photo Courtesy: Tia Patron/Tennessee Athletics
Boise State began day two of the 2017 Mountain West Swimming and Diving Championships by breaking the record in the 200 free relay. Brittany Aoyama (22.46), Abbey Sorenson (22.10), Katelyn Martin (21.68), and Allyson Kleinsorgen (22.19) finished in 1:28.43, breaking the record by two tenths.
San Diego State took second in 1:30.63 and Wyoming finished third in 1:31.05.
Nevada's Sharae Zheng dove to first place in the 3m diving event. The junior posted a score of 421.45 as the only diver to crack 400 points.
San Diego State's Alexandra Caplan took second with 359.65 points and Wyoming's Karla Contreras dove to third with 352.40 points.
Air Force's Genevieve Miller posted a winning time of 4:38.98 in the 500 free. The senior crushed her own meet and conference record and became the first swimmer in conference history to win four-consecutive 500 free titles.
Boise State's Emma Chard took silver in 4:39.22 and New Mexico's Adriana Palomino took bronze in 4:44.86.
San Diego State's McKenna Meyer (4:47.34), Wyoming's Kelly Anna Sheldon (4:47.53), Boise State's Amelia Draney (4:49.93), Boise State's Felicity Cann (4:50.09), and Colorado State's Haley Rowley (4:50.65) rounded out the top eight.
Nevada's Teresa Baerens was the only swimmer to go under the two-minute barrier in the 200 IM. The senior touched the wall in 1:58.92.
Boise State's Robin Pinger took second in 2:00.27 and San Diego State's Frida Berggren stopped the clock in 2:00.42.
Nevada's Andressa Cholodovskis Lima (2:00.57), Nevada's Caitlyn Richardson (2:01.29), Fresno's Esme Gullick (2:01.39), Boise State's Emily Mathis (2:01.39), and Colorado State's Marie Goodwyn (2:01.96) completed the top eight.
Boise State swept the top three spots in the 50 free. Senior Martin led the way in 22.11, followed by teammates Aoyama (22.38) and Sorensen (22.57).
Air Force's Lydia Knutson (22.69), Boise State's Kleinsorgen (22.73), Wyoming's Danielle Badger (22.92), Colorado State's Rowan Hauber (23.01), and Wyoming's Isobel Ryan (23.04) also competed in the A final.
2017 Mountain West Conference Day 2 Finals – Results
Team Scores:
1. Boise State-605.5
2. Nevada-490
3. San Diego State-437
4. Wyoming-400
5. New Mexico-270
6. Colorado State-253
7. San Jose State-216
8. Fresno State-189.5
9. UNLV-173
10. Air Force-172