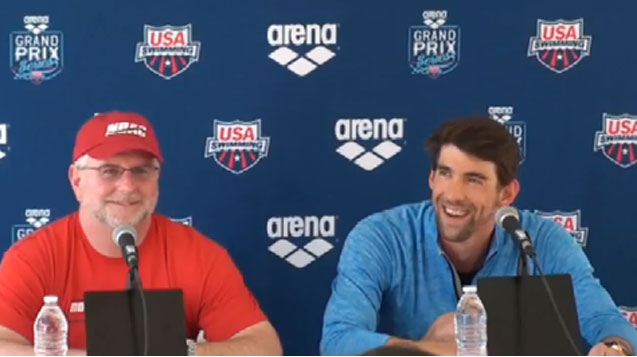 Arena Grand Prix – Mesa editorial coverage is proudly sponsored by Arena USA. Visit ArenaUSA.com for more information on our sponsor. For all the latest coverage, check out our event coverage page.
MESA, Arizona, April 25. AFTER posting the 40th-fastest time in the 50 freestyle prelims with 24.07 done as butterfly, Michael Phelps met with the members of the media for what will likely be the last time in Mesa, Ariz., at the Arena Grand Prix.
Phelps and coach Bob Bowman talked about that 50 fly, particularly why both are fine that Phelps kept his 100 fly stroke rate. They even joked that because Phelps is known for breathing every stroke, it was impossible for him to do the 50 fly without a breath.
The two also talked about Phelps' freestyle, though did not go further into what freestyle events he might swim in the future. Phelps also offered his thoughts on Michael Andrew, the now 15-year-old professional swimmer.